Cooler weather = scarves, changing colors, and all things pumpkin flavored. Here are a few of my favorite things this month!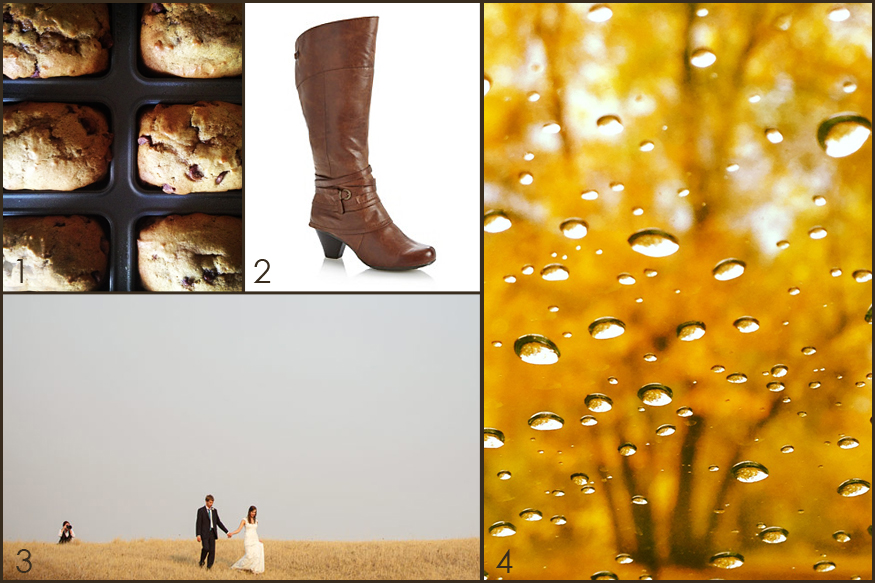 1. Pumpkin chocolate chip mini loaves – I baked these the other week and they were gone entirely WAY too fast!! I've also been addicted to pumpkin spice coffee creamer as well as anything in a mini loaf size. :-)
2. New boots!!! I was actually searching for some black boots… (because I already have brown boots (and I hardly ever wear those))… but THESE boots… These boots I fell in love with. And I promise to wear them every day we have 'boot weather.'
3. The most common question I was asked during our engagement was "who photographs a photographer's wedding?" Answer: bobbi+mike. Because they rock. Seeing our wedding photos was definitely one of the highlights for this month!!!!! There have been a couple sneak peeks on Facebook and we were just featured on bobbi+mike's blog yesterday. Is it silly that one of my favorites is one with one of the photographers peeking over the hill behind us? :-)
4. Fall colors. I am surprised at how long they have lasted this year! This is a photo I took with my phone as I was waiting in my car for the rain to stop before Bailee's senior session.
Comments
comments