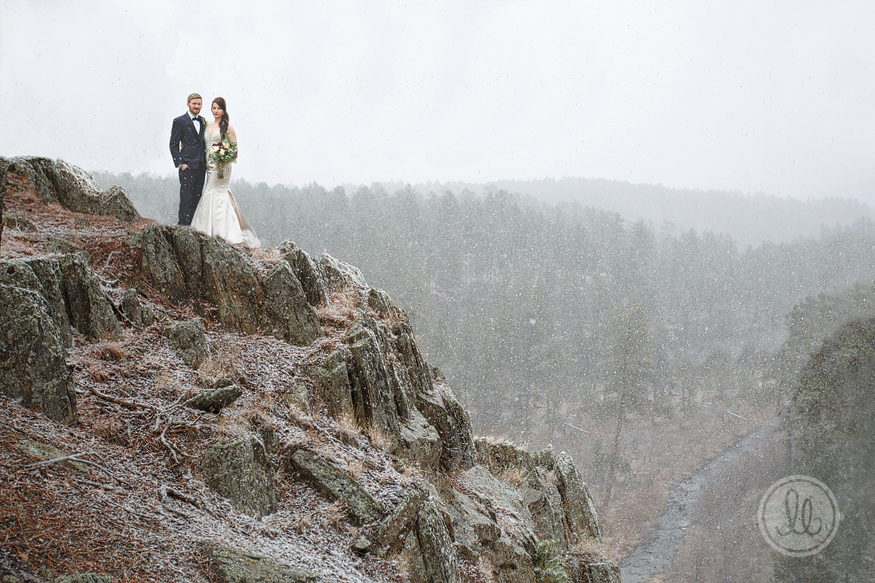 After almost seven years of being together, Matt + Ashley are now officially husband and wife! I first met Ashley at her best friend Meghan's wedding four years ago – she was her bridesmaid and roommate and I immediately got the feeling that these are some pretty great girls to know.
Fast-forward to nearly two years ago, Matt proposed on New Years Eve, and he and Ashley met with me in February to talk wedding details. Sitting across the table from these two, talking about their life and their love, I couldn't help but smile from ear to ear. The conversation came so easily (I'm not sure how much we even talked about their wedding), and the way they looked at each other had me wishing their wedding was in two months, not two years! I couldn't wait to photograph this lovely couple!
Their engagement session last fall was a blast, and their wedding is now (finally) at the top of my 'favorites' list (as I knew it would be).
The day started out foggy, and a crisp winter-like breeze whisked everyone inside the church for their short, sweet, and super-personal ceremony. Matt's grandfather let them drive his classic Plymouth from the ceremony to their reception at Prairie Berry. As we got out of town and into the hills, the biggest snowflakes fell almost in slow-motion – it was like living inside of a snow globe!
Ashley's gown was STUNNING (wait until you see Matt's reaction!) and his ring was made with meteorite – how cool is that?!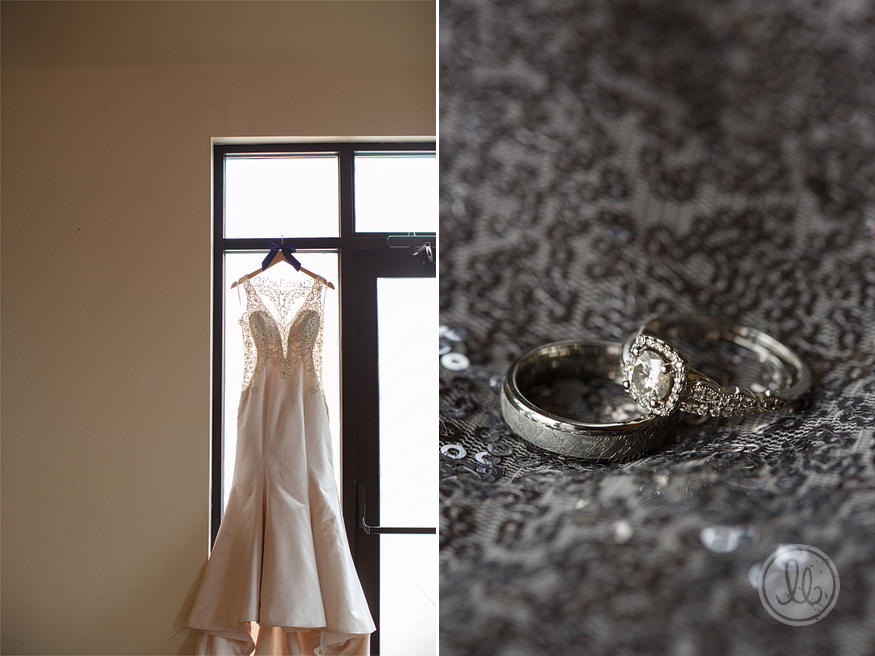 I love love LOVE brides putting on their earrings, but a new favorite 'getting ready photo' of mine is the bride's mom helping with her shoes. Probably because as a mom, I know these days of helping my kids put on their shoes will be over before I know it, and soon they'll be all grown up and getting married. Seeing moms help their daughters into their shoes one last time really pulls at my heartstrings!!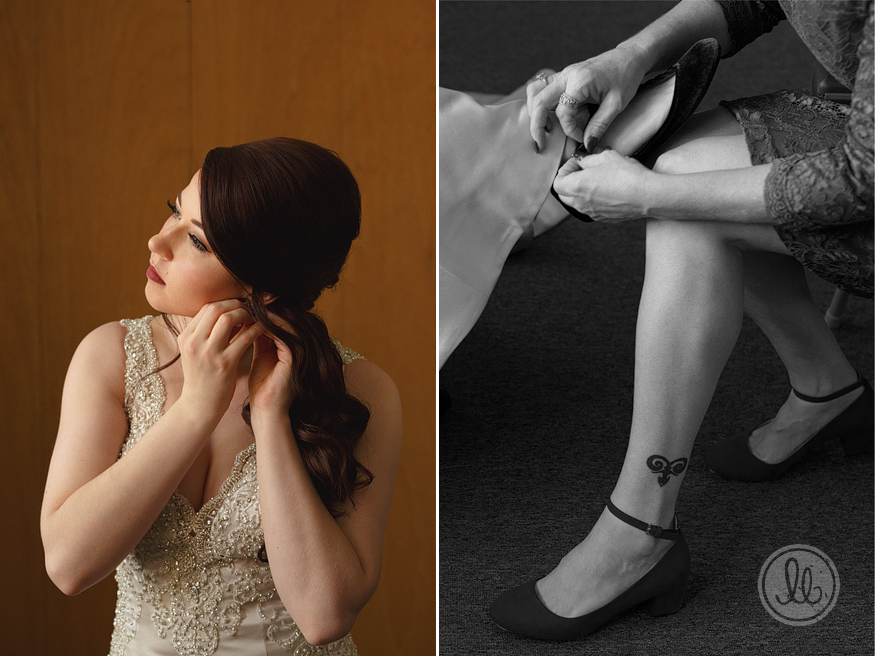 Letter-writing feels like such a thing of the past. Physically sitting down and pouring out your heart and thoughts to your soon-to-be spouse is such a beautiful act of love. I think we should all write love notes more often!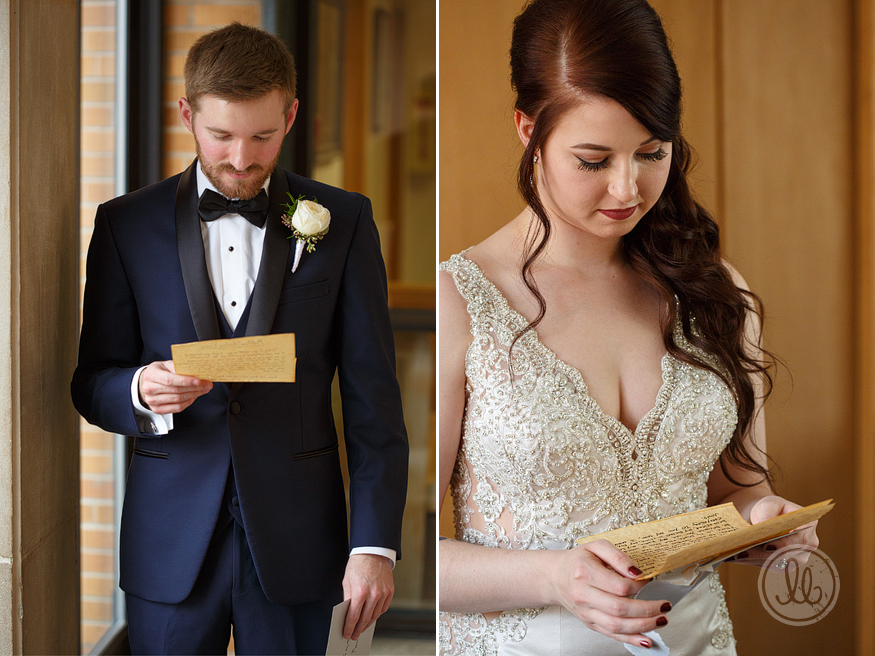 Check out that reaction!!! This very moment was worth all those years waiting for this day to come! :-)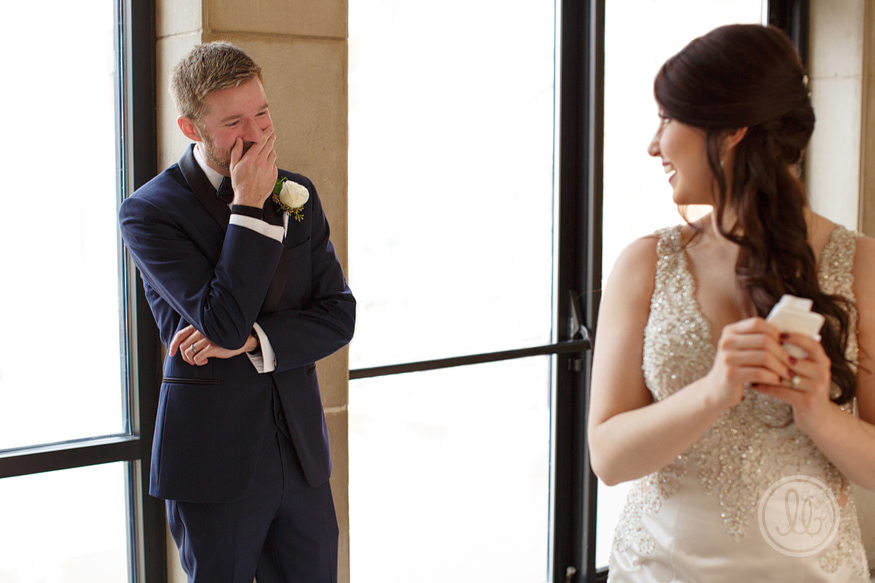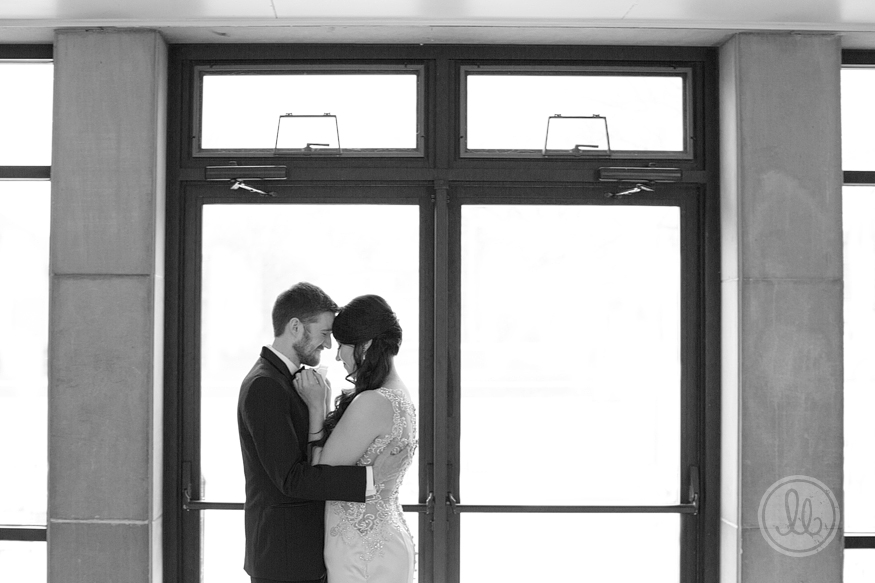 Could these two BE any more stunning?!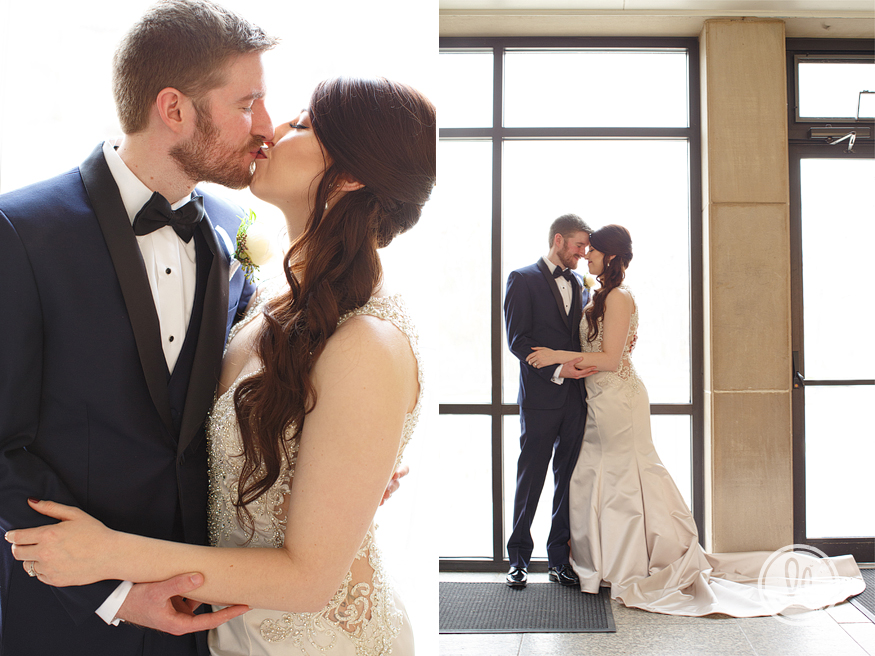 Yes, yes they could. And here they are proving it. (And yes, I did do a happy dance after taking this photo – I couldn't contain my excitement!!)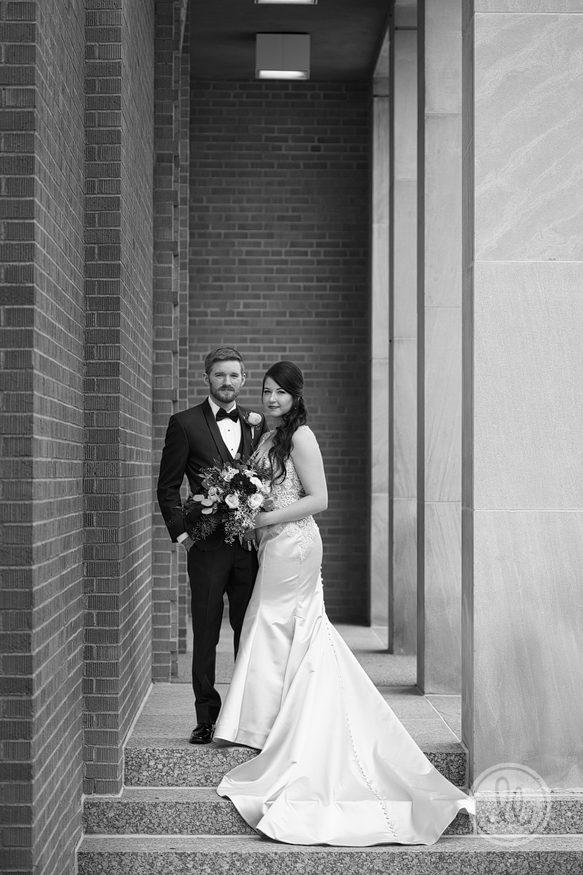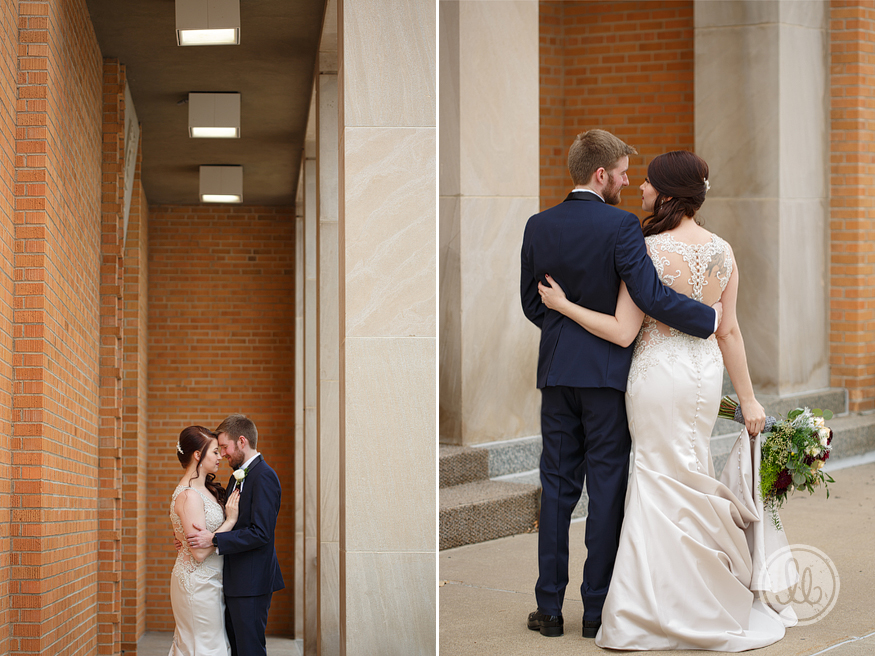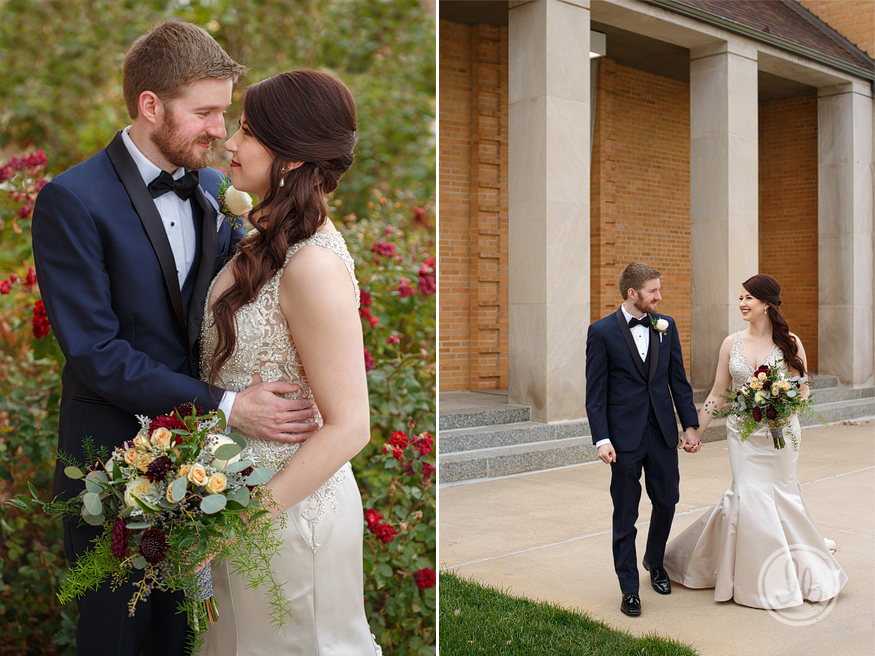 Insert Matt + Ashley's wedding party, and these guys are half the reason this day was so amazing and fun. I love seeing how bridesmaids and groomsmen act towards the bride + groom + each other on a wedding day, because they really set the tone for how the day will go. Judging by this photo (and many more that will be in their personal gallery), there were many laughs and shenanigans. :-)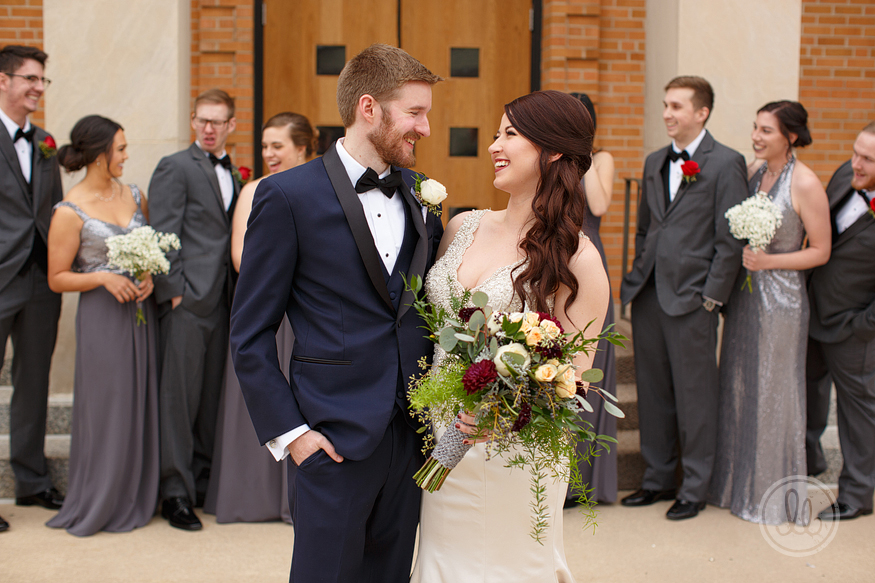 Girrrrls, you look goooood keeping each other warm!!!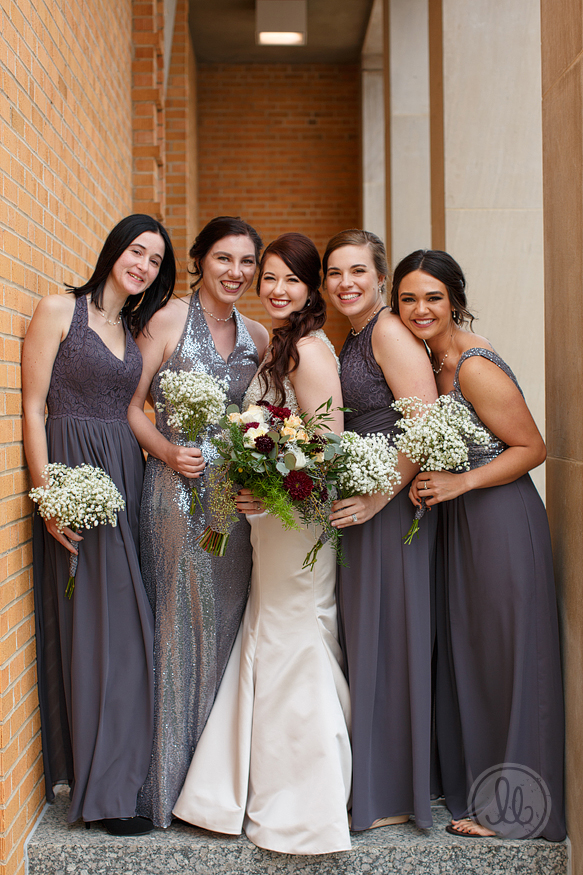 …and the guys were so excited to pose for their photos, I just *had* to share their 'boy band' look. Let me know when your first single comes out, would you? :-)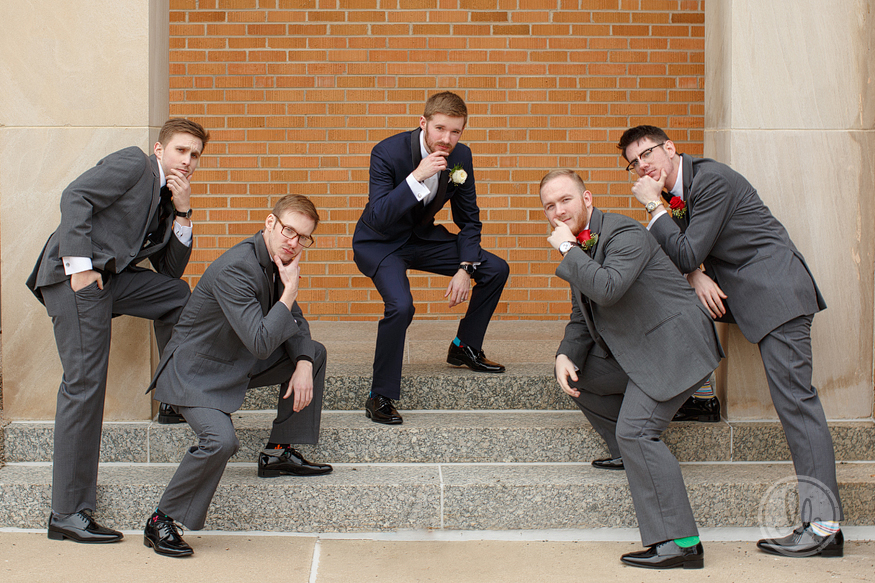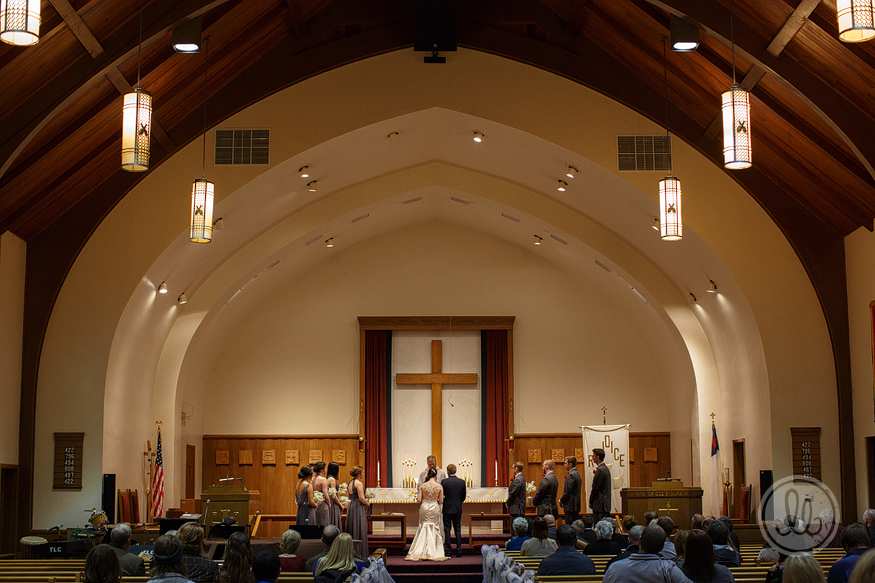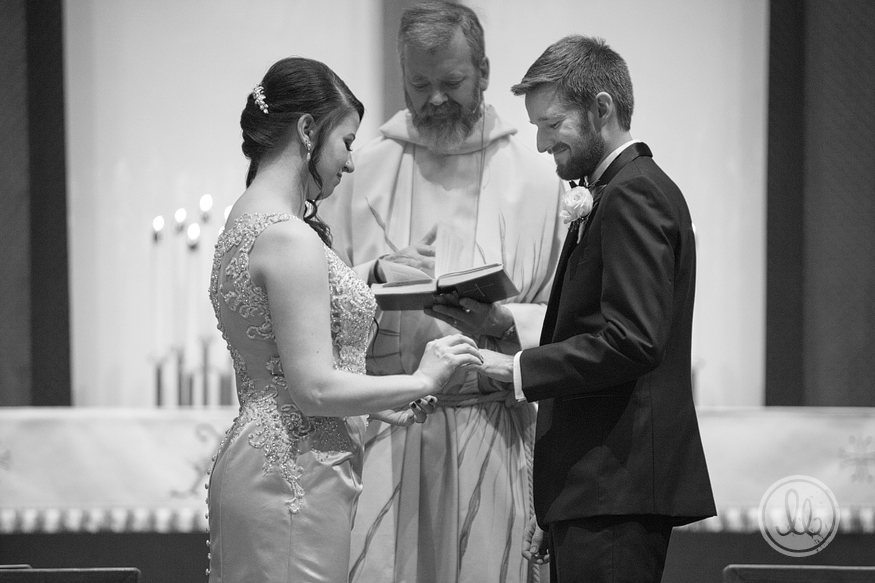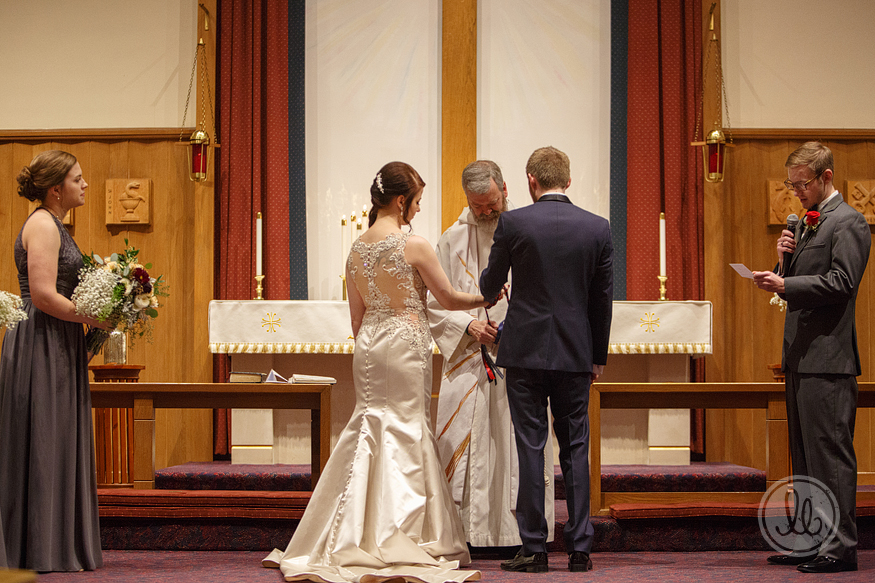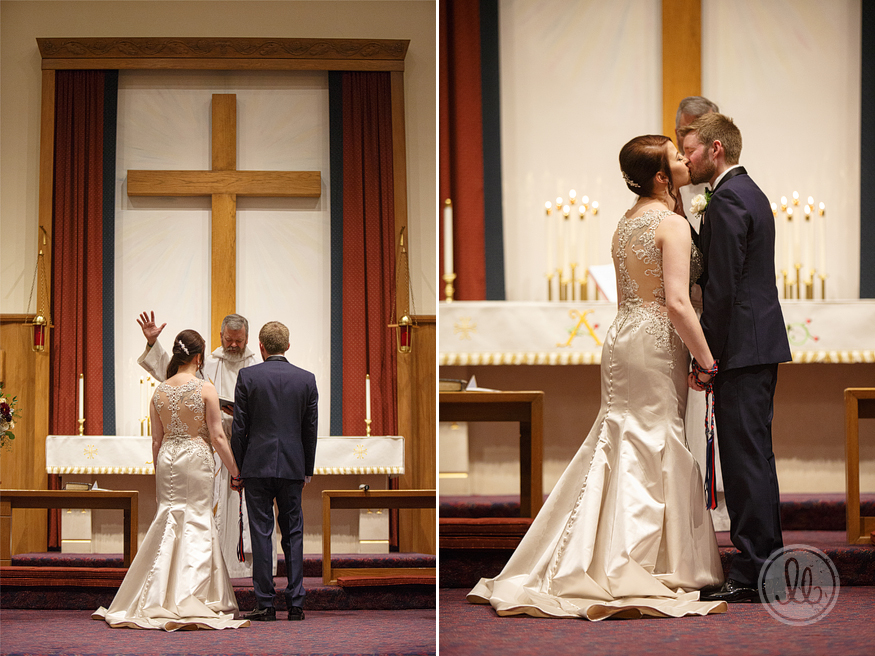 Doesn't this car just scream 'classic cool?!' As Matt + Ashley drove off, I couldn't help but think of how romantic it was that they were spending this time together. Alone, minutes after saying their vows, taking their first drive of many, letting the reality of what just happened wash over them.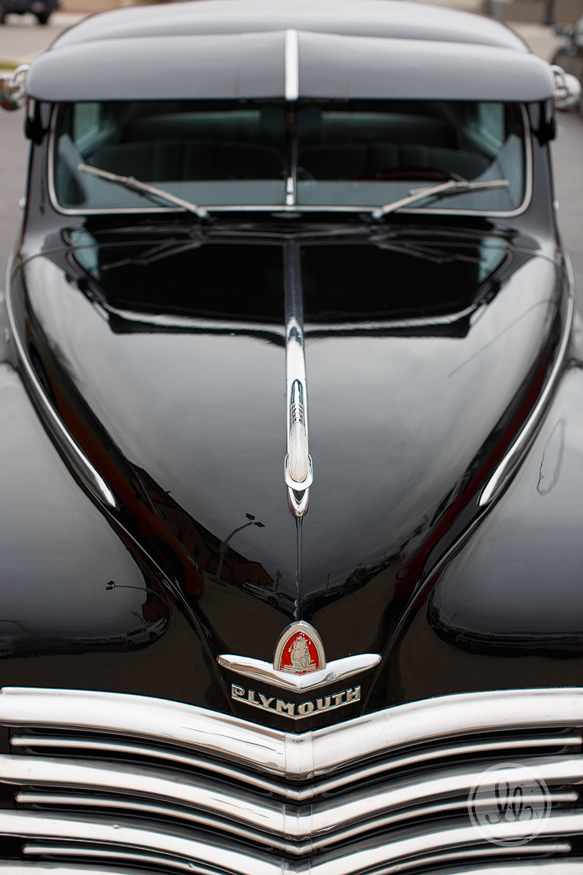 And then THE SNOWFLAKES started!! We had already planned to stop for some 'just married' photos, but what we hadn't planned on was this snow-globe effect!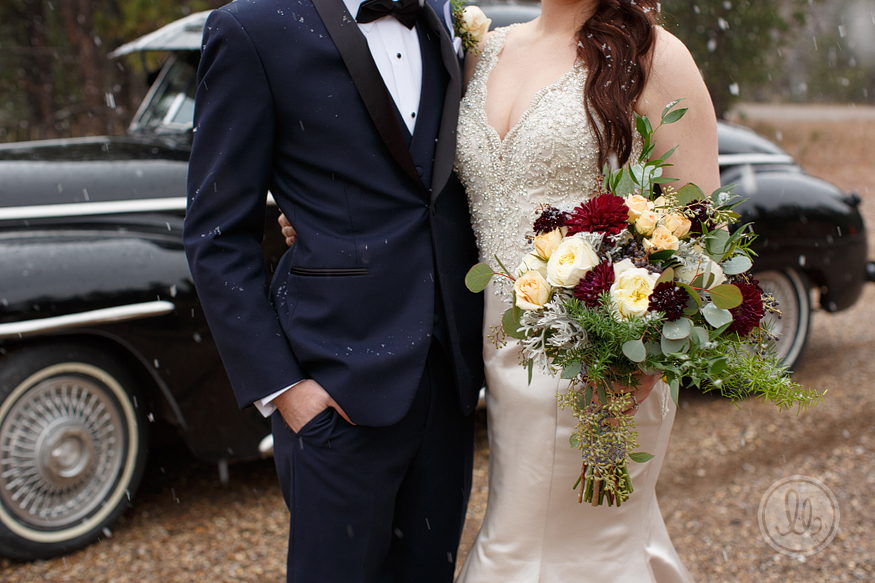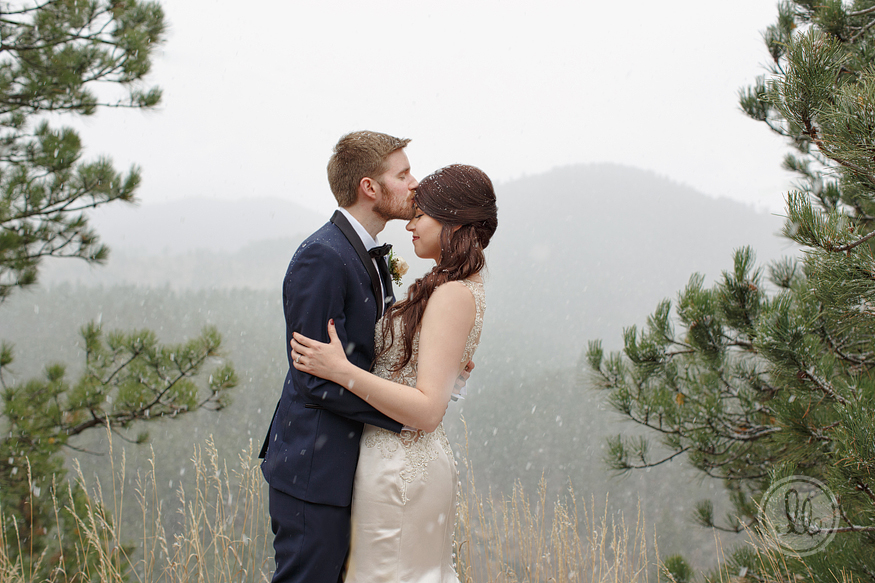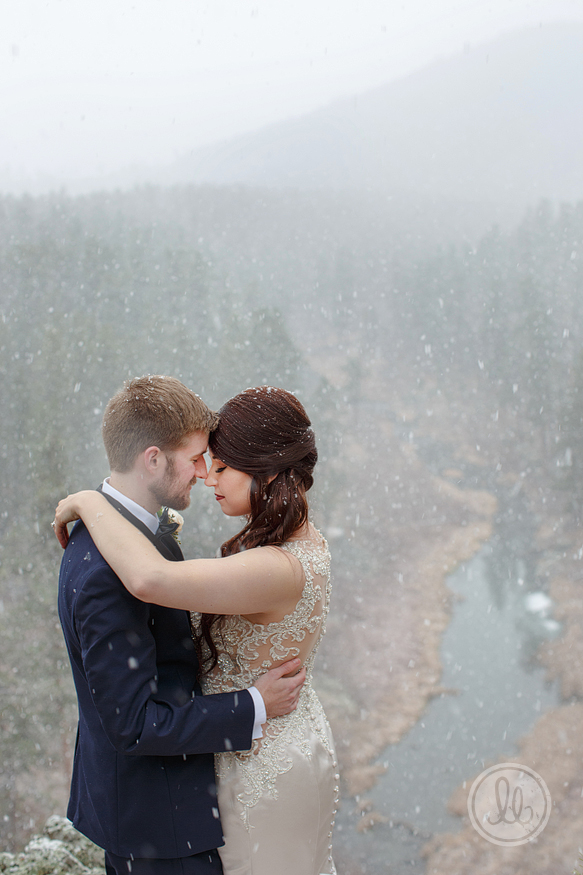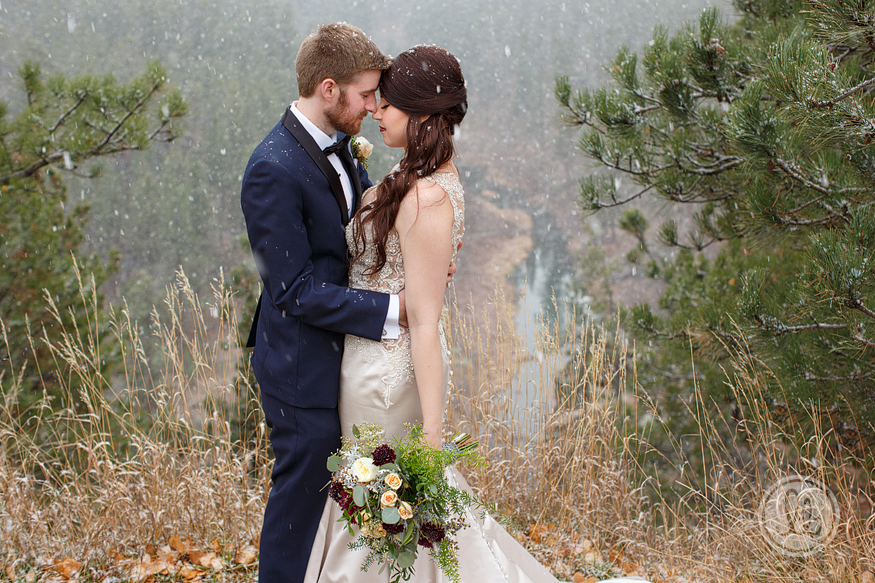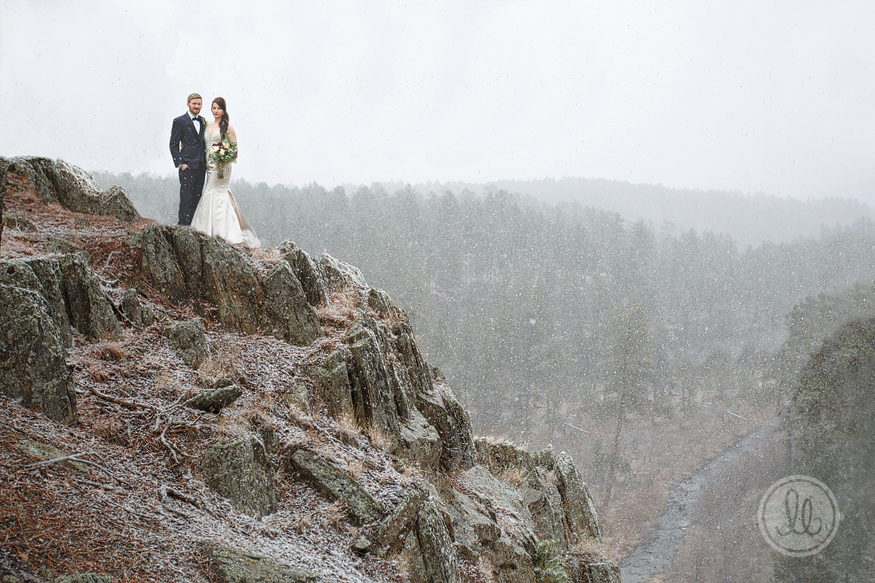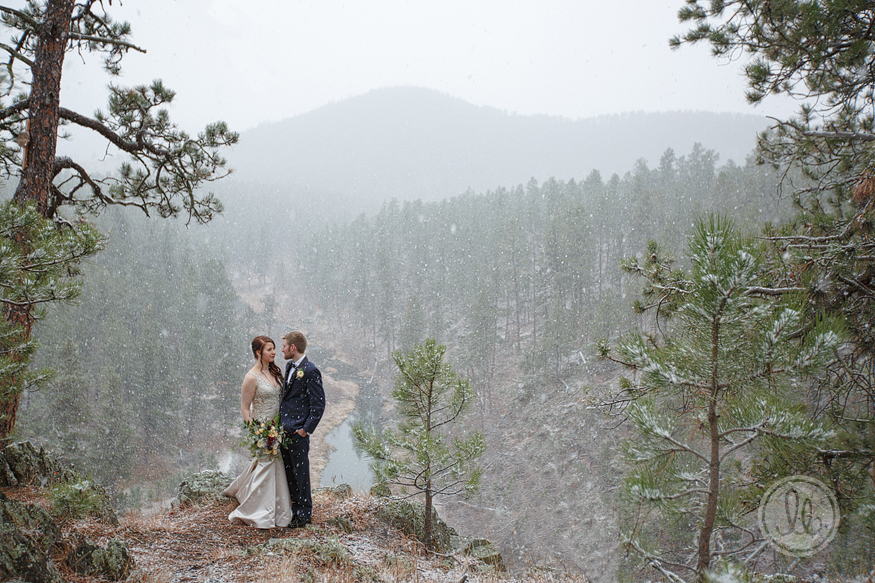 Their reception was a perfect fall-meets-winter feel, with plated meals and a hot cocoa station.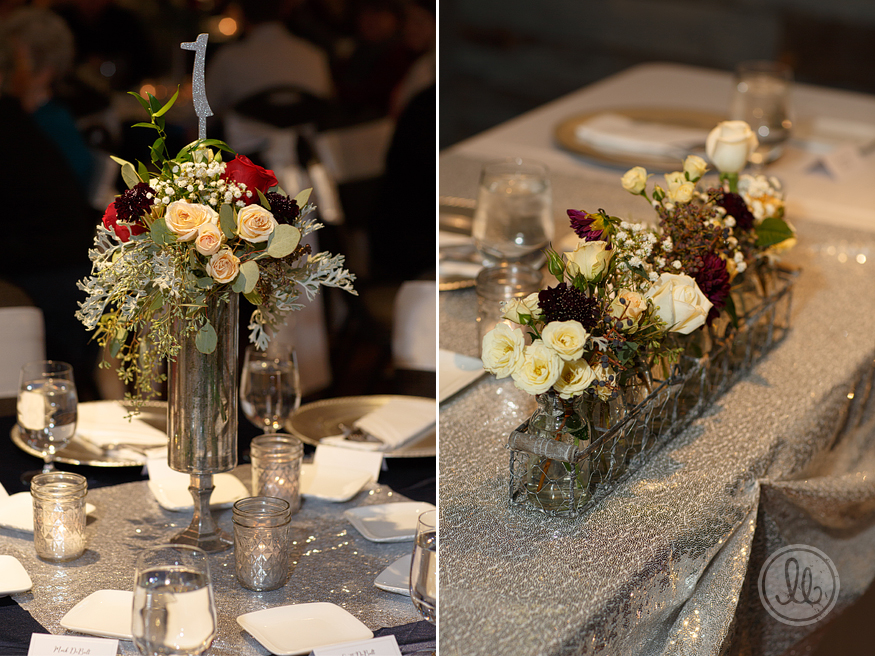 Matt + Ashley's first dance was to 'The Luckiest' and I felt like not only were Matt + Ashley the luckiest to be married, but all of us watching were the luckiest to be able to witness the beginning of their happily ever after!!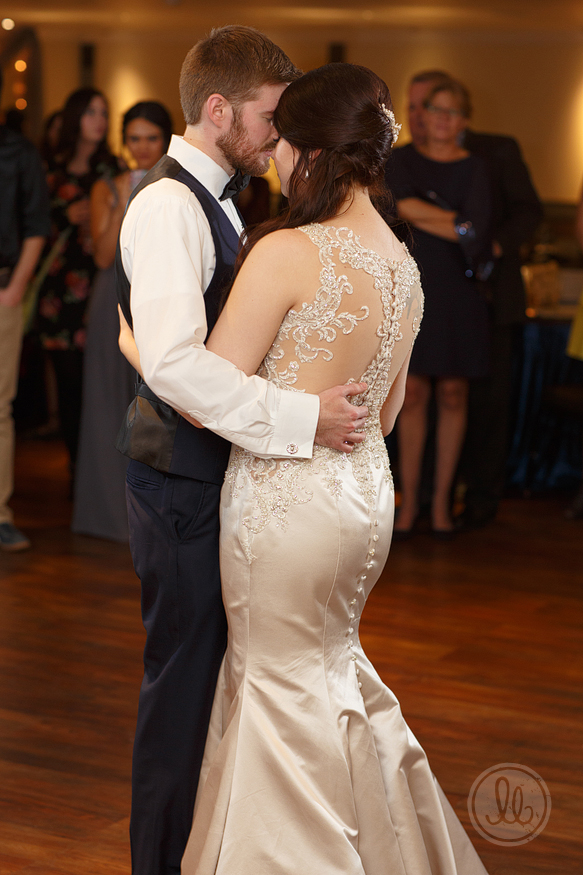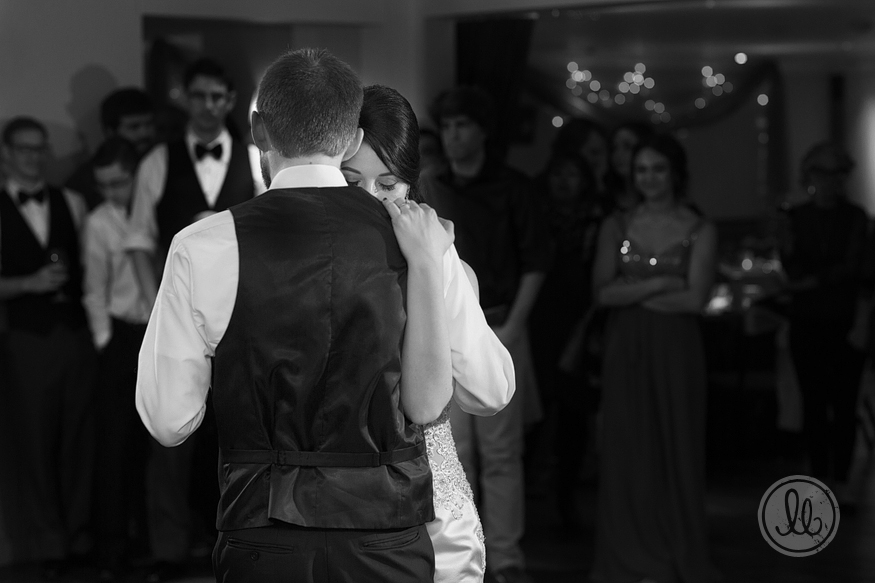 And then Ashley danced with her father and we were all the luckiest all over again, seeing how Ashley has two wonderful men who love her with all their hearts… I'm not crying, you're crying!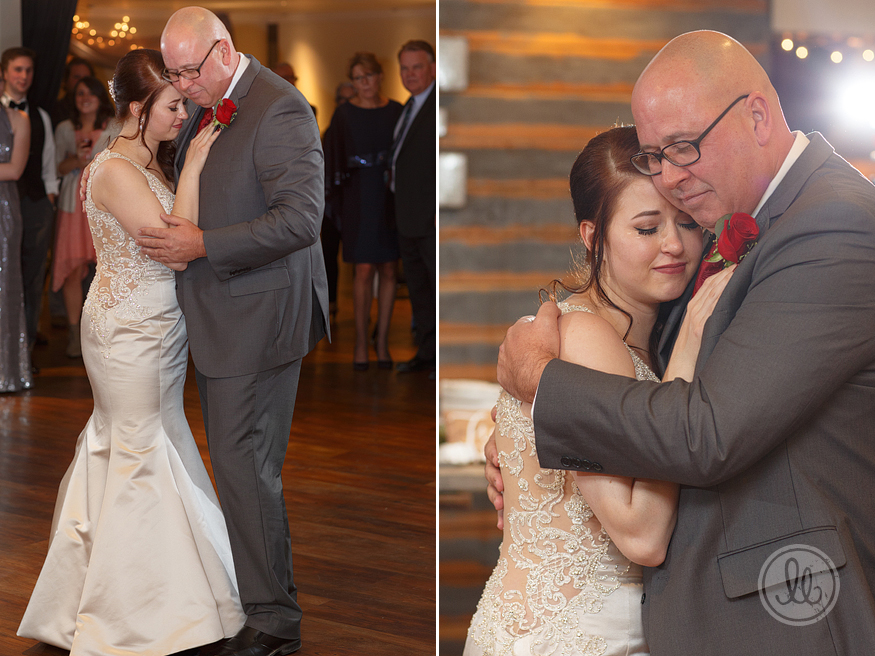 Whew! Matt + Ashley, your day was beyond perfect and I'm so thankful to have you in my life – both as clients and as friends. I loved every moment and every detail of your day, and I can't wait to share all the rest of your pictures with you! Thanks for allowing so much time for photos – we created some great images, and I hope you enjoyed all the time to yourselves (with me there telling you where to walk and stand). ;-)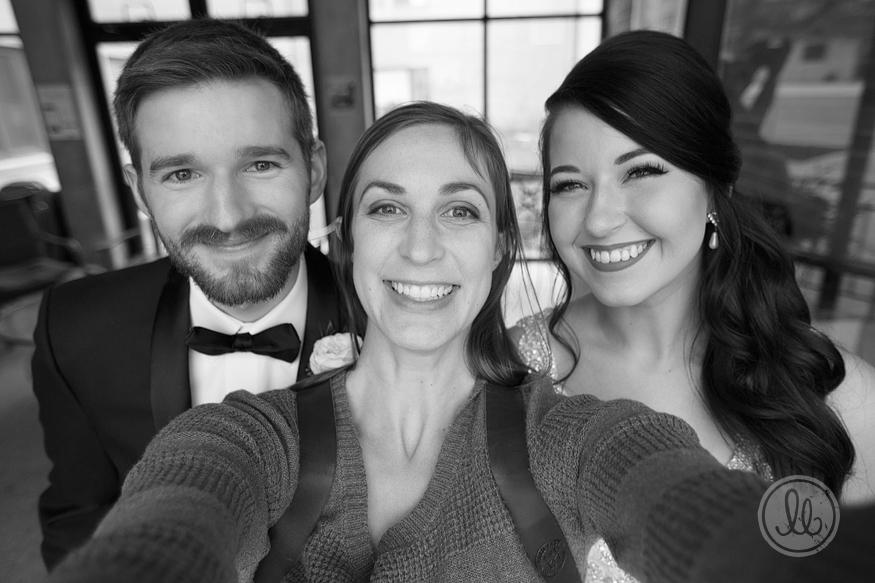 Meghan + Ashley – You girls are the absolute sweetest!! Thanks for being my ideal brides – fun, relaxed, beautiful inside and out, and level-headed. At both of your weddings I felt so comfortable and creatively energized. Maybe it's your nurse vibes (you handle stressful situations really well, while making others feel at ease) or maybe it's just how you were raised (your parents are all role models), but you were both destined to have great husbands and great marriages and I'm so so lucky to have been invited to share in this part of each of your stories!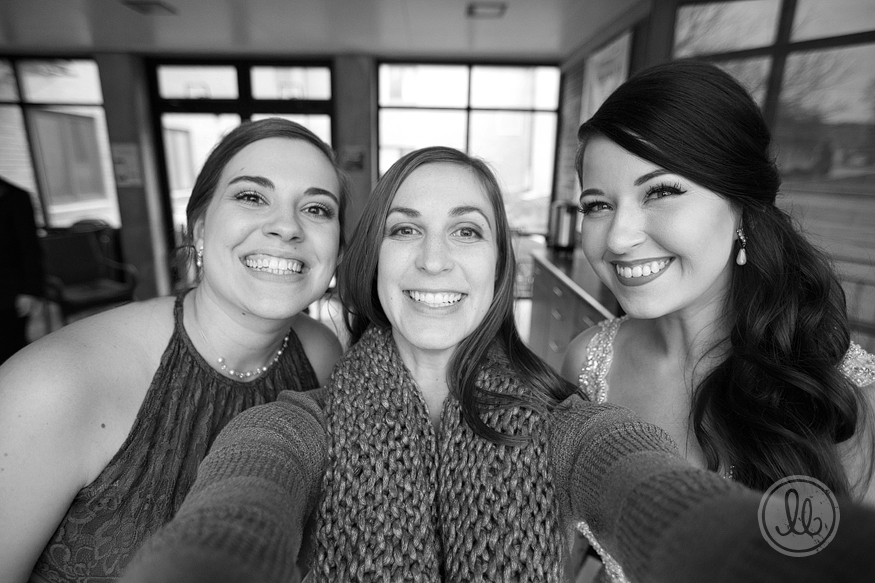 Comments
comments