Hellooooo, November!!!!! This month, I am *so* thankful for my family and job that allows me to have a little bit of free time. A couple weeks ago, I went on a road trip to visit some of my favorite people in the whole wide world. Convenient, though, that they all live in the Dakotas… :-)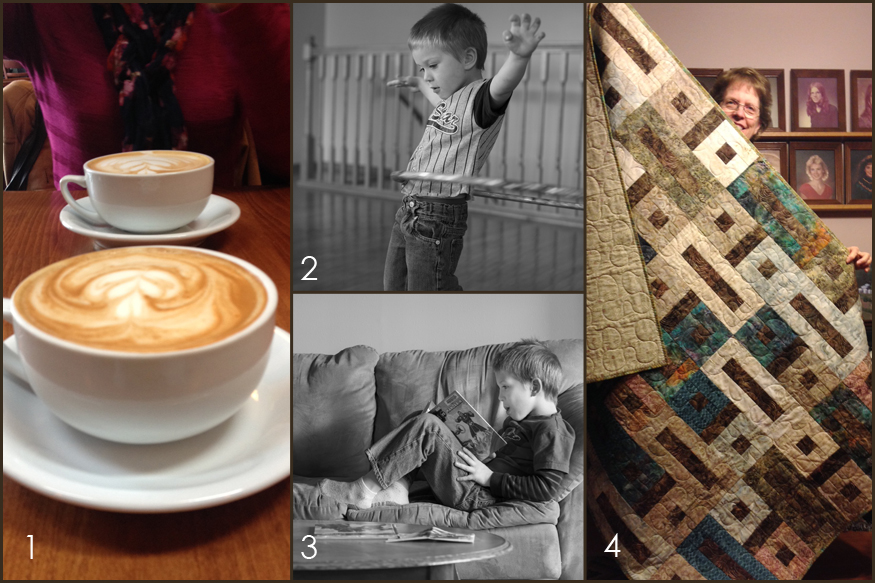 1. Coffea with my BFF, Jill!! Okay, so I was *really* excited about my Charlie Brown latte art and catching up with Jill, that I forgot to take a picture of the both of us. Next time, friend, I promise. :-)
2. Isaac – my younger nephew is a fan of hula hooping. It's so much fun to watch him try over and over again until he gets a good spin (which he frequently does).
3. Jonas – my older nephew would be happy to read and play video games all day long.
4. My mom – I spent most of my road trip vacation with her, and here she is showing off a recent quilt she made.We spent hours upon hours visiting (until her Masterpiece Theater show was on and I had to be quiet), we baked numerous cupcakes, we shopped for fabric + antiques, we spent 10 hours together in a car and created stories that 'you just had to be there' for them to come across as funny on the internet.
Also, not pictured in my fun-filled road trip vacation were my husband, his parents + sister, my brother (who was totally surprised by our arrival for his birthday) and sister-in-law, my cousin and his wife and their little lentil (due April 2014) in Bismarck, and my aunt and uncle from Dickinson!
Comments
comments