Helloooooo, summer!!! It has been a busy month full of weddings and engagement sessions, as well as office and yard work. Fresh air makes everyone more productive, right?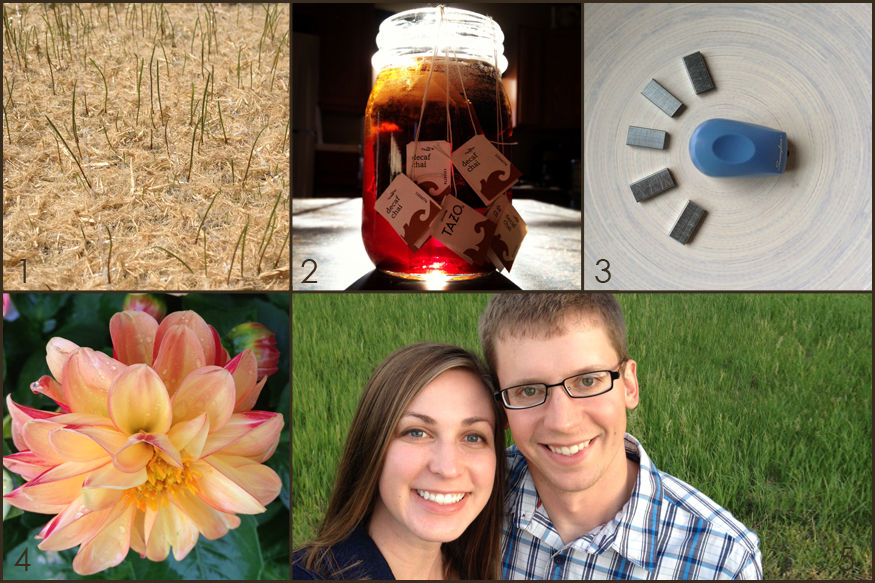 1. New grass!! – Last week, Lance and I worked on our front yard for six straight hours. We shaped the dirt and seeded grass and put down a germination blanket (the wind in our hill-top neighborhood is ridiculous, and we didn't want to put in all that hard work to have the wind blow all our seed away…) When I came home from last weekend's wedding, there were these little sprouts waving 'hello!' Only a few more weeks until the rest of the seeds take root and fill in! :-)
2. Summer drinks – When it's hot out, I like to have my fridge stocked with cool treats. My new favorite drink? Iced chocolate chai. I brew extra-strength chai tea, store it in the fridge, and when I'm ready to cool off, I mix it with chocolate almond milk over ice. Yummmm!
3. Mini Swingline – Office work seems so much more enjoyable with my cute little stapler.
4. Dahlias – I like to think these colorful potted flowers in front of the house made up for the lack of a front lawn earlier in the month.
5. Date night!! – Lance and I went out to eat at Piesano's (our favorite pizza place in town) and took a stroll around the Outdoor Campus West.
p.s. Several of my 'favorite things' make an appearance on Instagram as they happen throughout the month. If you'd like to follow along, and even see some sneak peeks from weddings and engagement sessions, come follow me – my username is studiolb!!
Comments
comments