Welcome, my wonderful blog readers, to the february edition of 'laura loves…!'
There are several things that have made me smile this month, and here are my top favorites: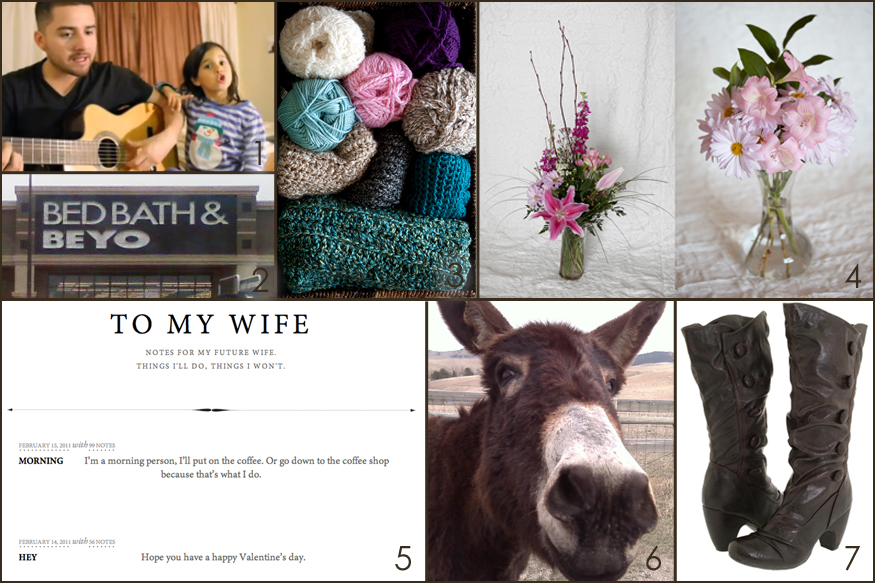 1. This video on YouTube makes my heart melt a little every time I watch it!! Part-way through the song, the dad is whistling and the little girl is pretending… she looks over to her dad and asks "one day I'm gonna whistle?" SO cute. And it's a good song.
2. Rapid City is getting a Bed Bath and Beyond, and I caught them while they were working on putting up the sign. I think it would be much funnier to have a Bed Bath and Beyo…
3. Colorful yarn – I have finished several projects since I re-taught myself how to crochet using YouTube videos. My favorite part is picking out SOFT yarn in FUN colors.
4. Flowers – Lance had flowers delivered to my apartment for our 4-year dating anniversary almost two weeks ago. The original arrangement is on the left. Today I took all the still-fresh-looking flowers and created the arrangement on the right.
5. To My Wife – I subscribed to this blog a few weeks ago. My favorite is the one about slow walkers. Every time Lance and I have to go to WalMart, we are always on a mission to get what we need and get out of there.
6. Burros – I was cleaning out the text messages on my phone and this picture from Lance made me laugh. out. loud. It's now the background image on my phone. :-)
7. Boots – I have never been a fan of boots. On other people, sure. On me, no. I wear a size 9 shoe and I feel like boots would really accentuate the hugeness that is my feet. But then I found this pair on Zappos.com and I figured why not try them on? It's free shipping both ways. I got them in the mail a week ago and they are never going back. I think it was the buttons that sold me.
Comments
comments