2019 was the hardest year for me personally. After weeks of agonizing over what our life might look like with a Trisomy 18 baby, our sweet Cecilia made her entrance early, and her time with us was very, very short. I vowed to cherish each and every day that I'm given, and 2019 ended up being a year of so much growth and focus. My life revolved around the things that were important to me, and the things that were not so important were easy to brush off (hence my lack of online presence this past year).
Before we knew Cecilia had Trisomy 18, I had limited the amount of work I would take on, knowing that I would want to cherish the summer with my family. I just didn't know how *much* I would treasure that time.
When I was working, I was gifted the most wonderful people to be around. People who were also living their days intentionally, and making the time to celebrate each other. This filled my heart just as much as those days at home with my family.
In 2019 I spent time gardening, adventuring, celebrating all seasons of life – from small moments to big ones – and I know that each person I had the honor of spending time with this year was for a reason.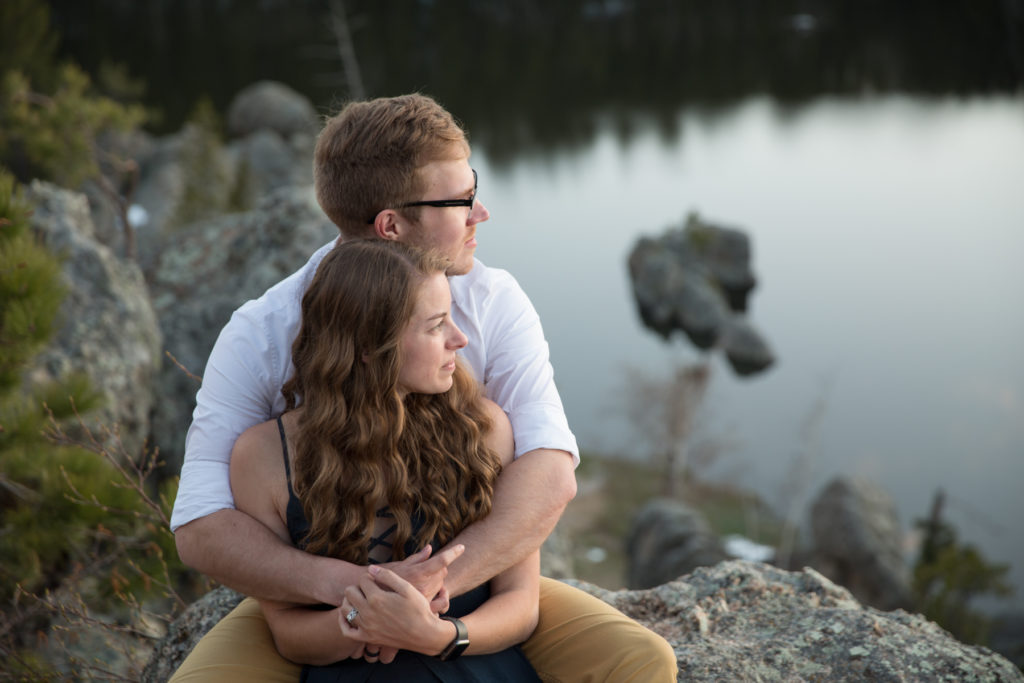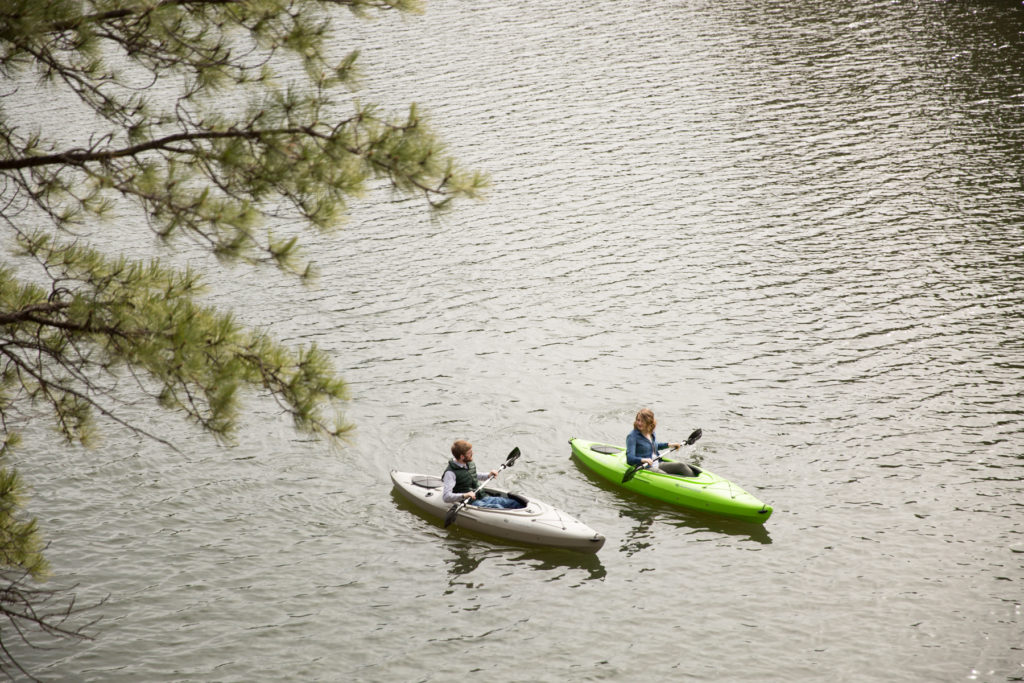 I spent time with 'new' couples, and with couples who I've known for a while, and are so close to my heart – time with them was like going back in time, when everything was 'normal,' and eventually when a tear would slip out of my eye, I was wrapped in a most sincere hug.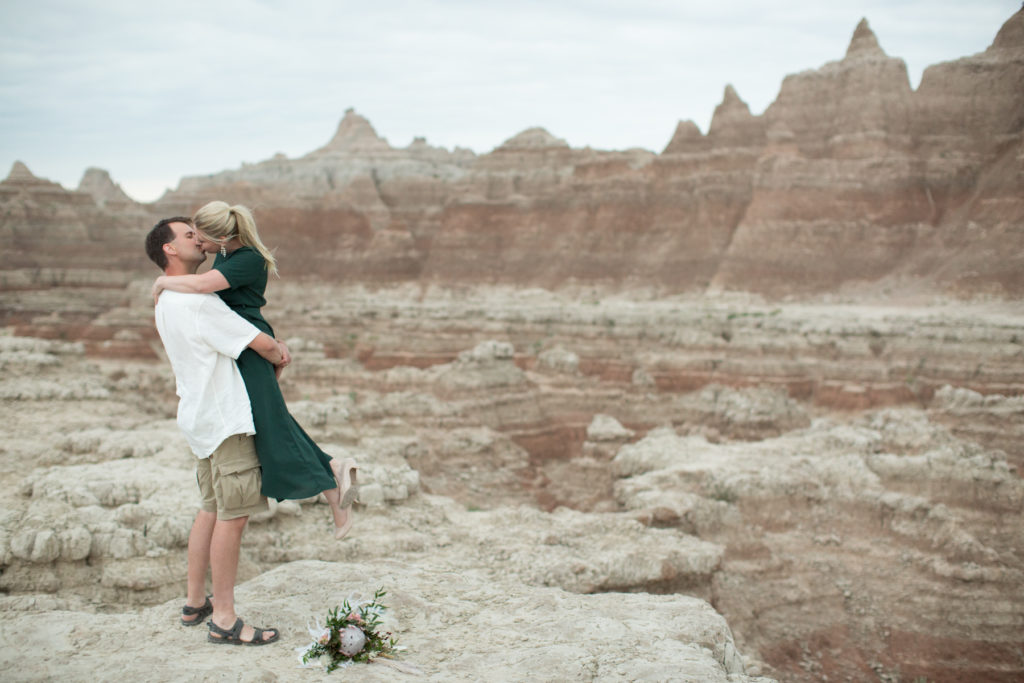 In 2019, I was able to document big, new beginnings, but also in-between, just as important memories: a birthday, a family vacation, a military spouse reunion, a man's last 'good' day with his whole family before cancer took over. One thing I've realized this year is that each day is worth celebrating, no matter the circumstances. I am so honored to have witnessed all kinds of memories for the people in front of my camera.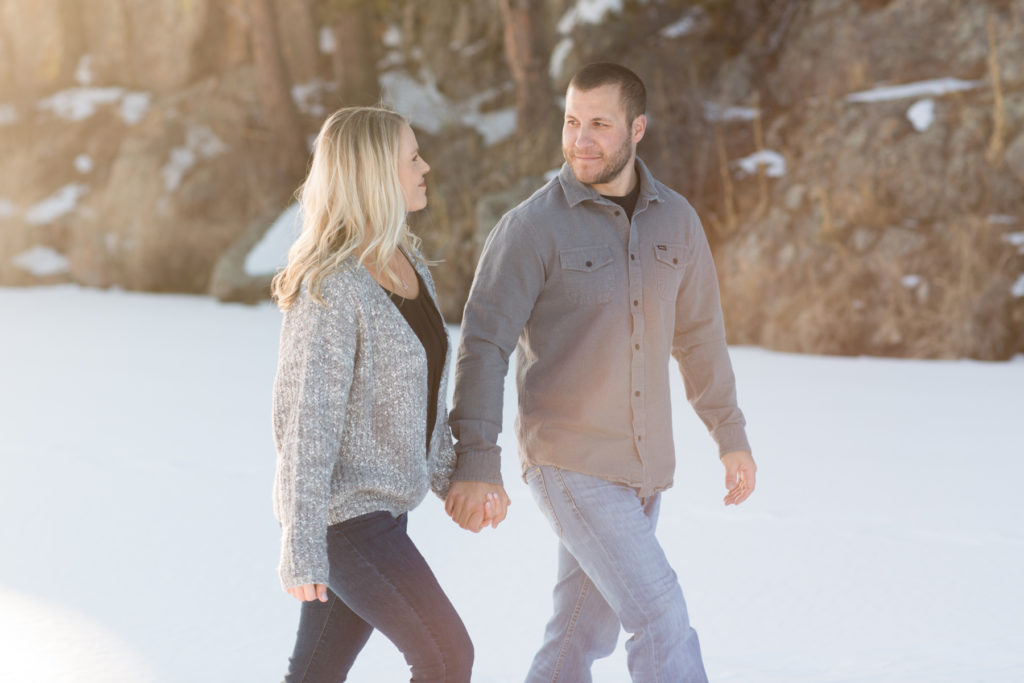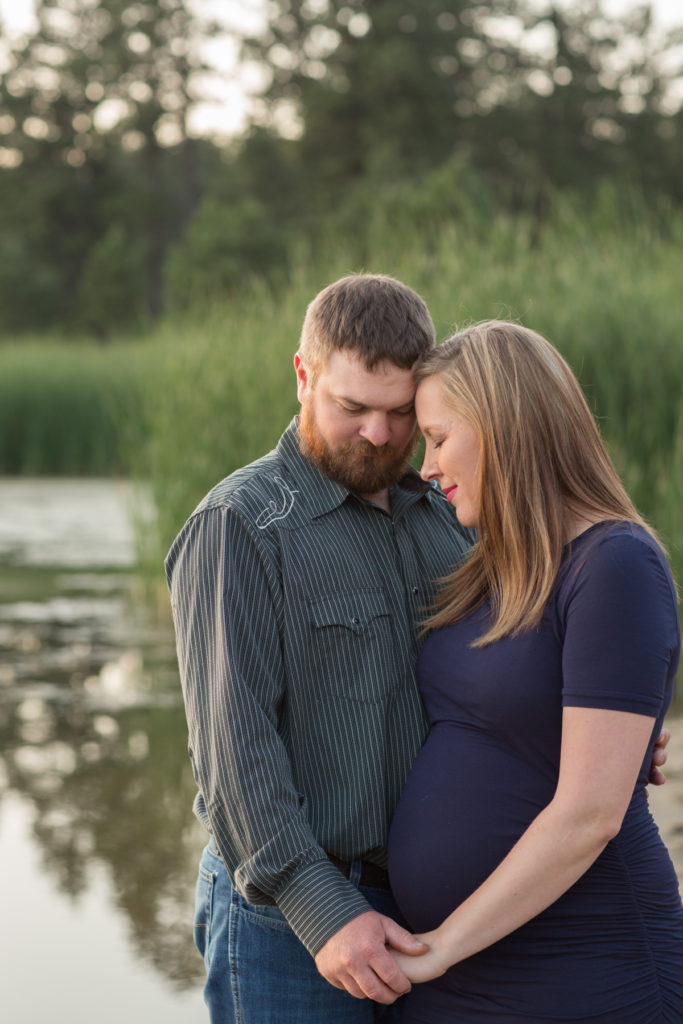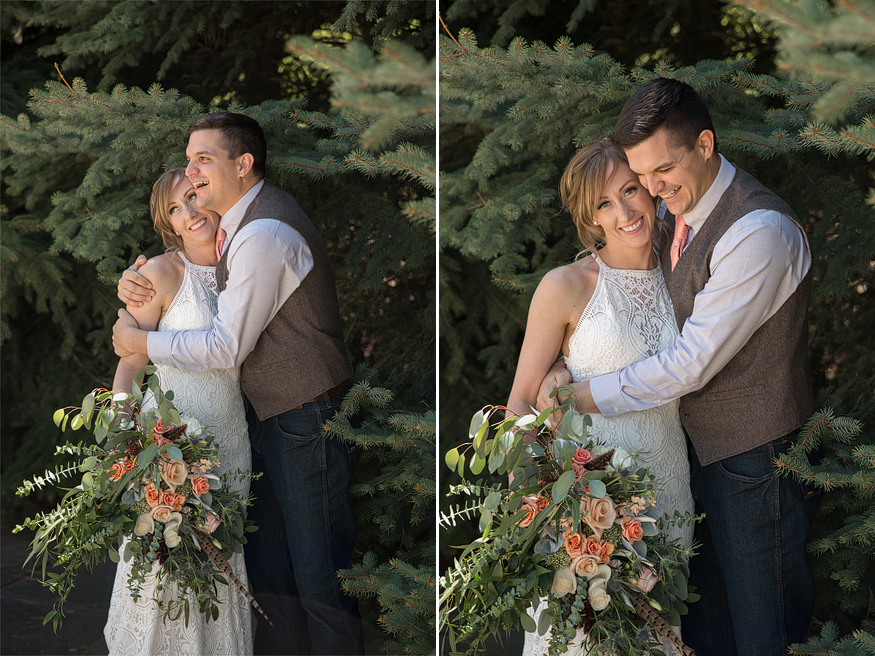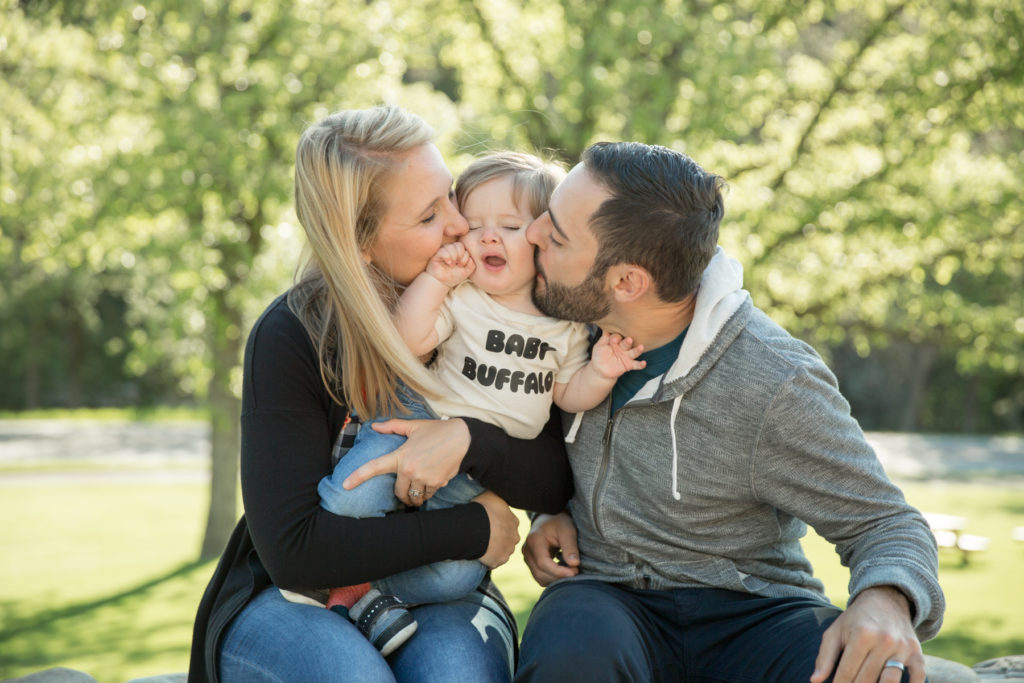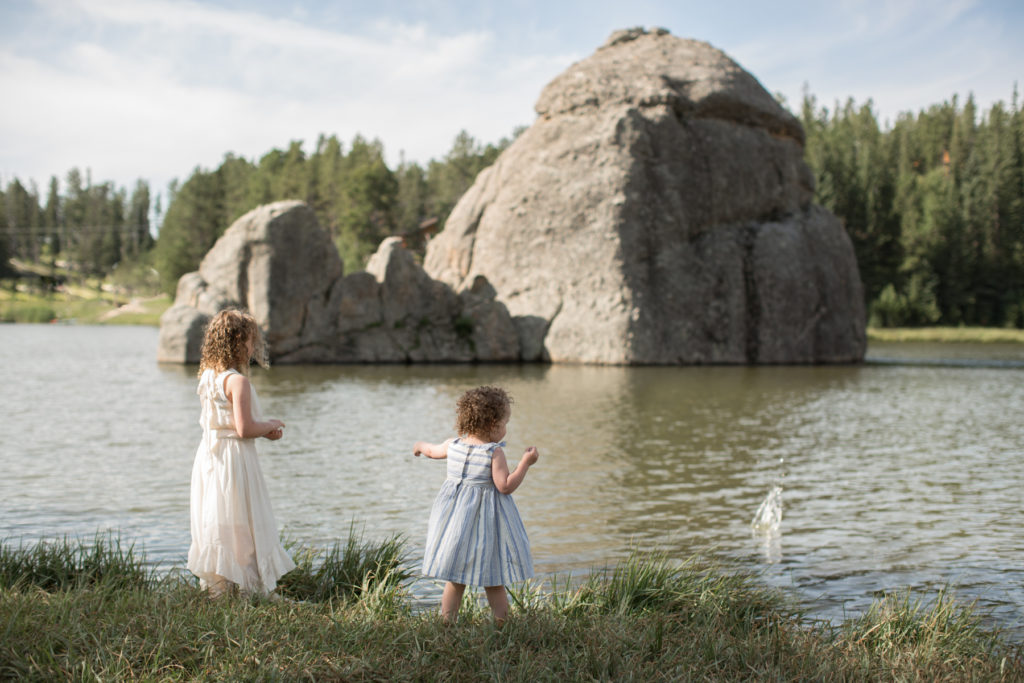 In February, a new 'season' of our lives began – grieving the loss of our daughter. I also carved out a pocket of time that month to do something to make my mind switch gears. One afternoon, I met Dustin + Cahri for some beautifully cold engagement photos. Cahri and I grew up in the same town, and seeing her so happy and comfortable (despite the wind blowing flurries of snowflakes into her face) with Dustin (who has also suffered the loss of someone very close to him) was just what my heart needed that month – to see an example of the beauty of life after loss. I will forever be grateful for this sweet couple.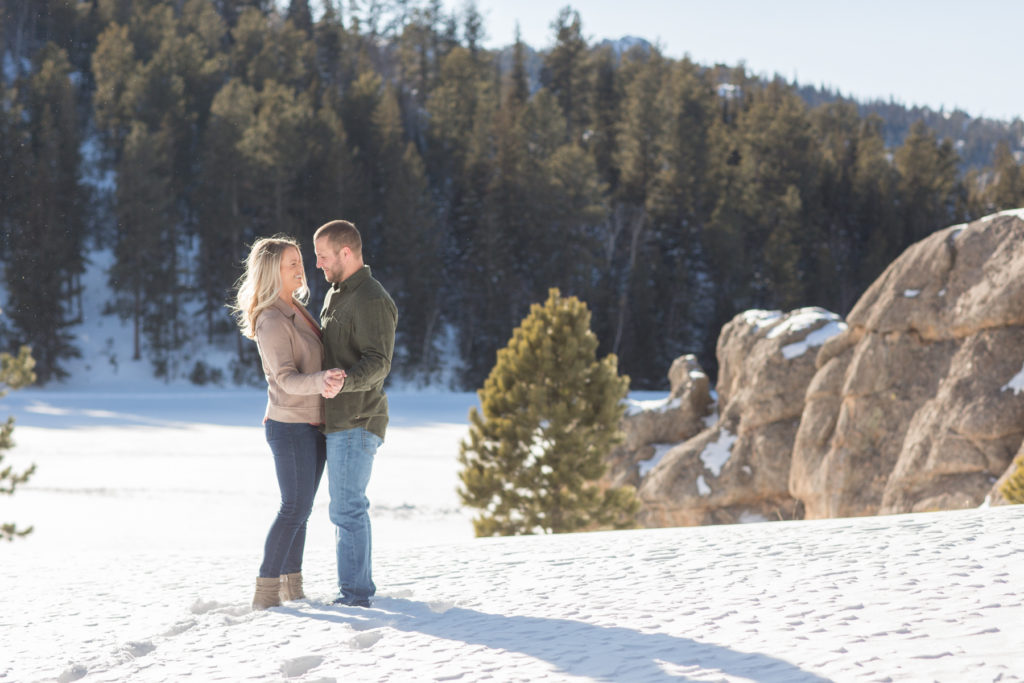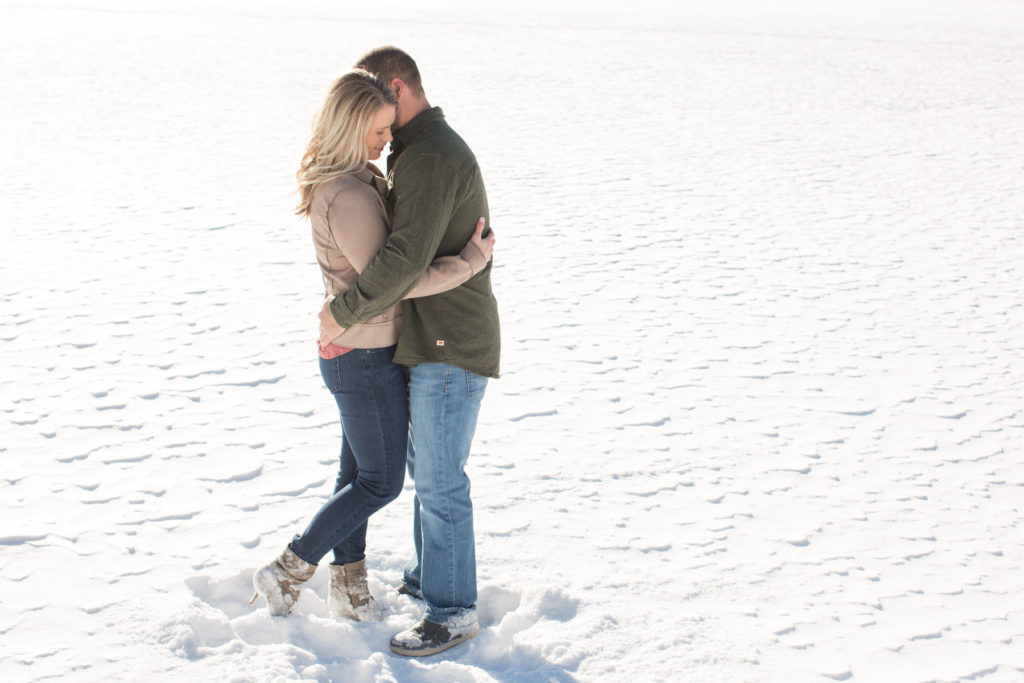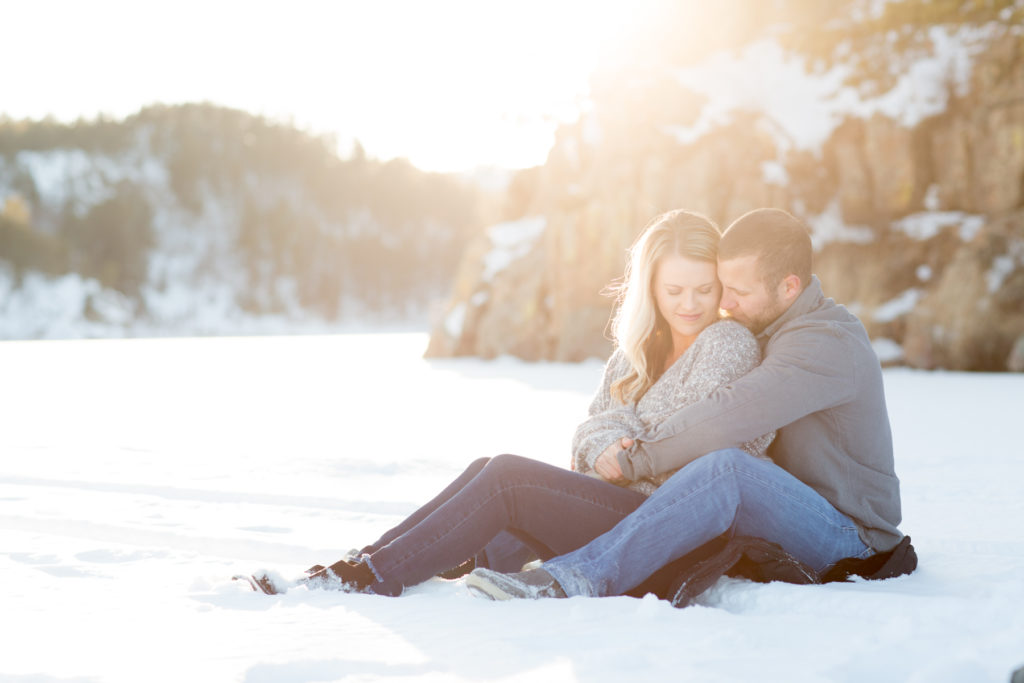 Then, later in the summer, I was reunited with a client-turned-best-friend who helped me through some of the hardest days of my grief. Over ten years ago, Marcy lost her baby girl, and all this time later, she still had the insight to know what I was feeling and when, and to have just the right words to make me feel better. Being able to see her and hug her in person was so uplifting. Being able to wander and have fun with her and David in the Badlands was the icing on the cake.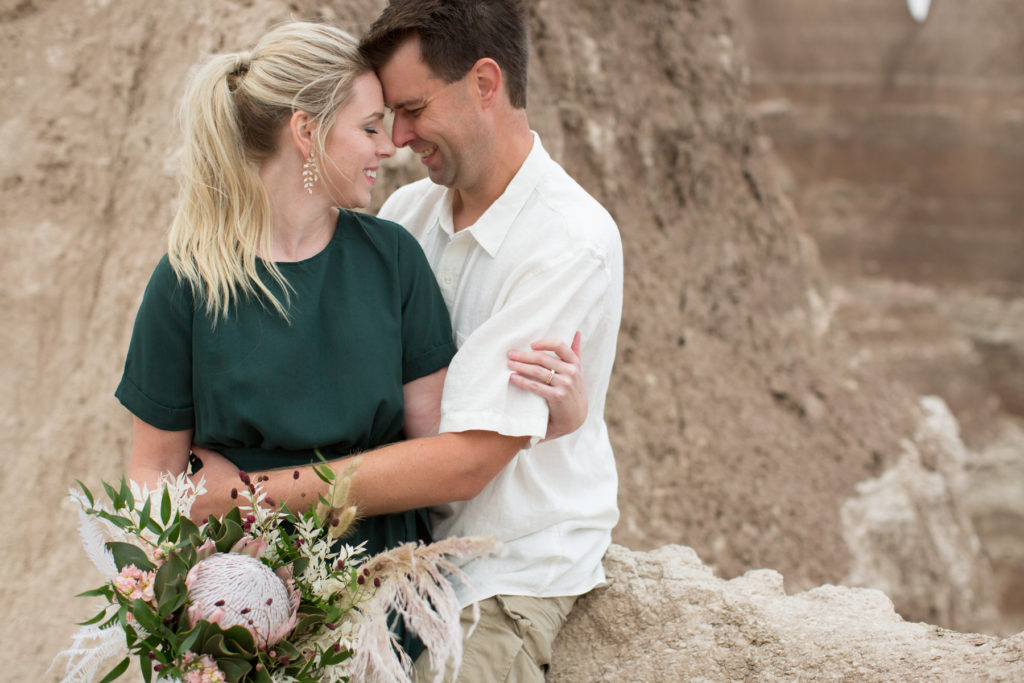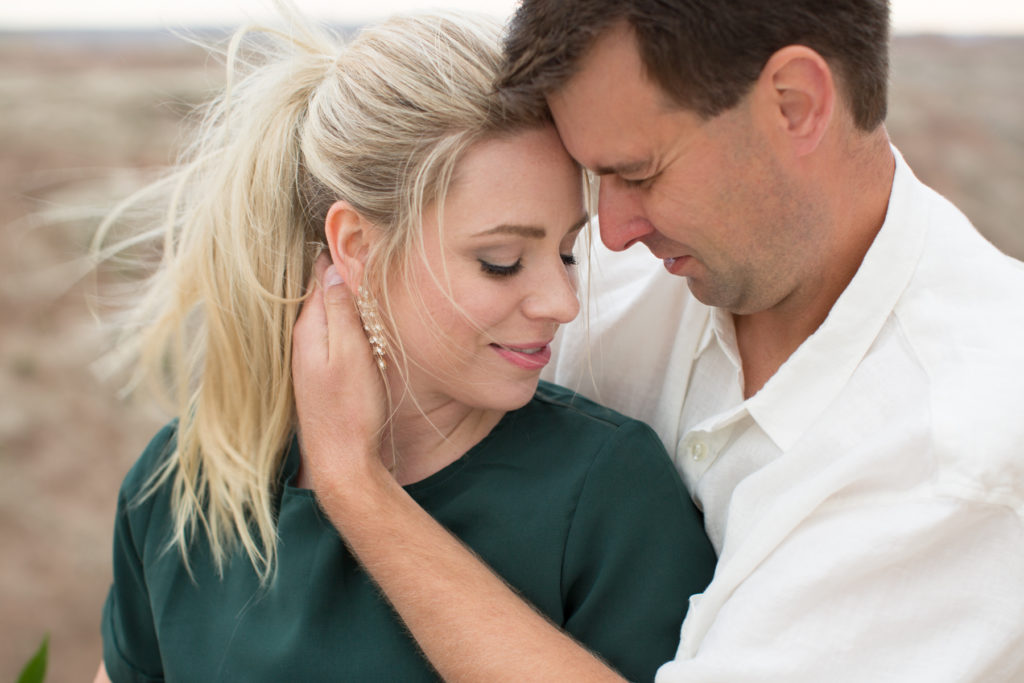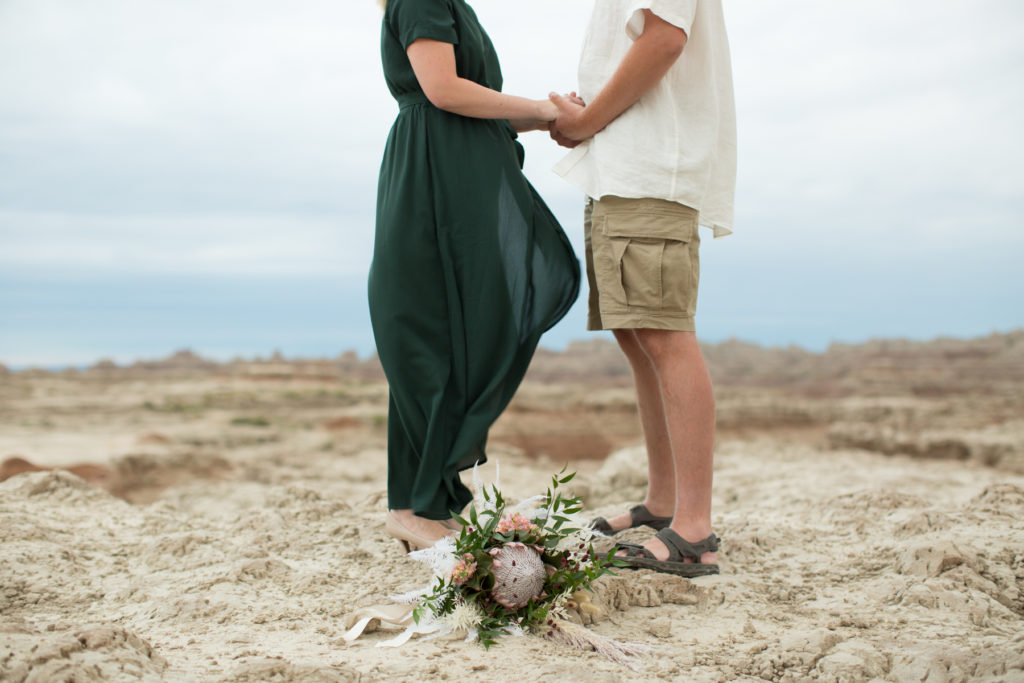 And who can forget this super fun kayak adventure with Matt + Ashley?! I mostly spent the afternoon in 'video' mode, but I love this photo because it perfectly encapsulates their genuine happiness and love, plus the peace and simplicity of their favorite place to kayak in the Black Hills.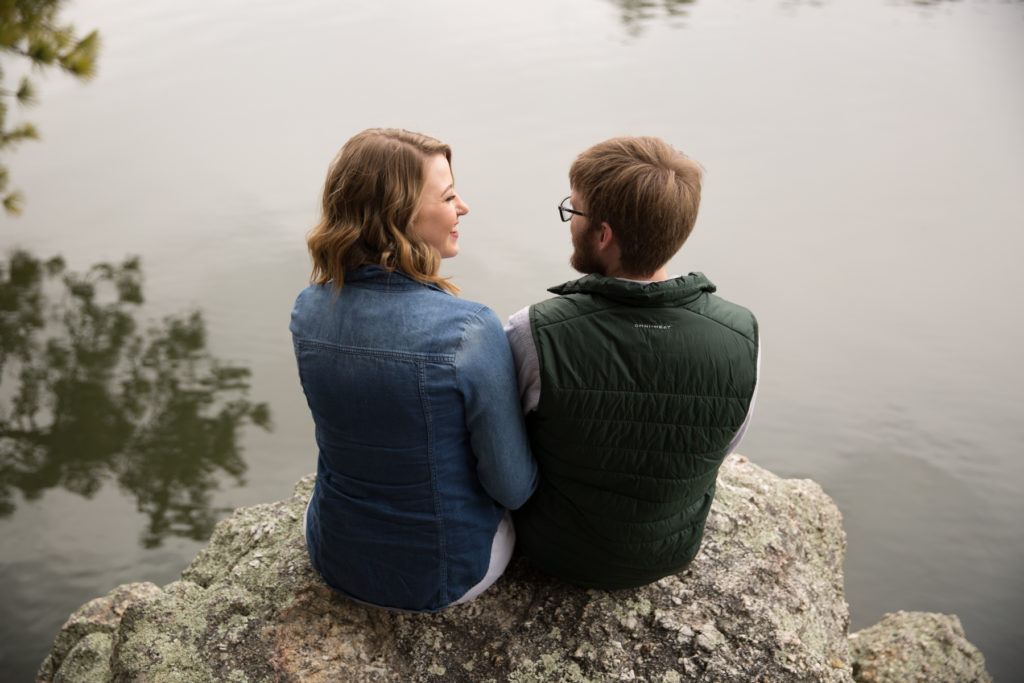 I got to spend time with Fabian + Alysse and his daughter before their September wedding, and I'm now a fan of Wyoming and the color yellow.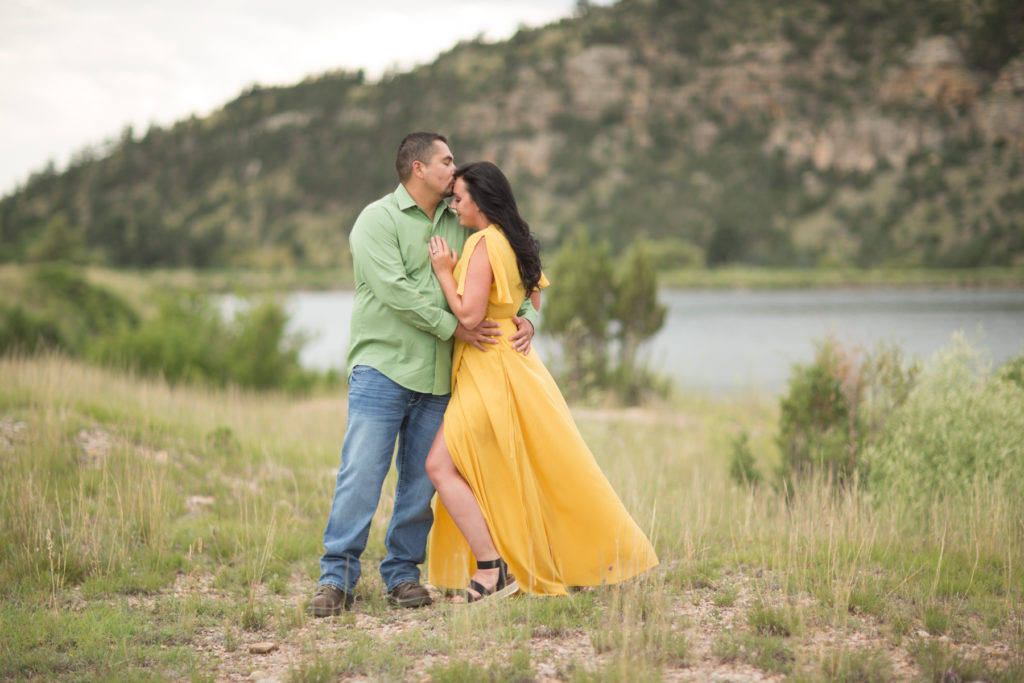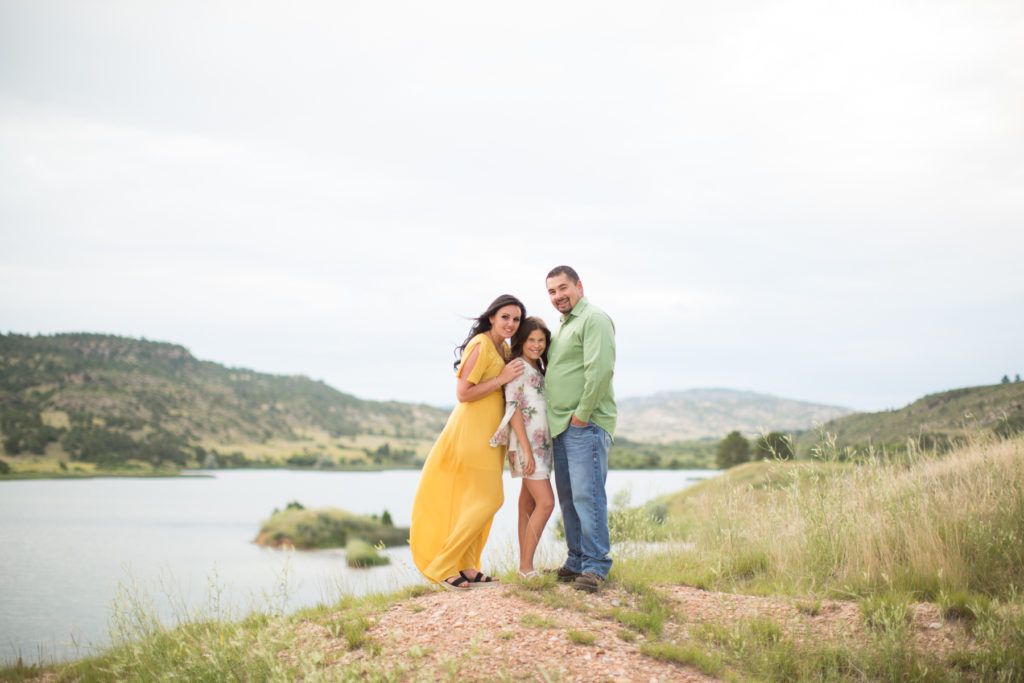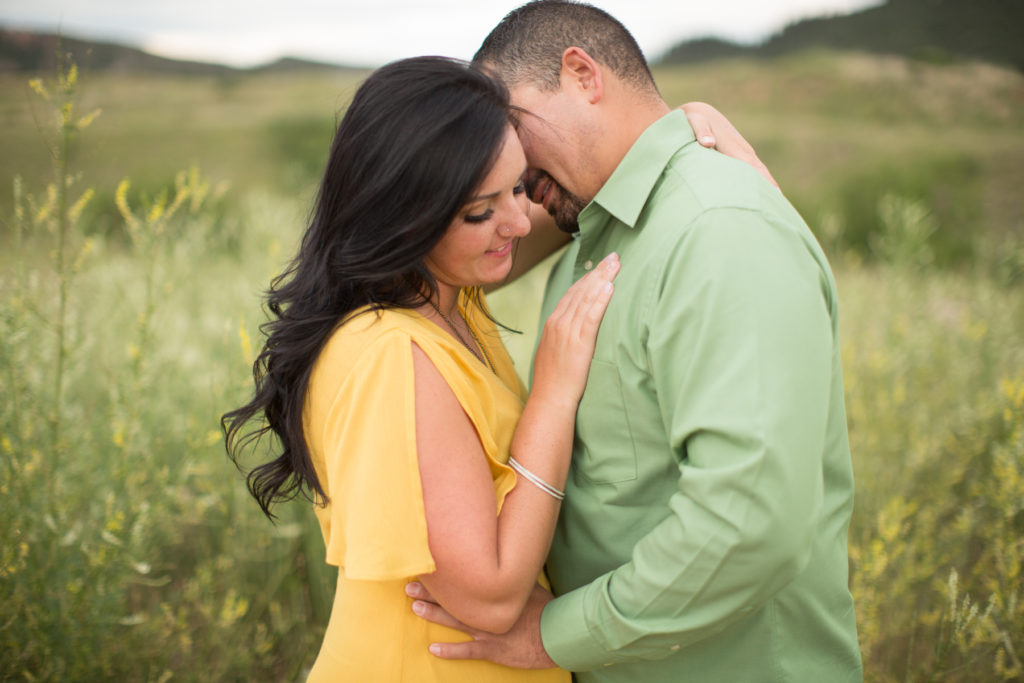 Cody + Justine's anniversary adventure was a little less adventurous than we planned, because we got two feet of slushy snow at the end of May which prevented us from hiking the trail we wanted. But it was still adventurous in the way that every day is what you make of it, and we had a pretty great time.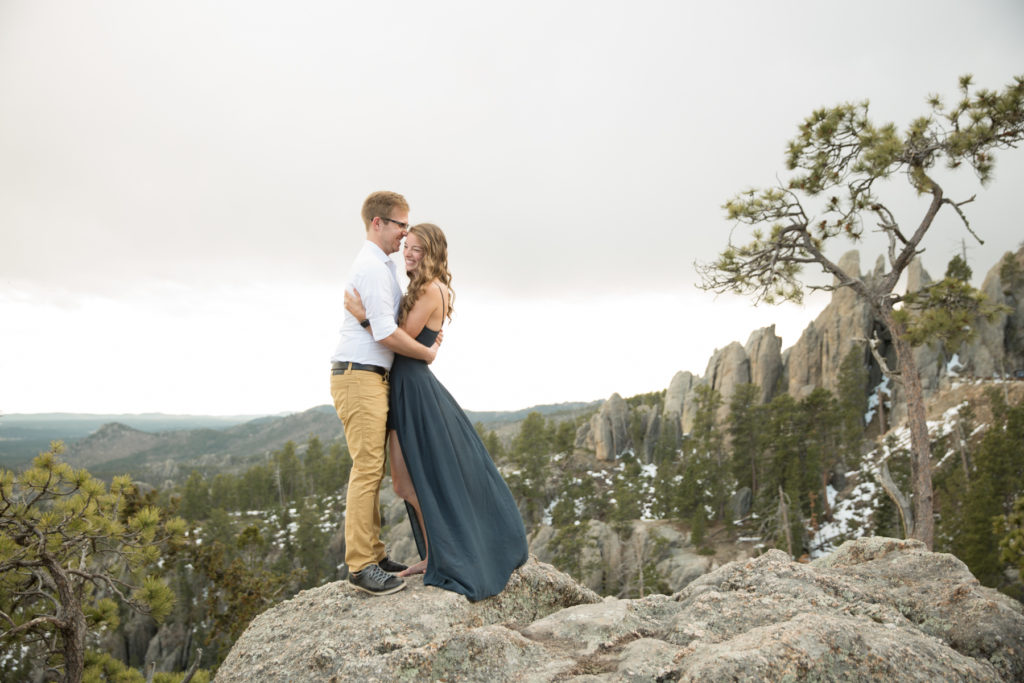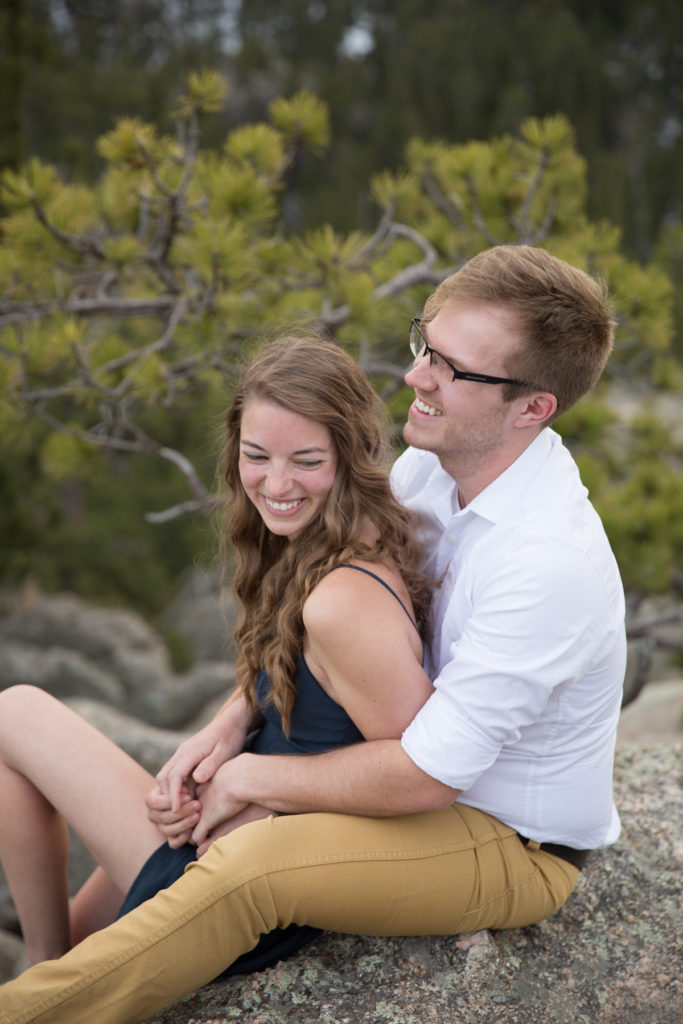 I realize this is probably a 'standard Pinterest pose,' but what I loved about this moment was that Cody was trying to remember the words to their first dance song, and all he could come up with was the title, so he kept repeating it over and over. :-D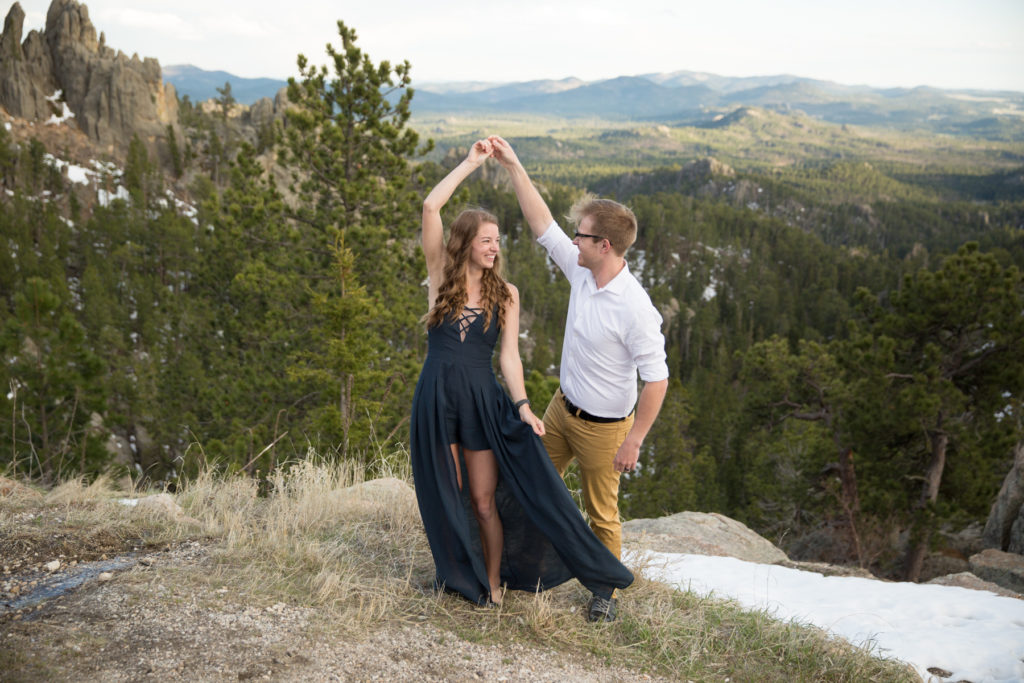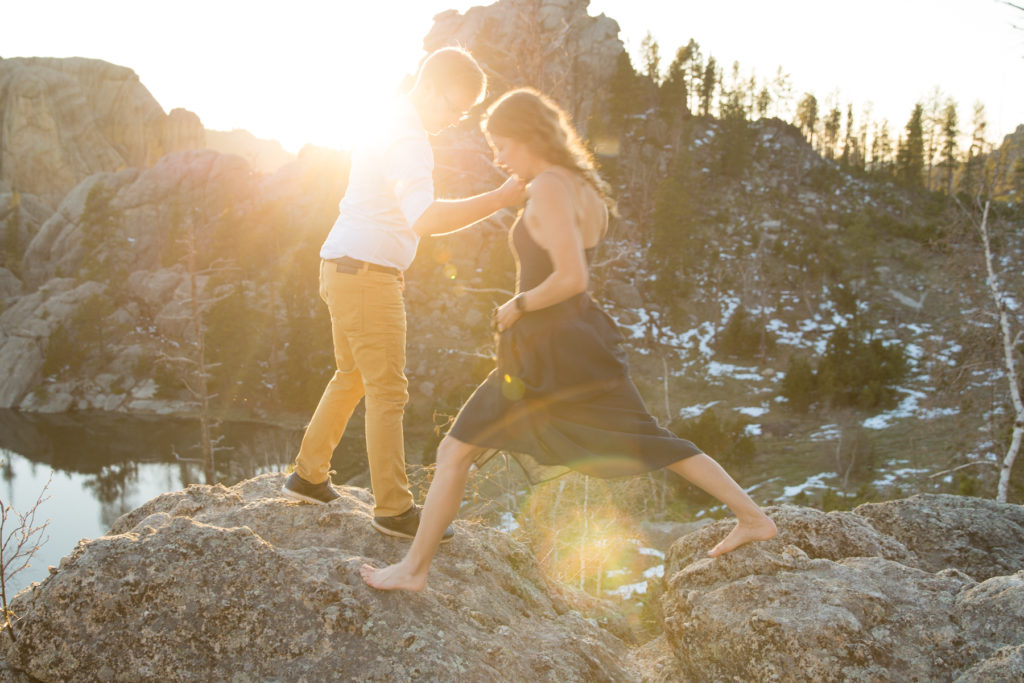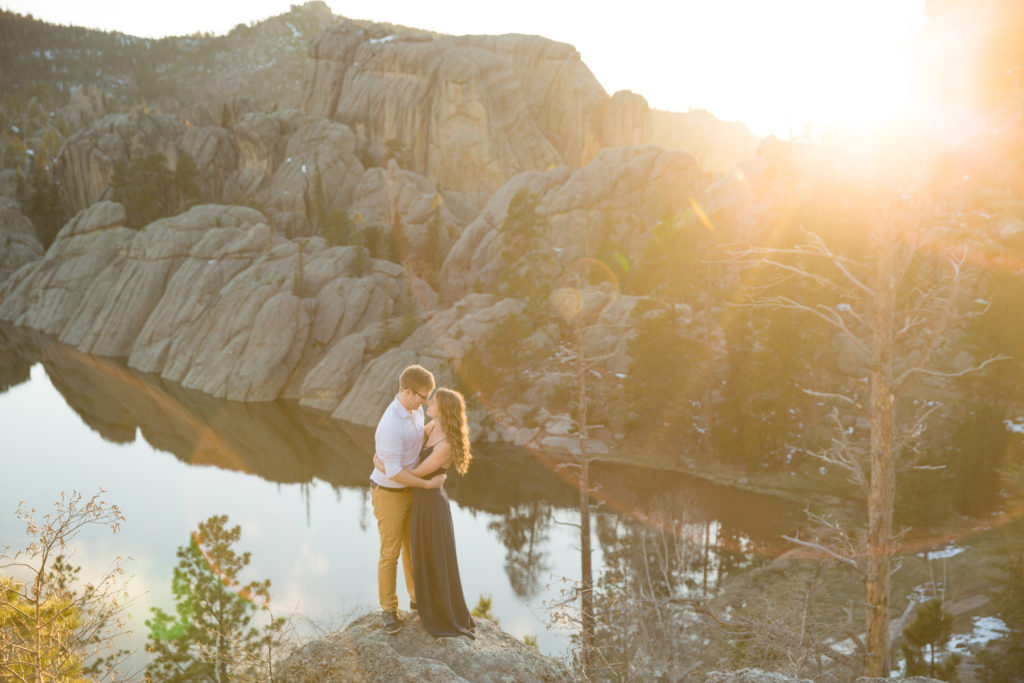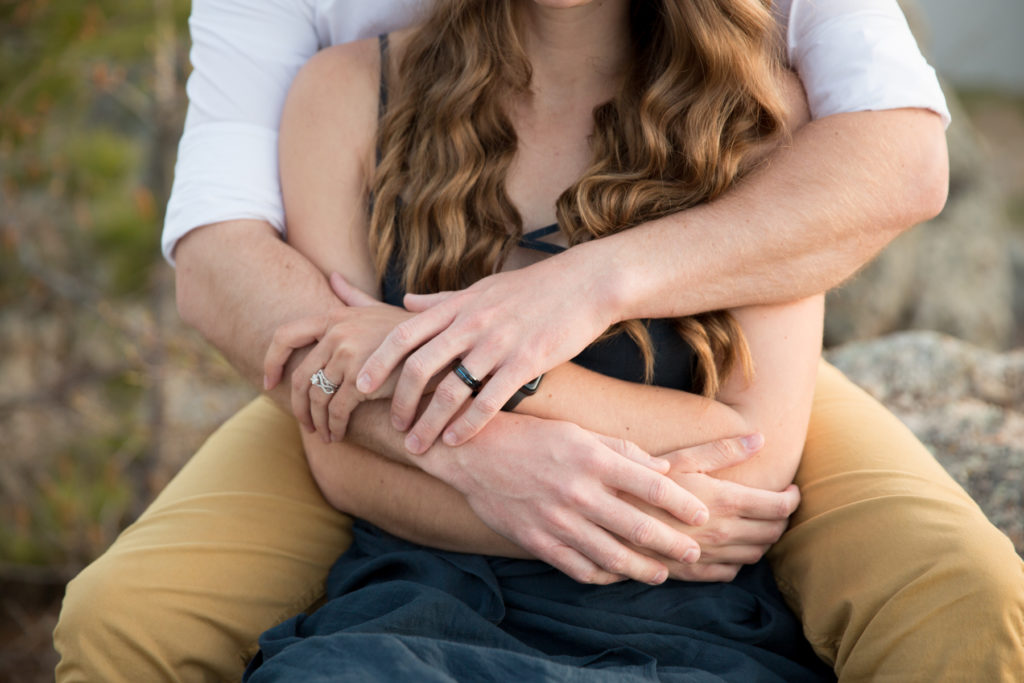 Weddings are so full of different kinds of emotions and memories. I love how the mood can change from serious to hilarious so quickly! Here, Alysse's mom and sister are helping her into her dress – there were lots of people in this room watching, but the connection between these three was so beautiful.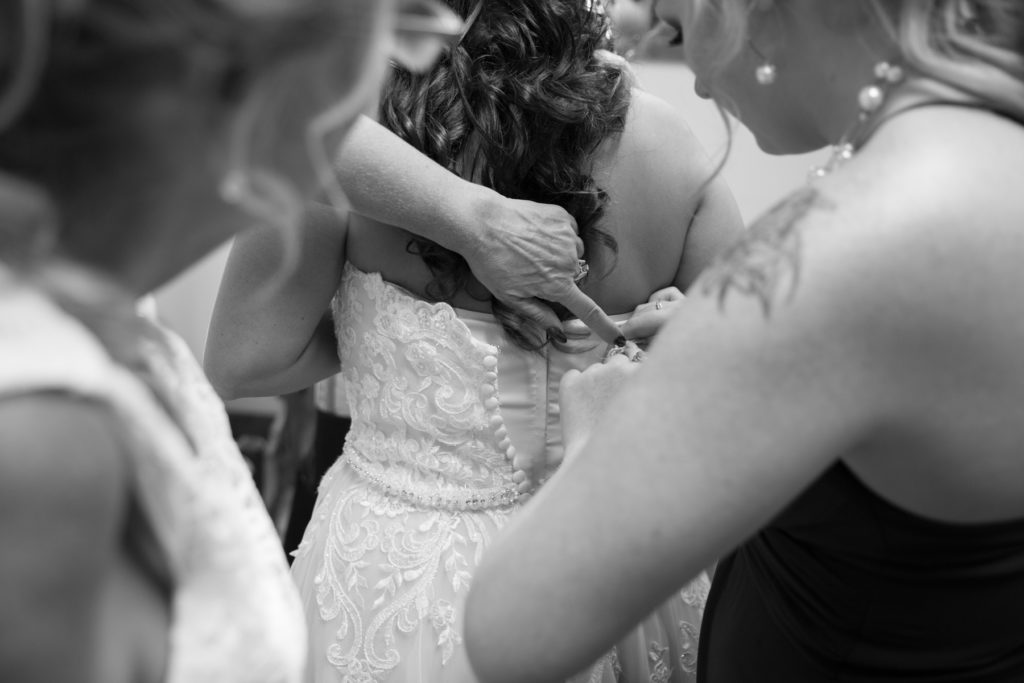 And then this beautiful staged moment, where Cahri's mom pretended to fasten her dress, then joked to the other girls, "How'd I do?"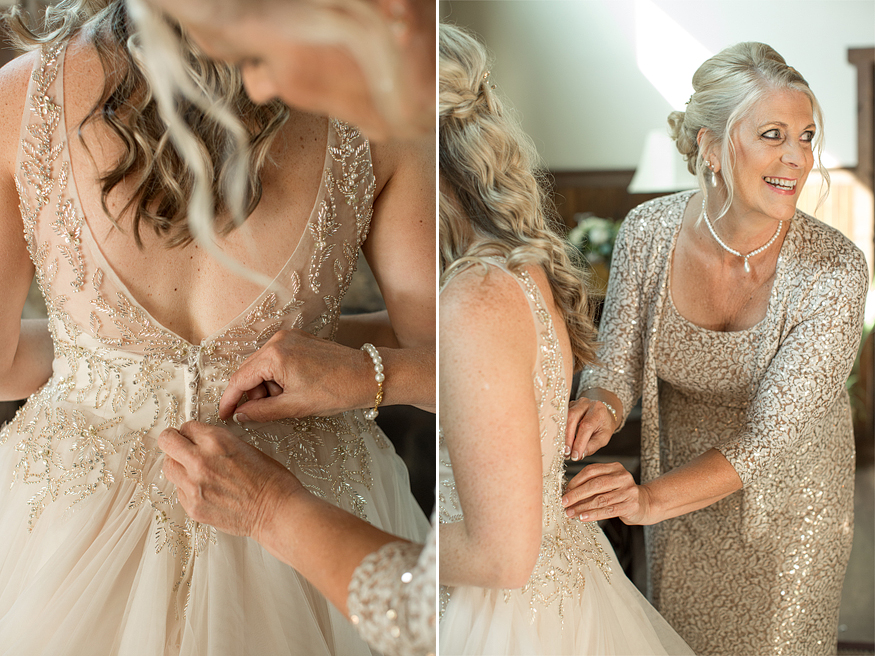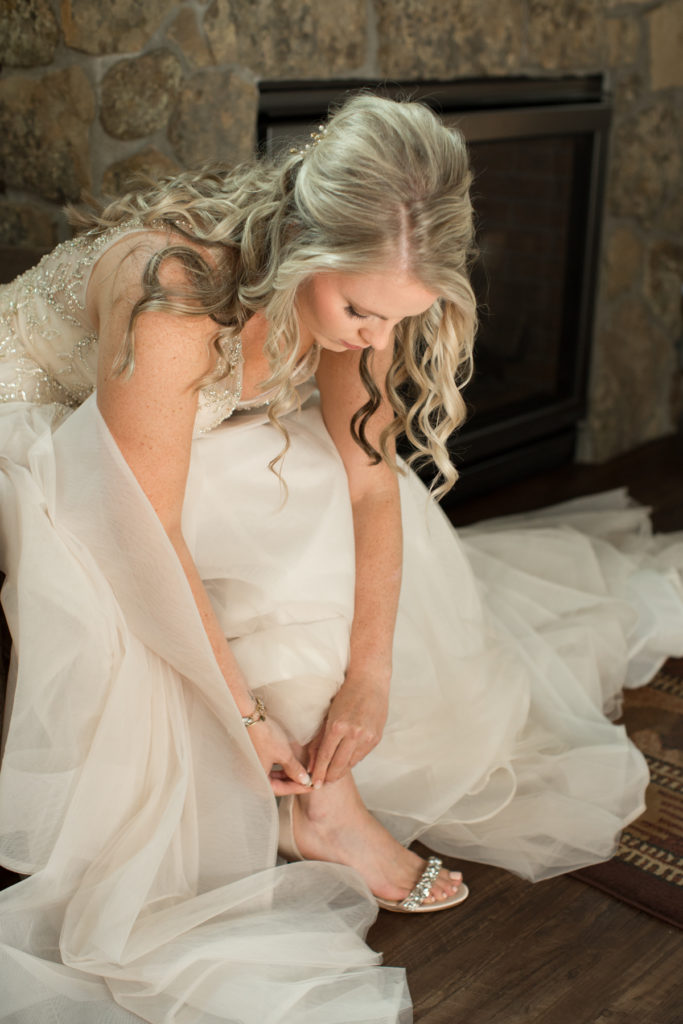 Again, another beautiful moment followed by a good laugh – Cahri's phone didn't recognize her wedding-day face, so she had to type in her passcode.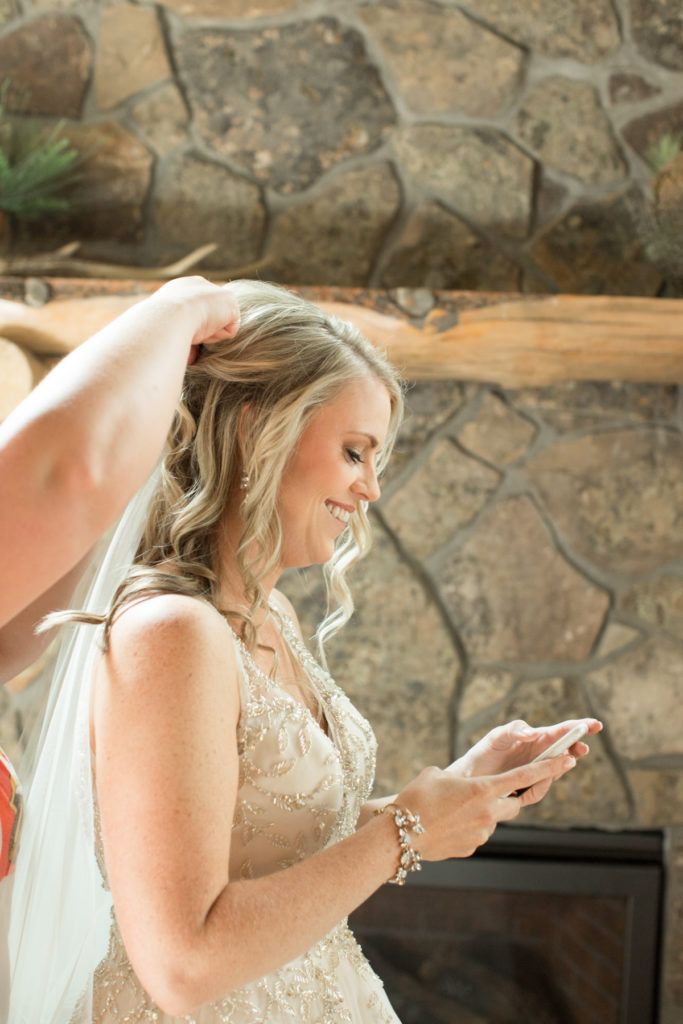 p.s. I still love the intimacy of a first look – no one else around, just a soon-to-be husband and wife sharing how excited they are!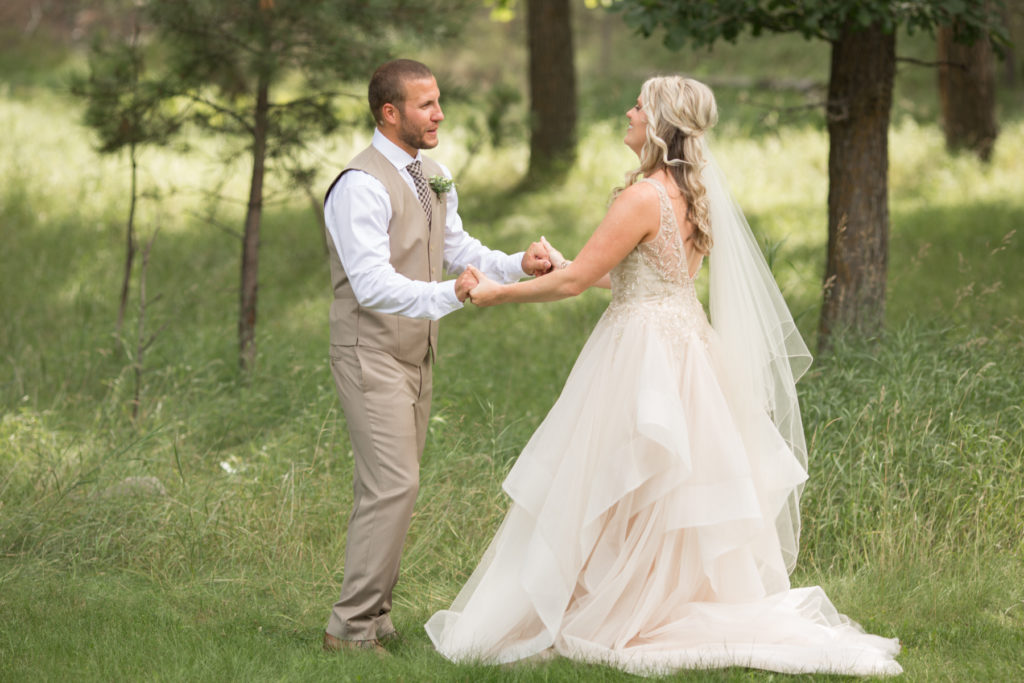 Let's focus on the kids a bit, shall we? They're easily the most entertaining part of a wedding. Here, the bride's nephew shares a single Goldfish cracker with the groom just before the ceremony (in case he was hungry).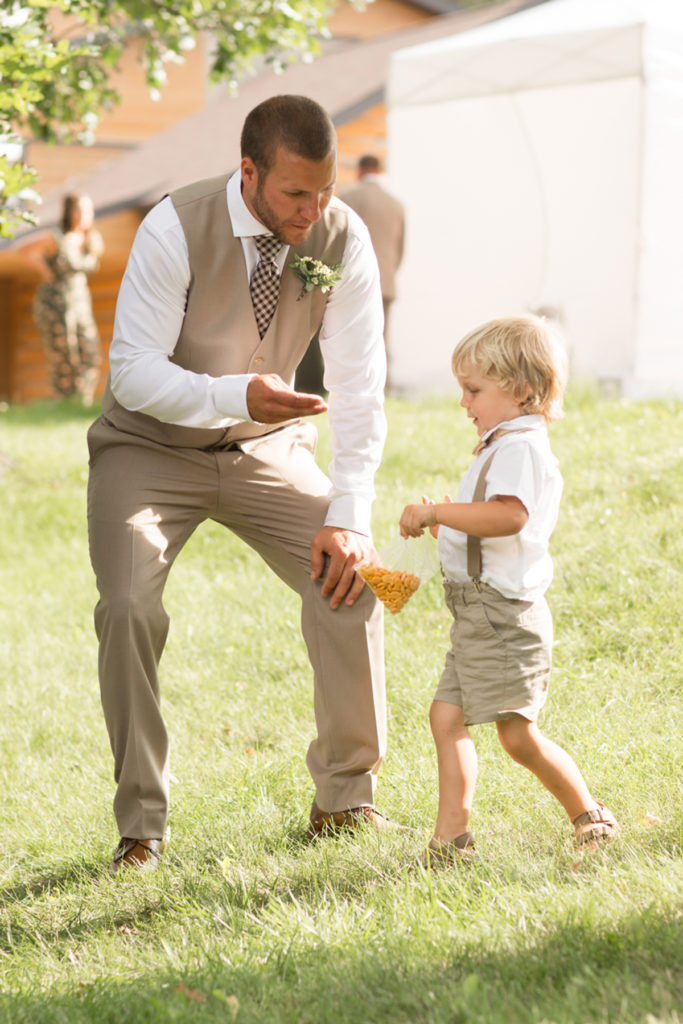 …and this gaggle of a miniature wedding party to start the ceremony. Check the next photo for the little boy who 'got one' with his fishing rod mid-processional. ;-)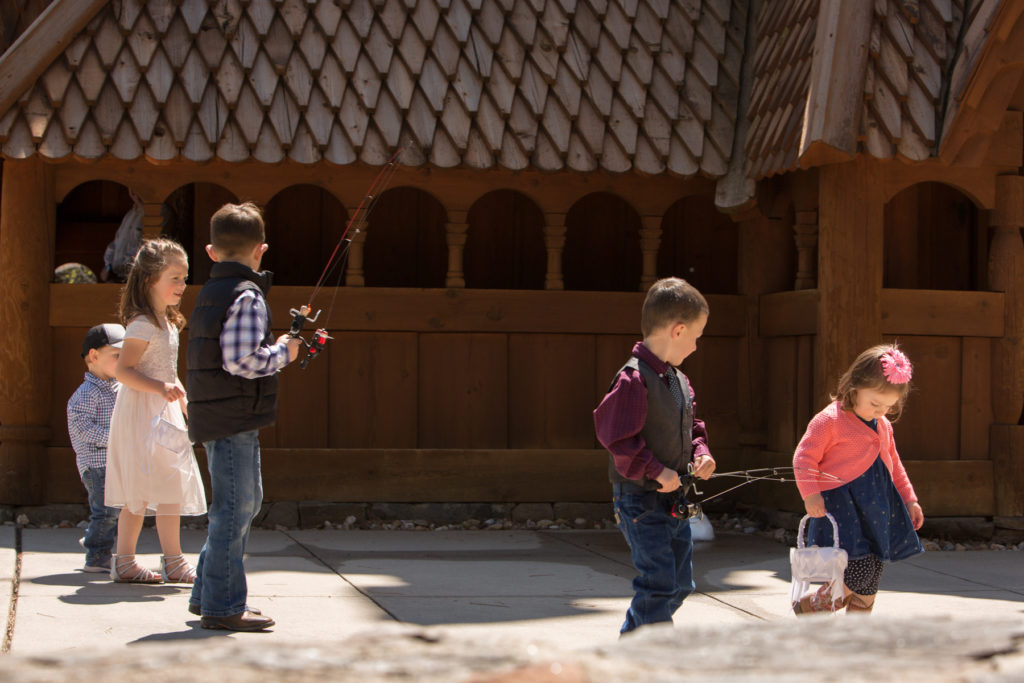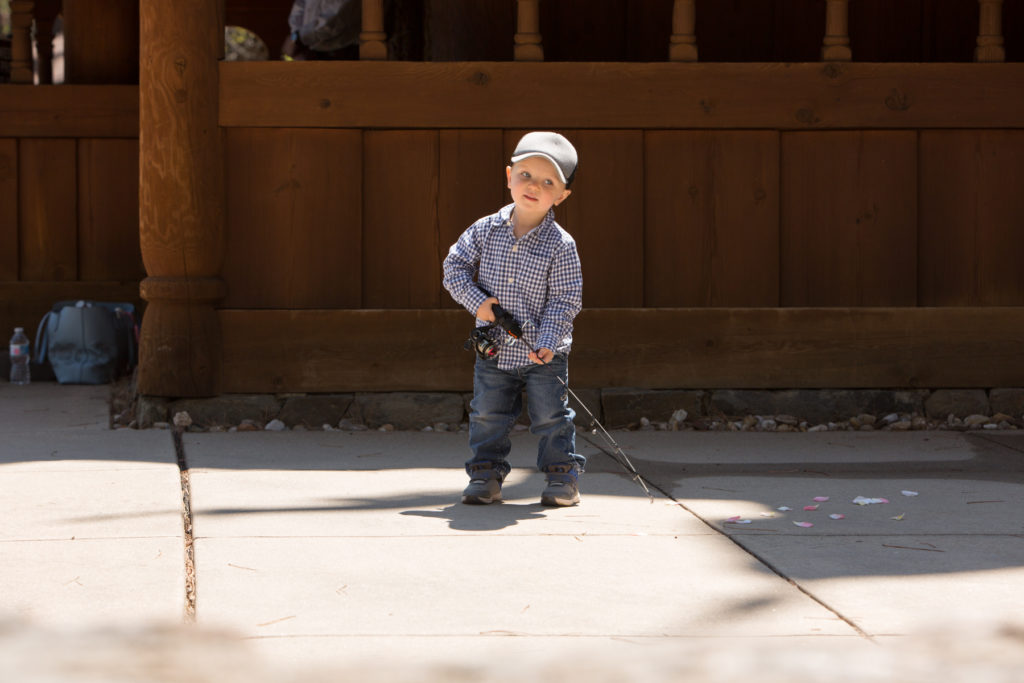 Then, the bride's reaction as she followed all that cuteness.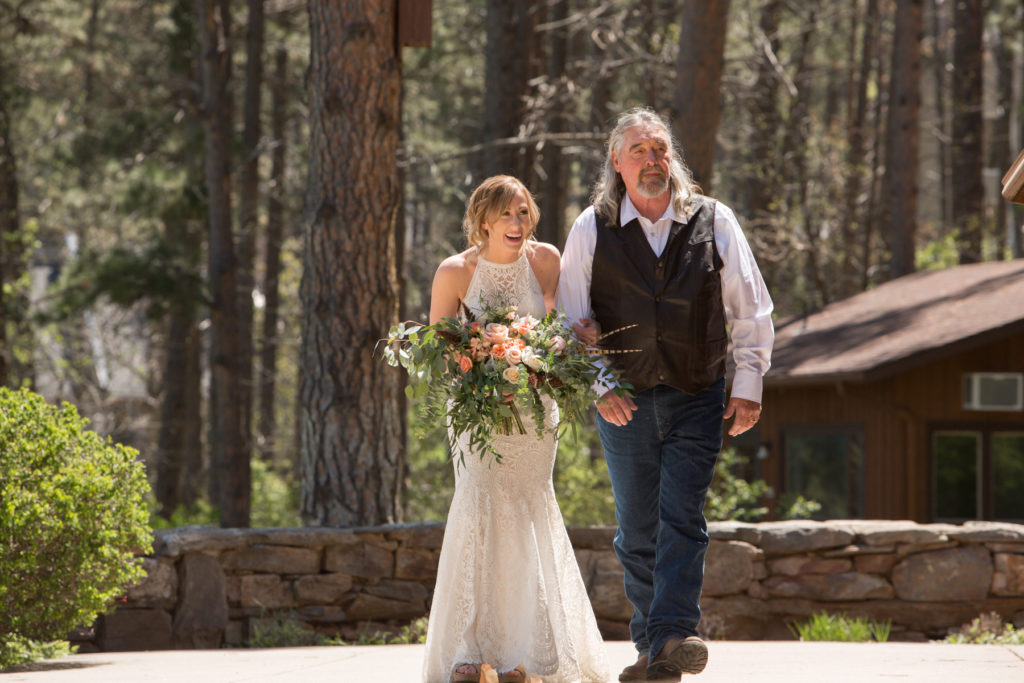 Some first looks aren't as secluded as the one I showed earlier, but even with all their guests between them, this groom had quite the beautiful, intimate moment with his bride as he saw her for the very first time in her wedding dress.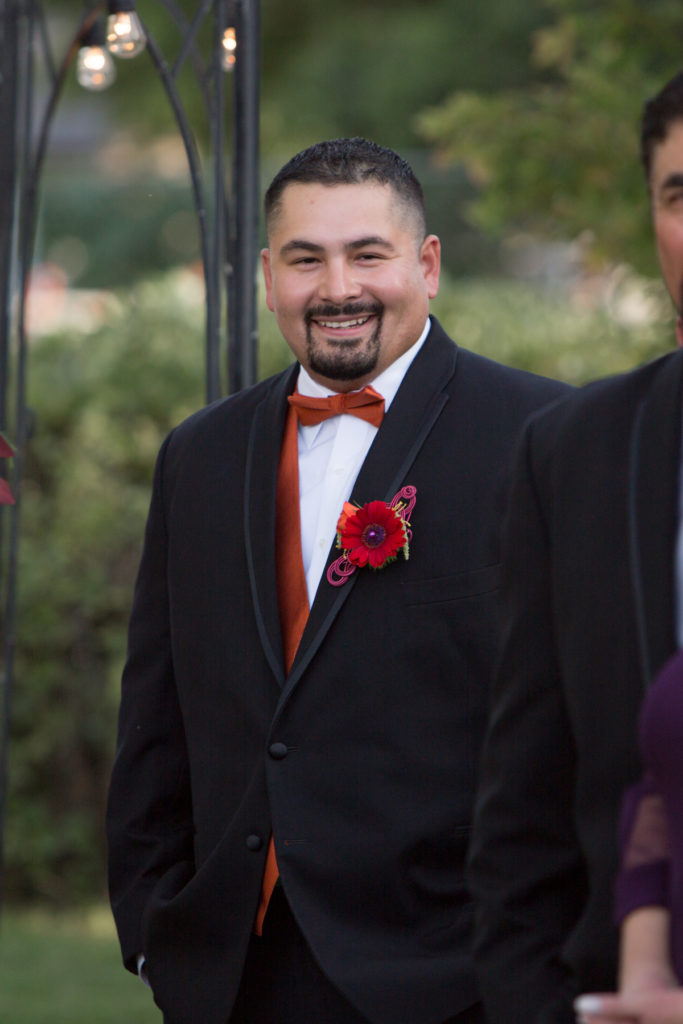 There's nothing more intimate than an elopement, and I loved all the uninhibited emotions showing up this day!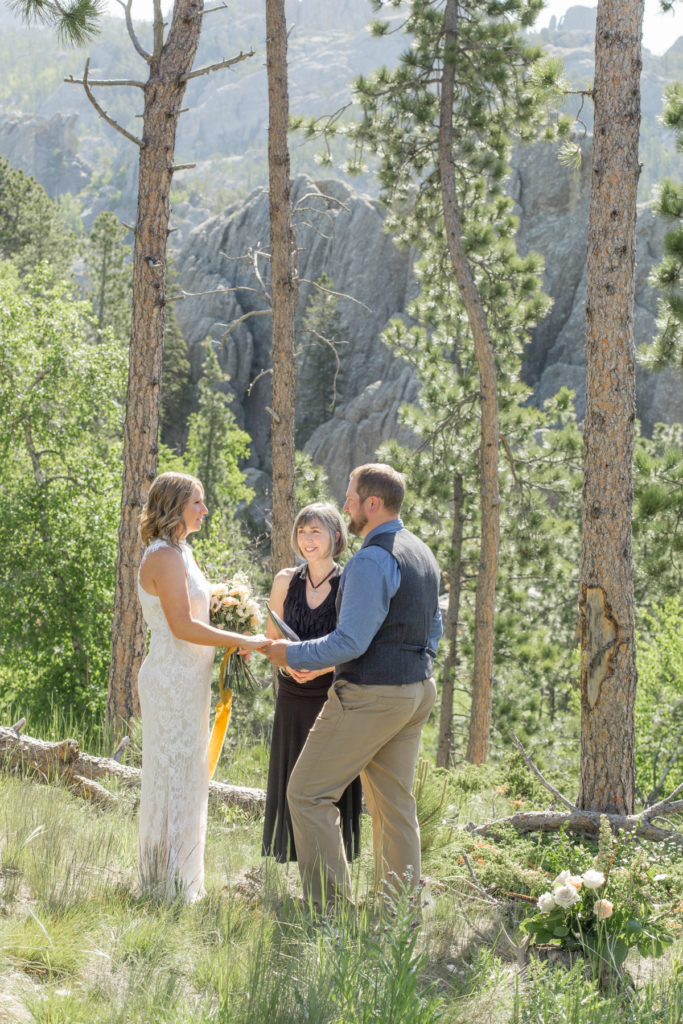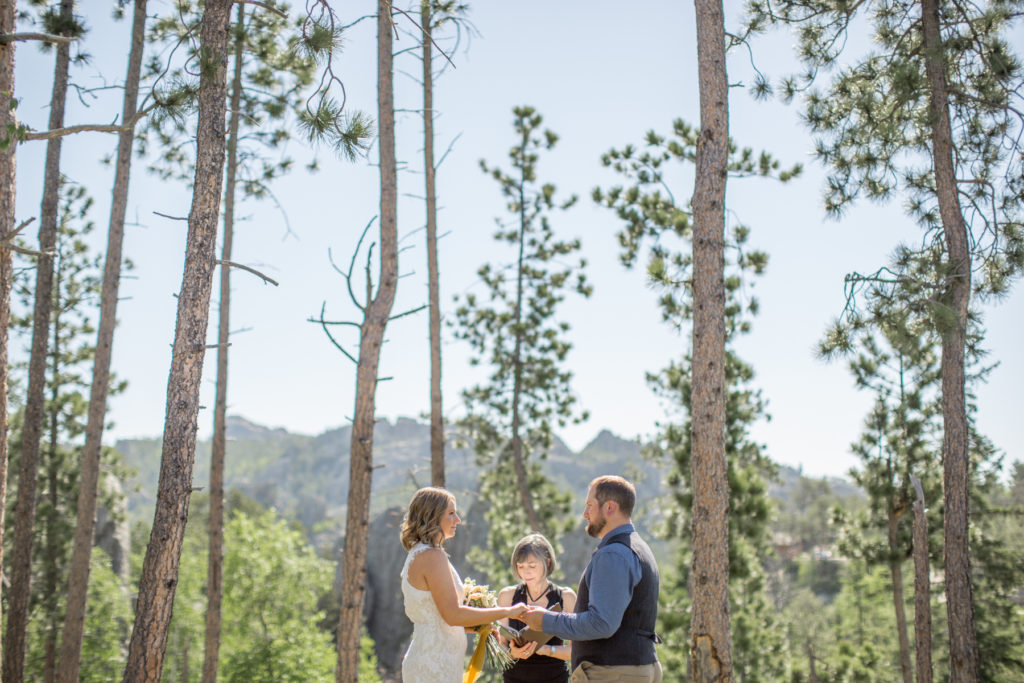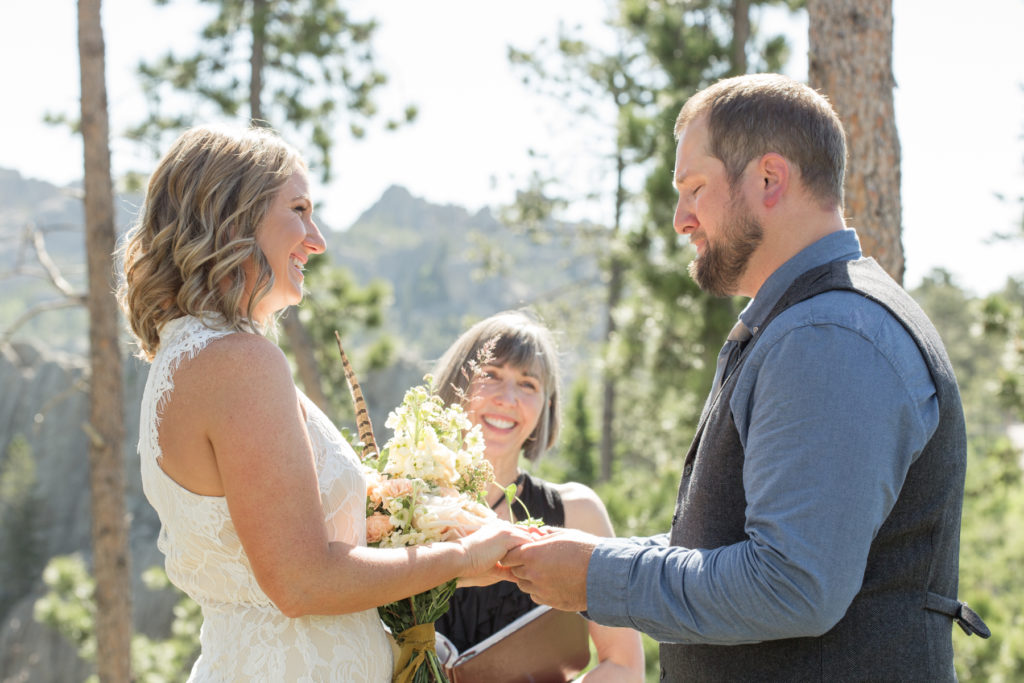 Danny gave a tearful speech for his vows, and then we all shared a little chuckle as Mary, their officiant, was prepared with tissues for the couple.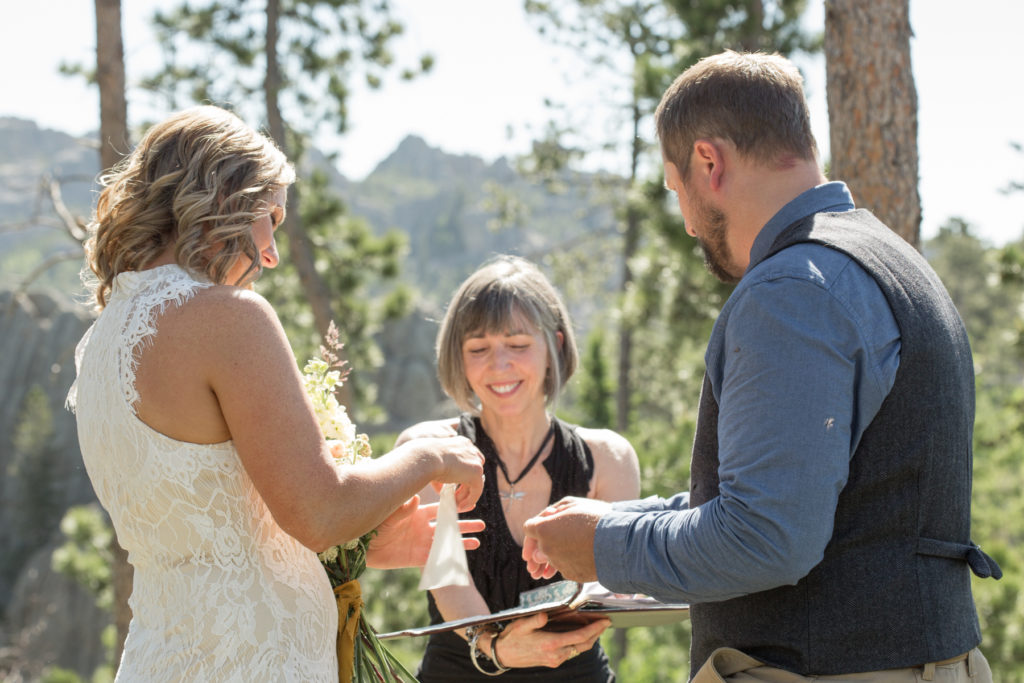 Another laughable moment was when Tane forgot Elle's ring and had to use his sister-in-law's ring during the ceremony – this was the moment he had to explain what happened to the pastor, while Elle looks over at the ring's owner! I love how this little detail (which could be a huge detail to some) was so funny in the moment because it didn't *really* matter (he could have used a ring pop, just how he proposed) and they still joined their lives together as one that day.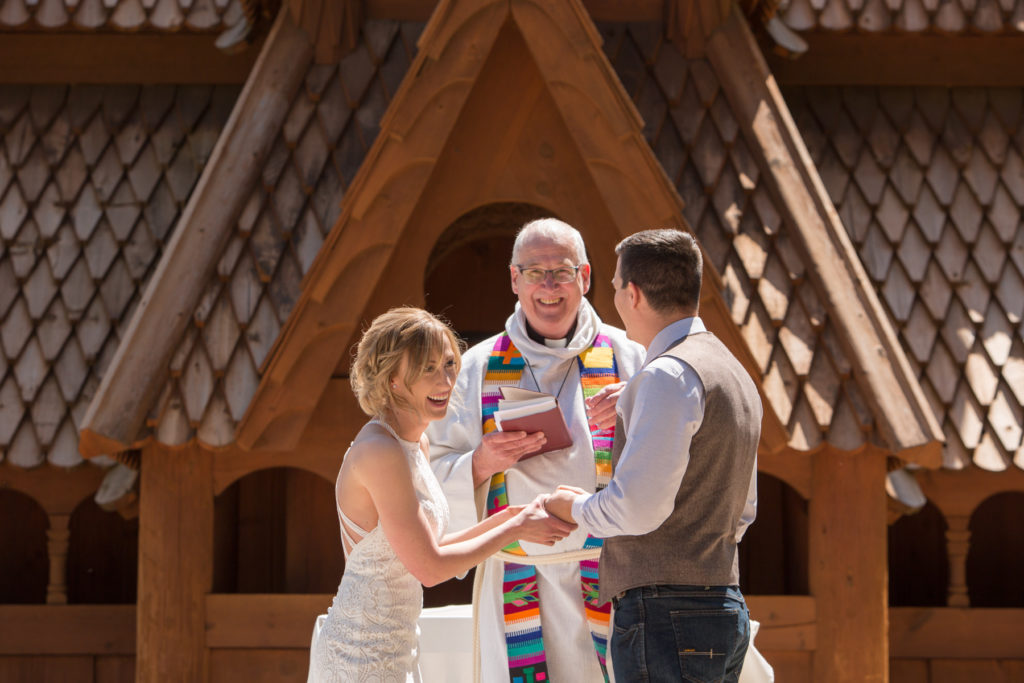 These kids had the best seats in the house for this wedding!!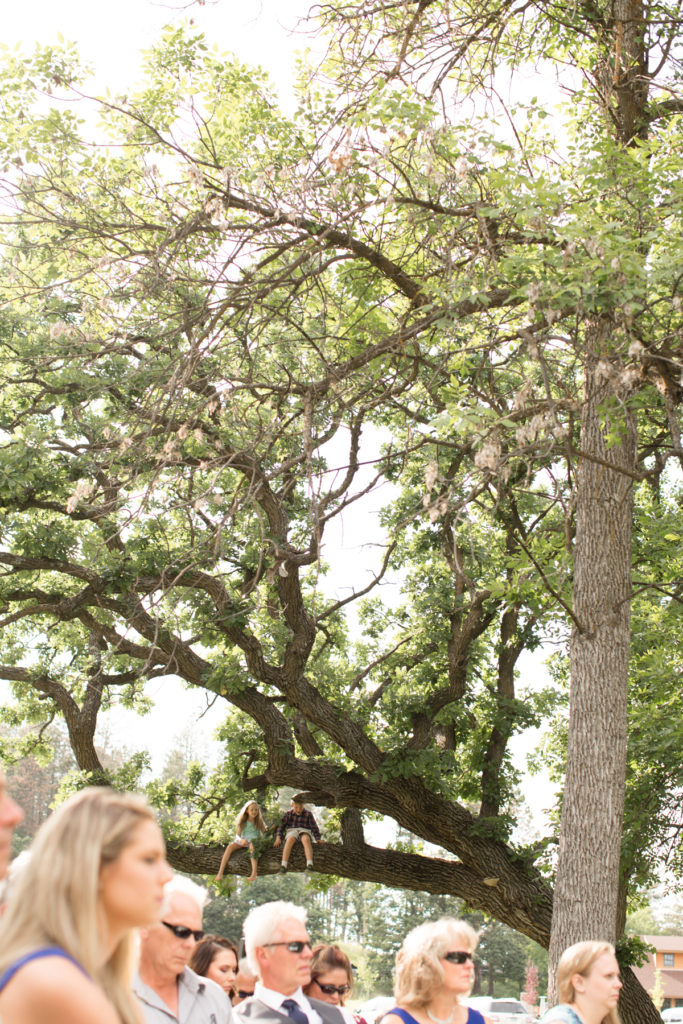 And this pastor made the.most.amazing painting for this wonderful couple (see the original blog post for more of that story).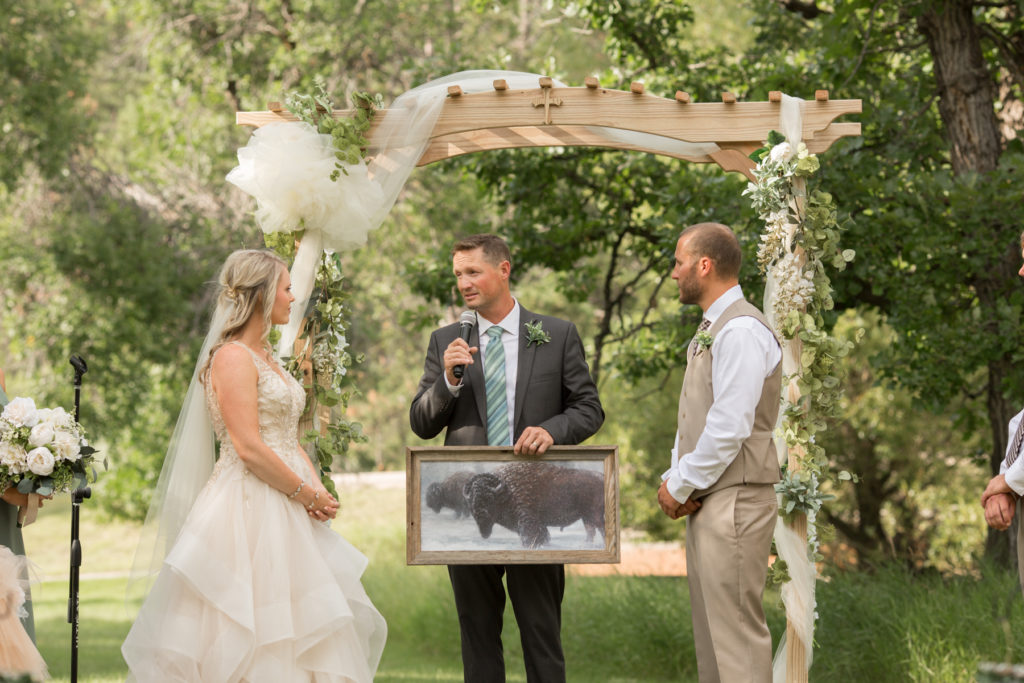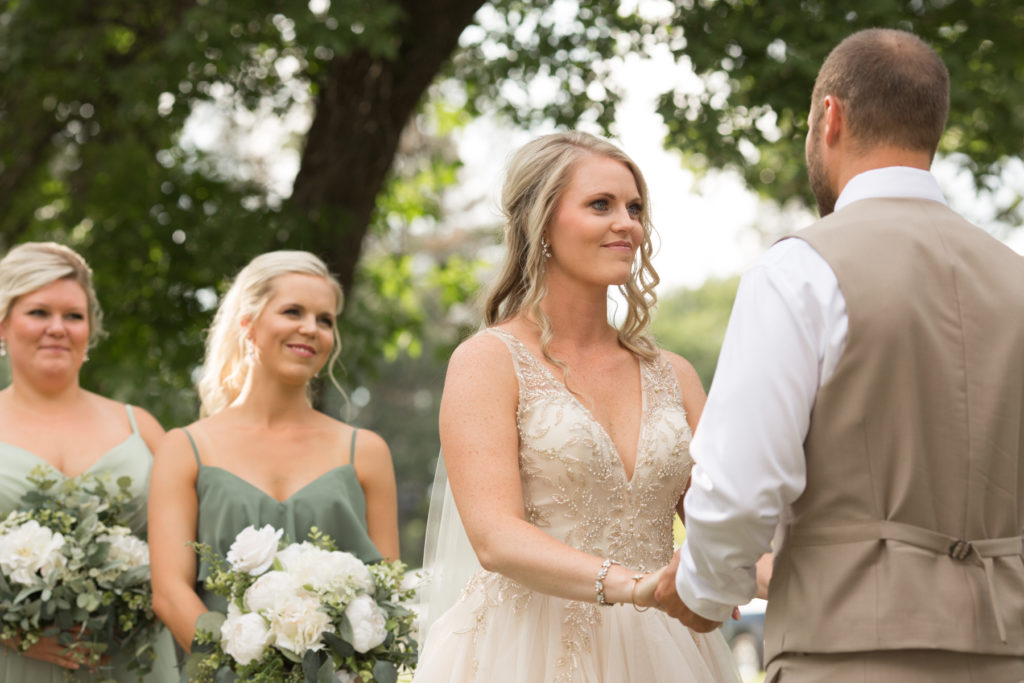 I like to focus on the couple during the majority of the day, but I'm also always looking for little moments that make their day so unique, like parents holding hands, or grandparents comforting tired babies.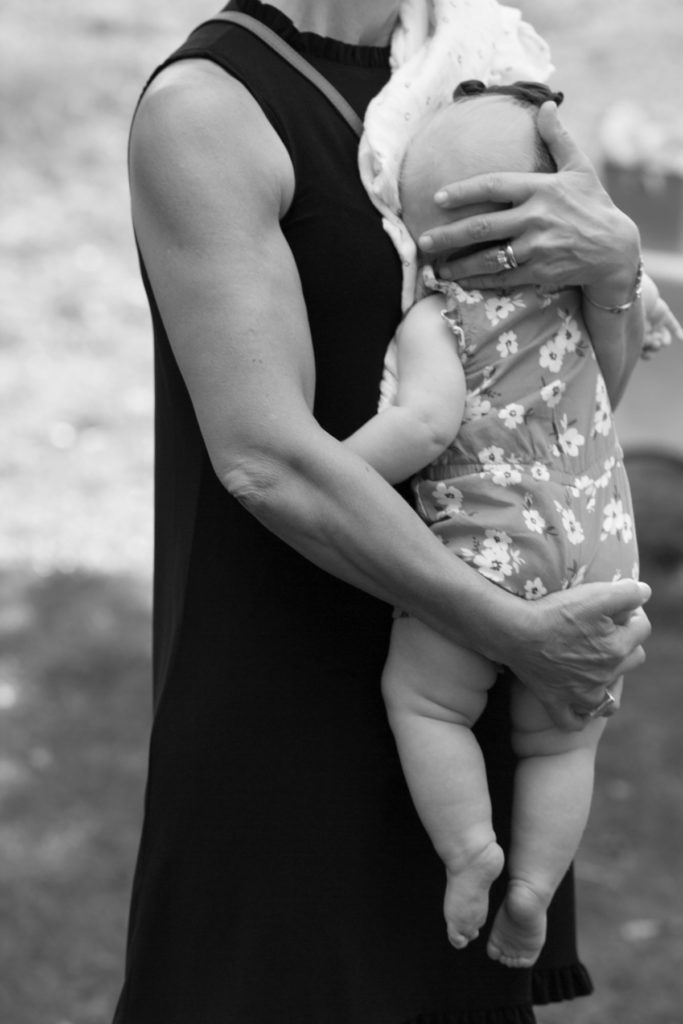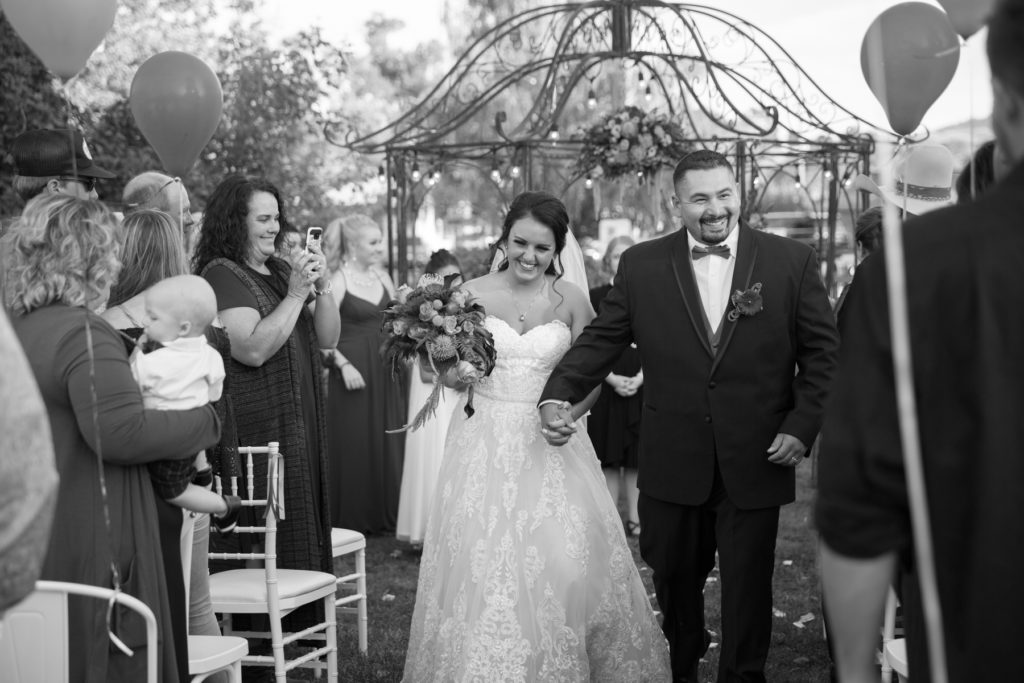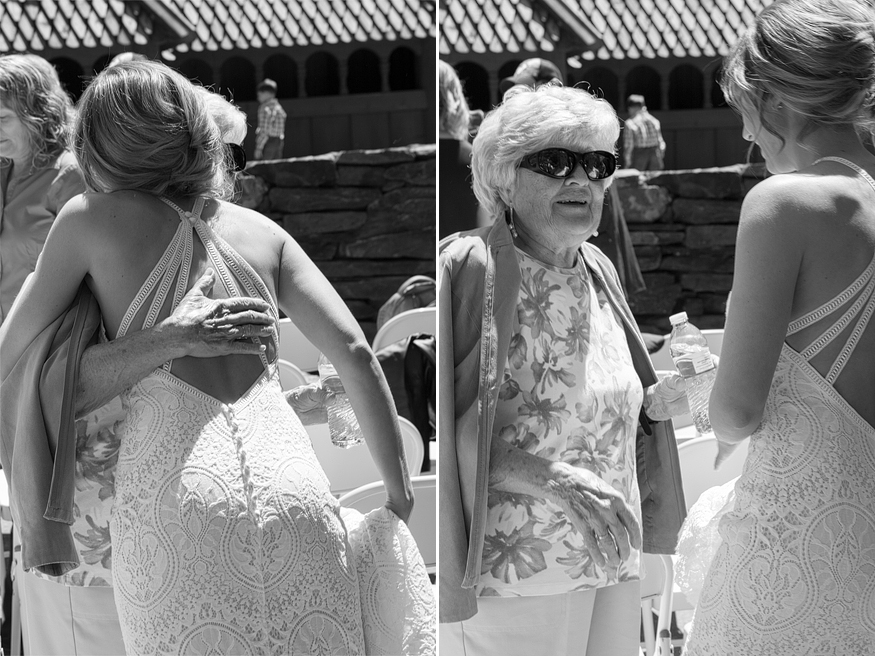 That moment when you're all ready for the family photo, but then realize the bride's brother wandered off, so we're *all* waiting for him to make his way back! Again, notice the joy in this moment!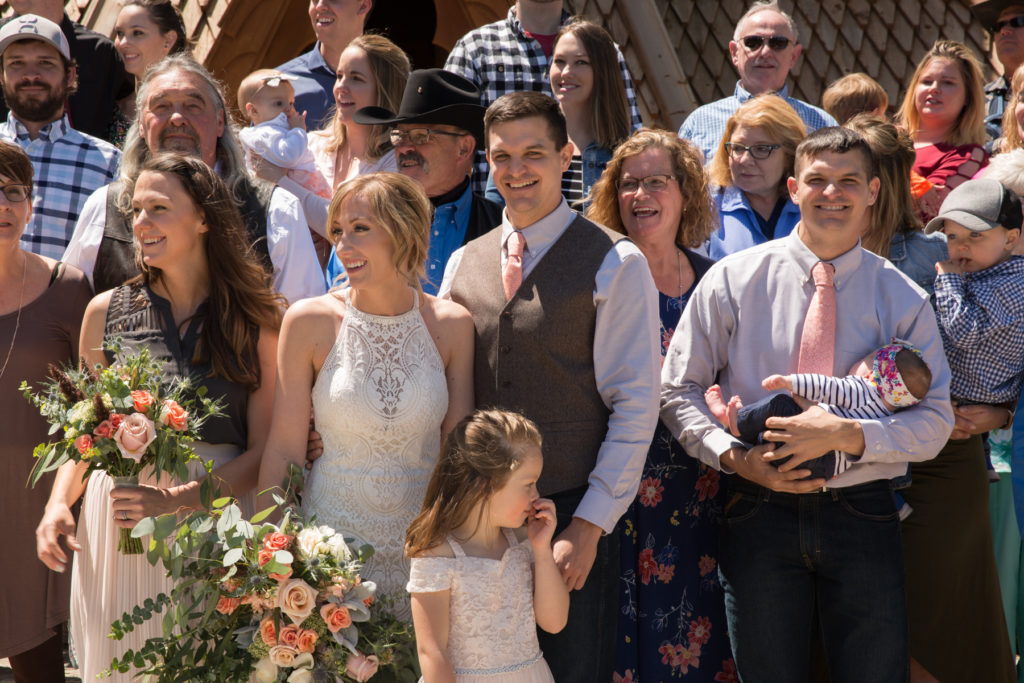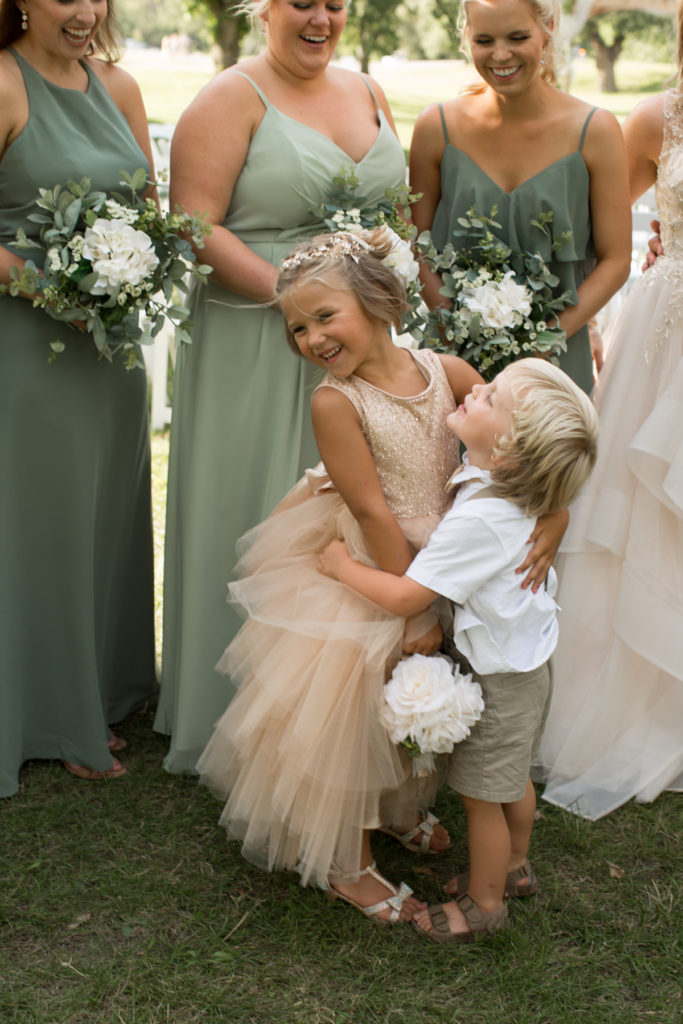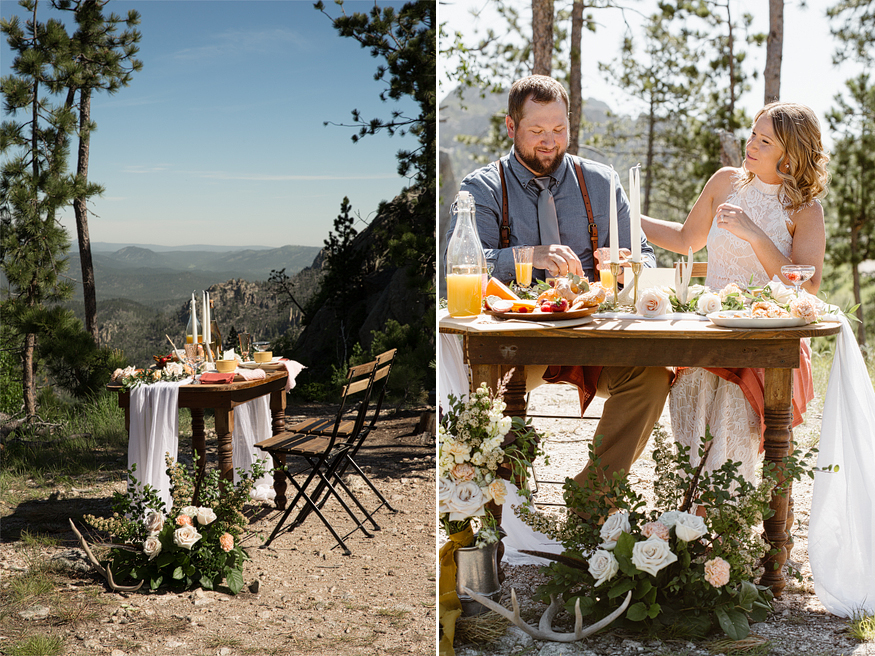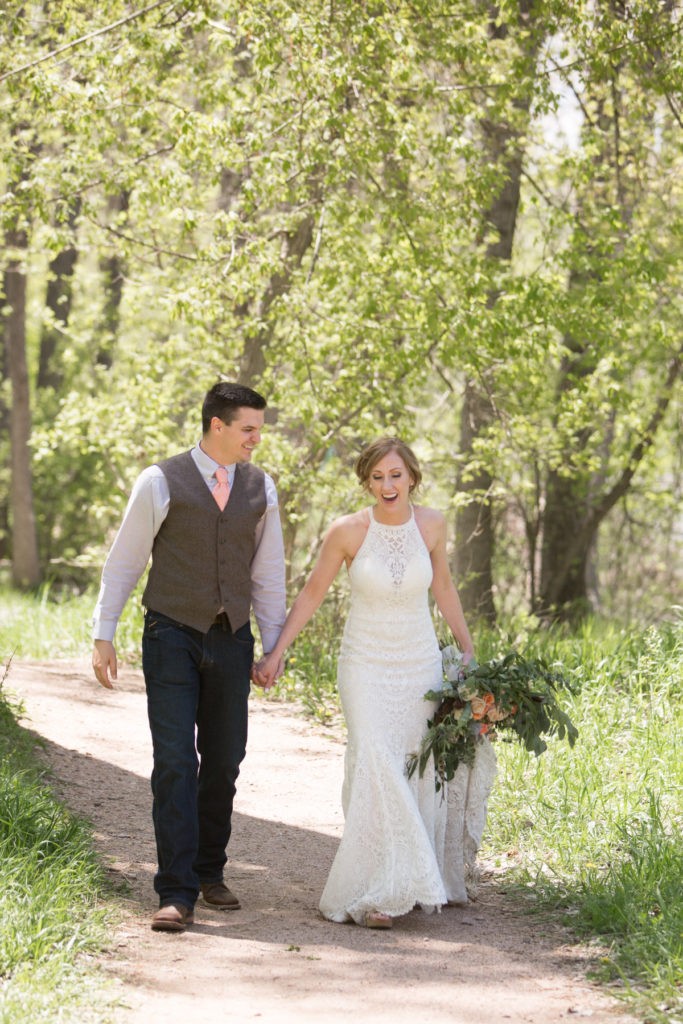 These next few photos are from a wedding I never shared on the blog. The groom's job doesn't allow him to share his face online, and he doesn't really enjoy photos to begin with, so when this day arrived, I was so excited about how in-the-moment and accommodating he was to any and all photos, I was more focused on getting them a whole bunch of moments for them to treasure forever. The blog was the least of my concerns that day. I did get these few without his face showing, and it was a beautiful day, so here's a few for me to remember what a blessing this day and this year was. (Because let's be honest, most days I didn't want to show my face anywhere, but it still ended up being a beautiful, memorable year.)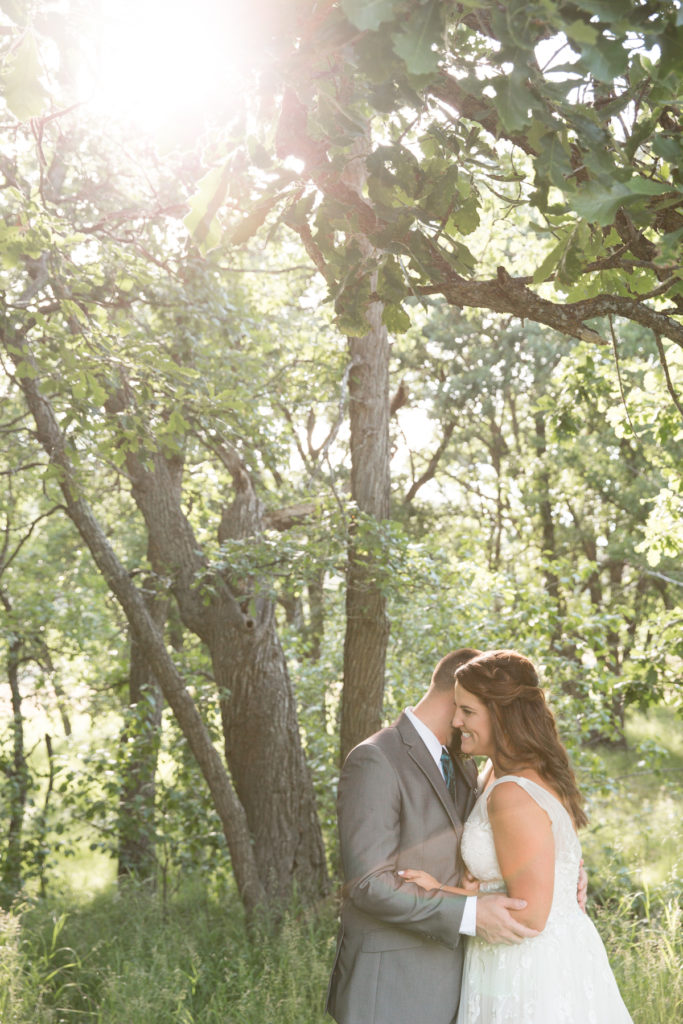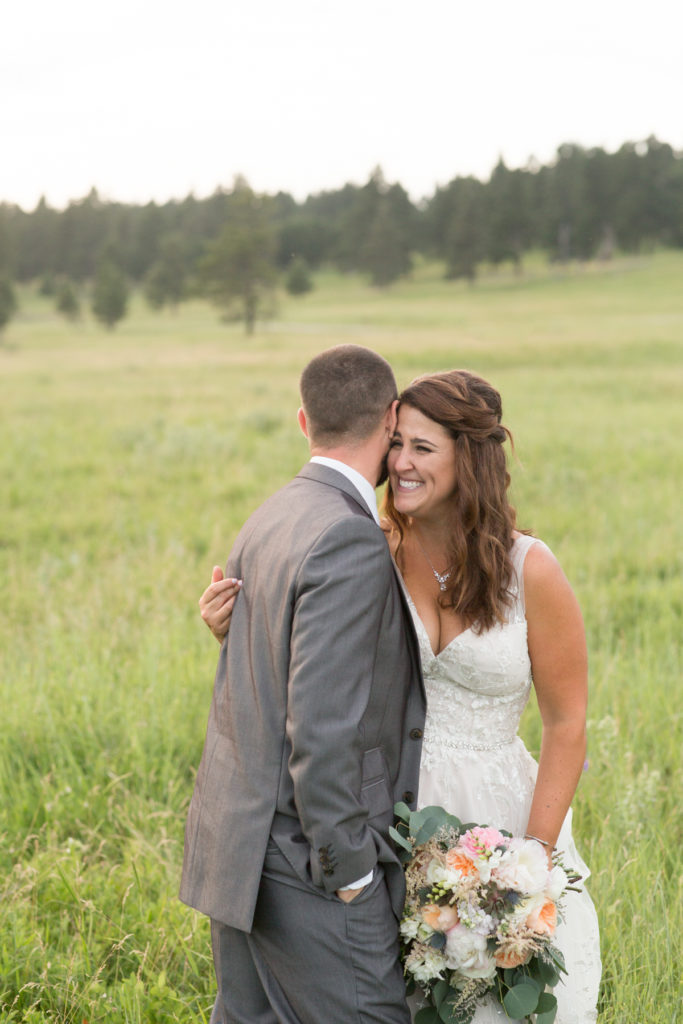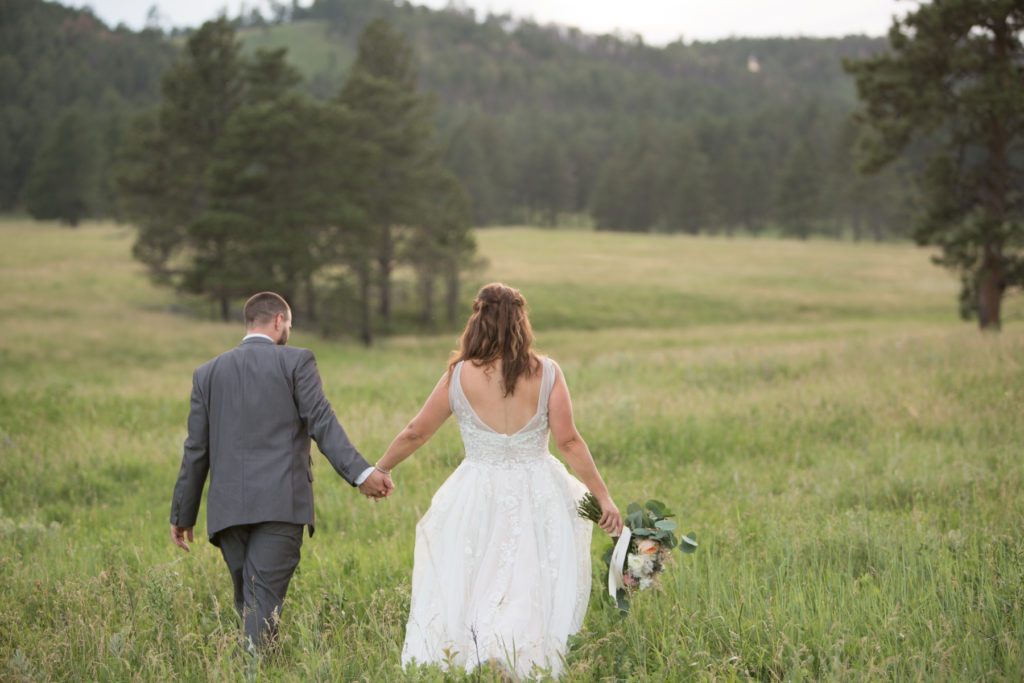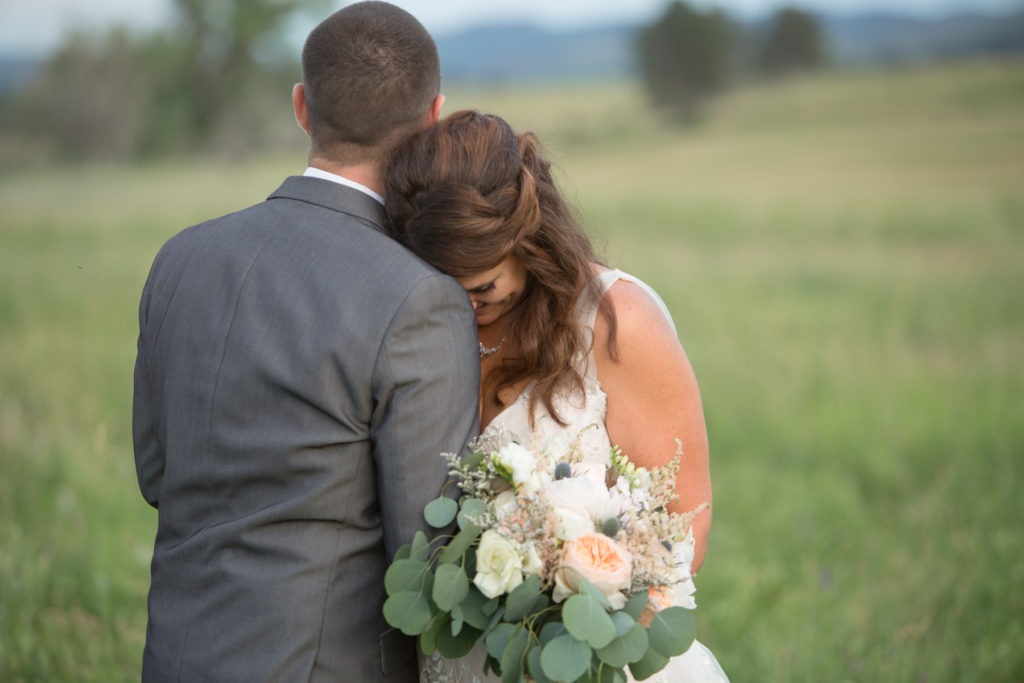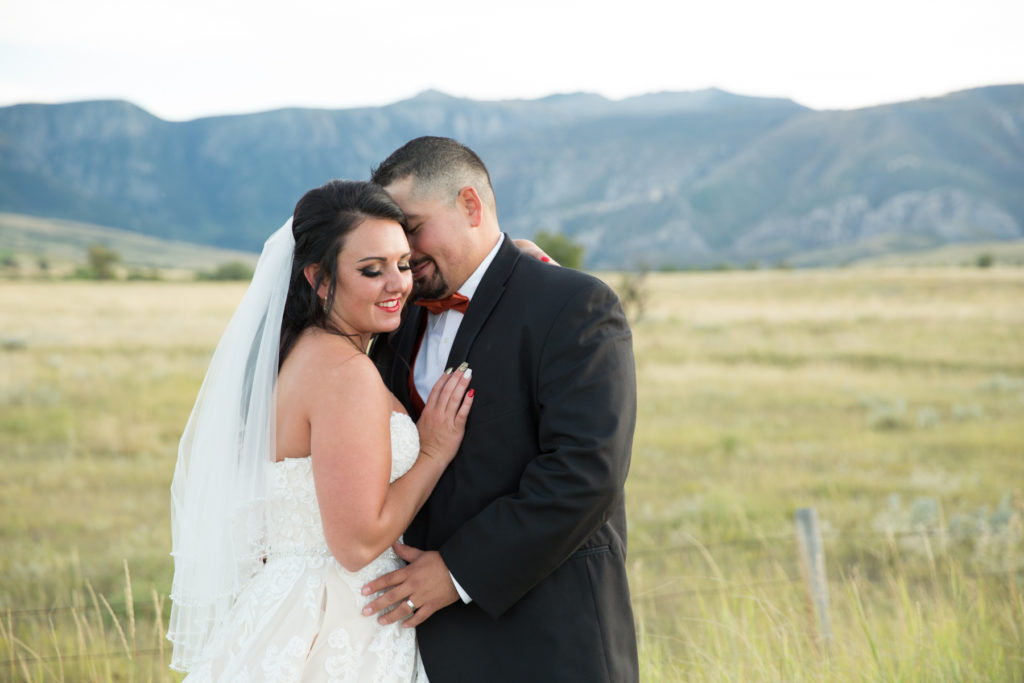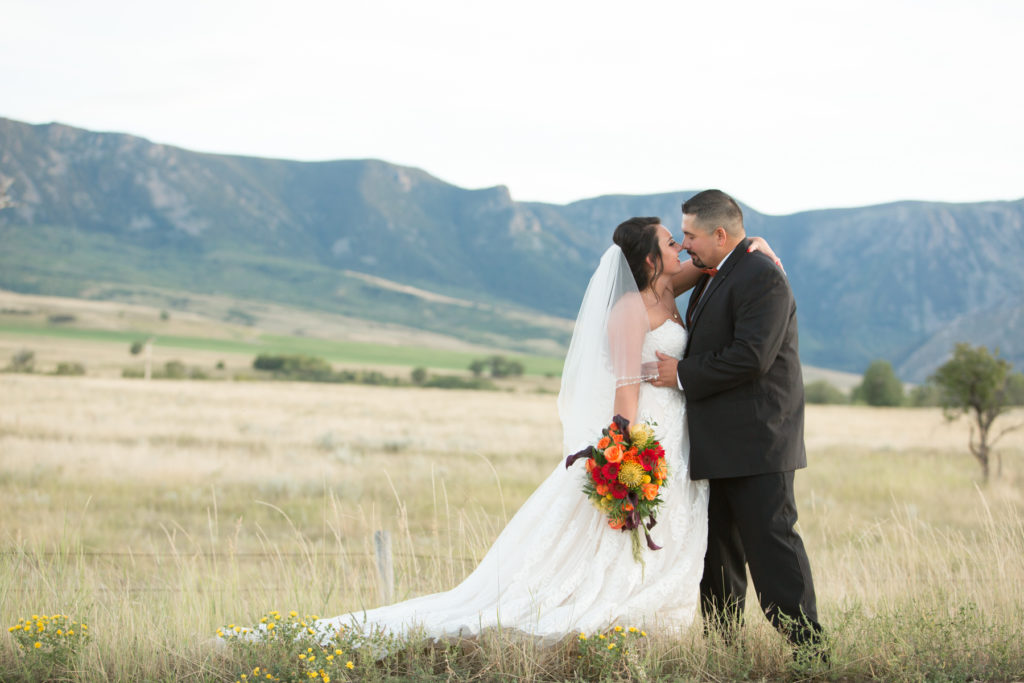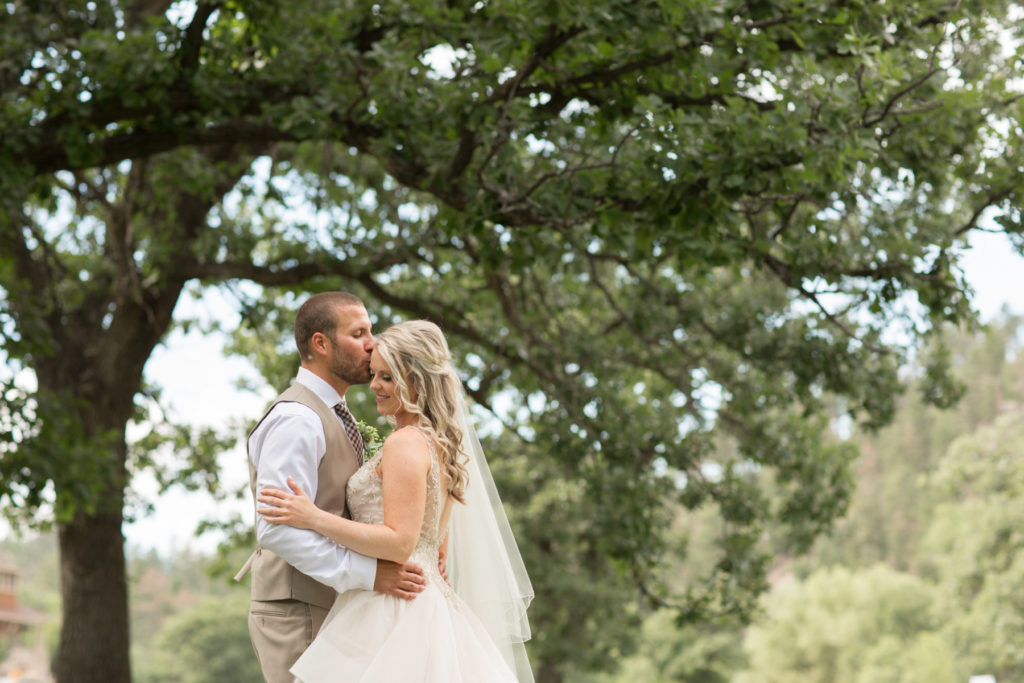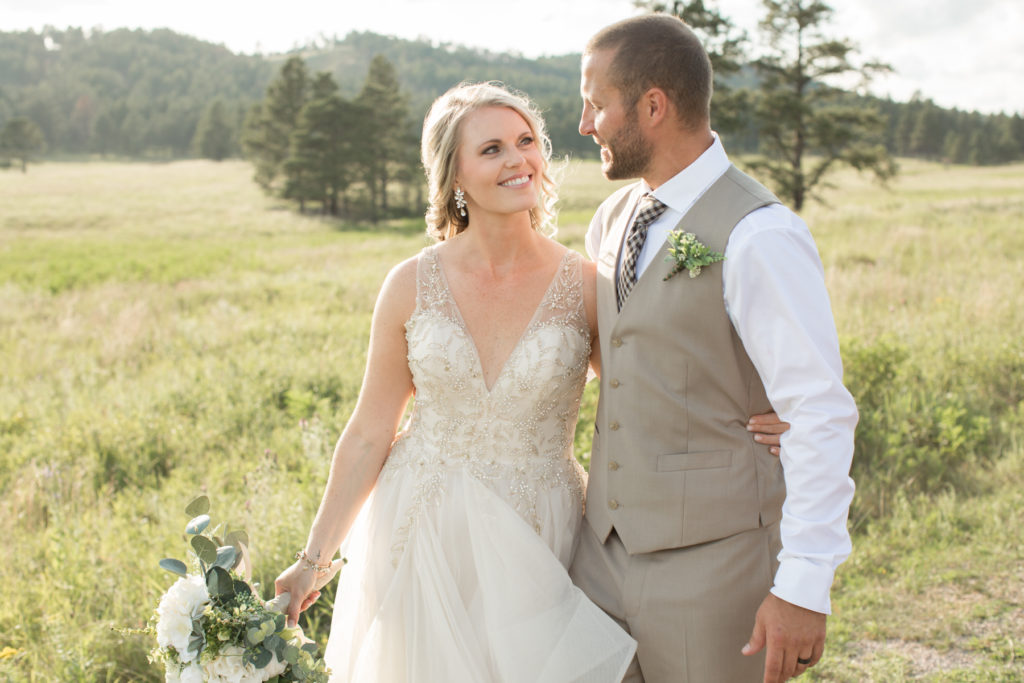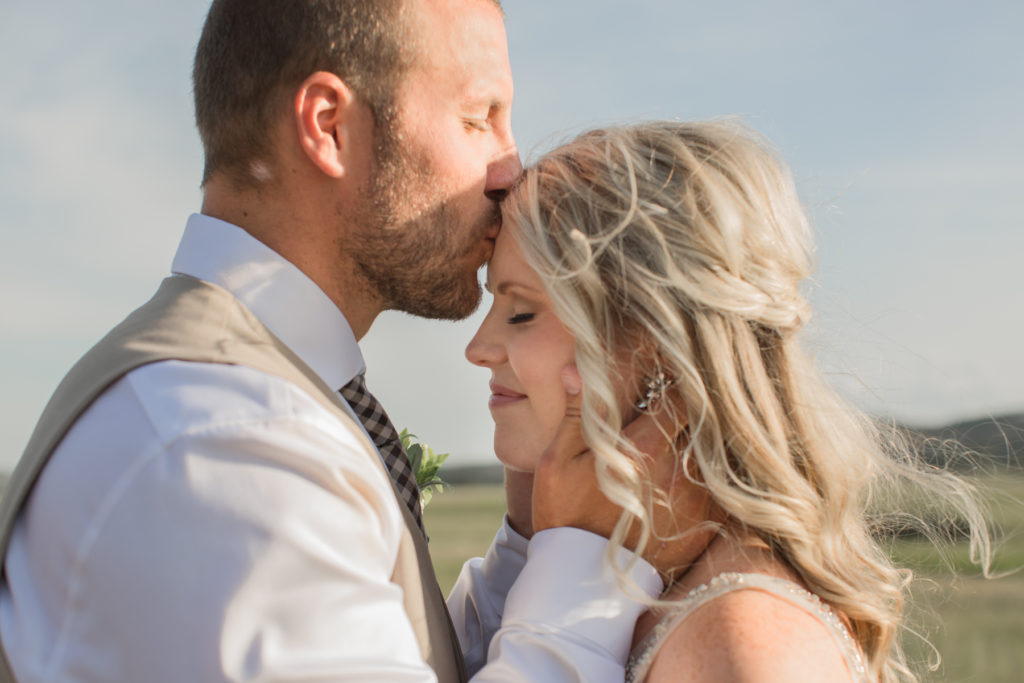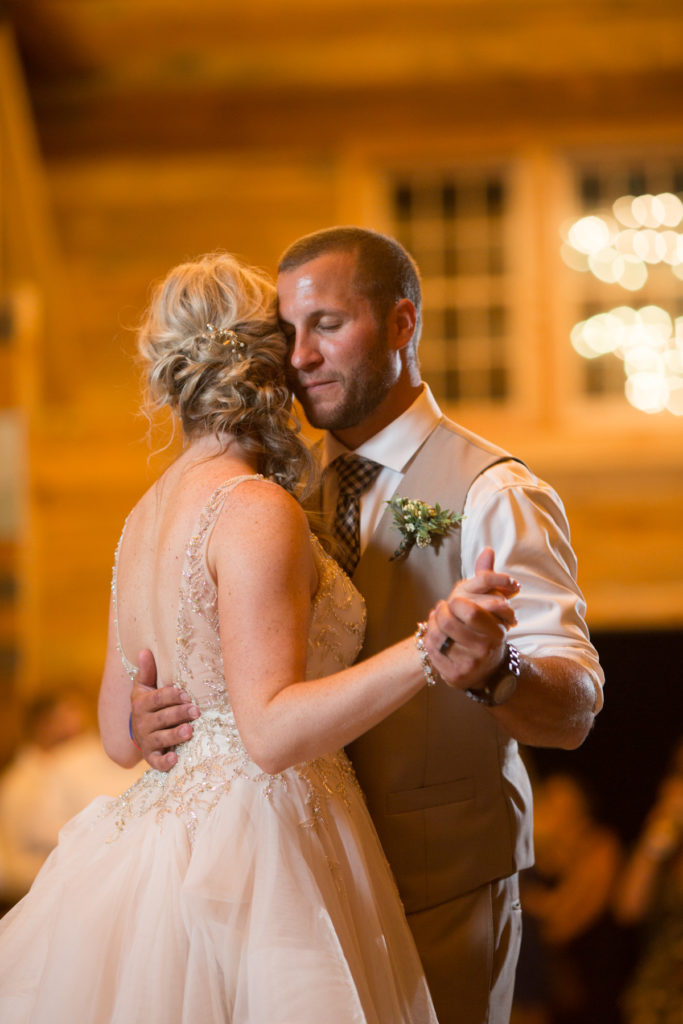 Aside from 'new' weddings, I had the pleasure of working with past wedding clients in new phases of life. This is Beth and Kasen, who wanted some professional head shots, but we spent most of our time together goofing around and catching up.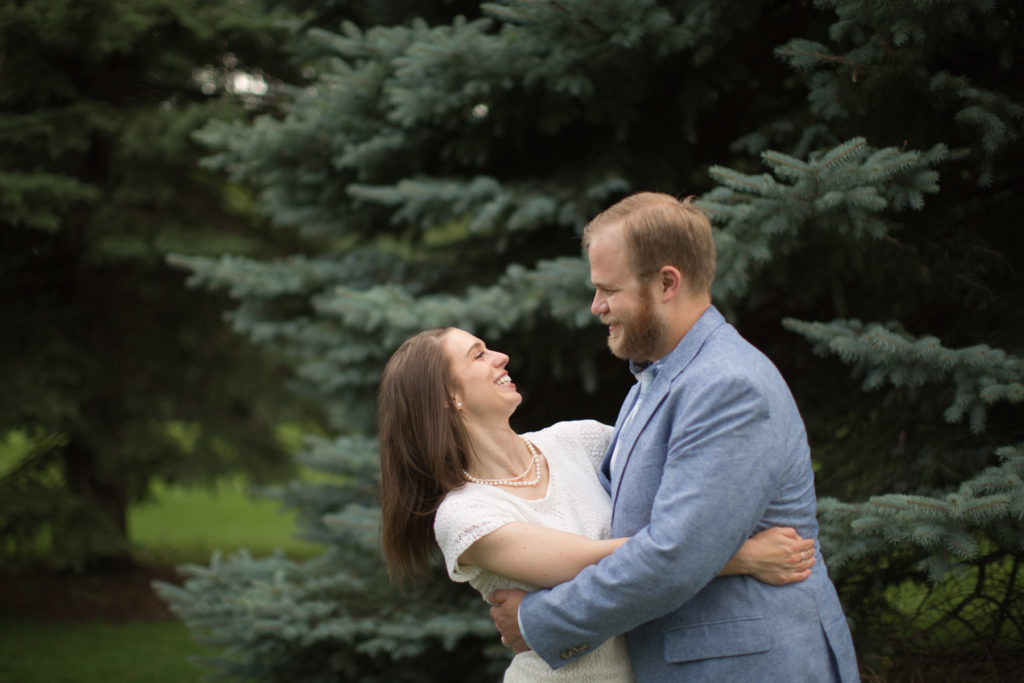 Eric and BMae had their first baby! Another evening spent being goofy and chatting about life. When I sent these photos off to them, Eric said, "wow, we look way cooler than we are in real life!" Hahaha! So, if you're ever worried about being too dorky for pictures, just know that I see you and I love you, and it is possible to have fun *and* make beautiful photos. ;-)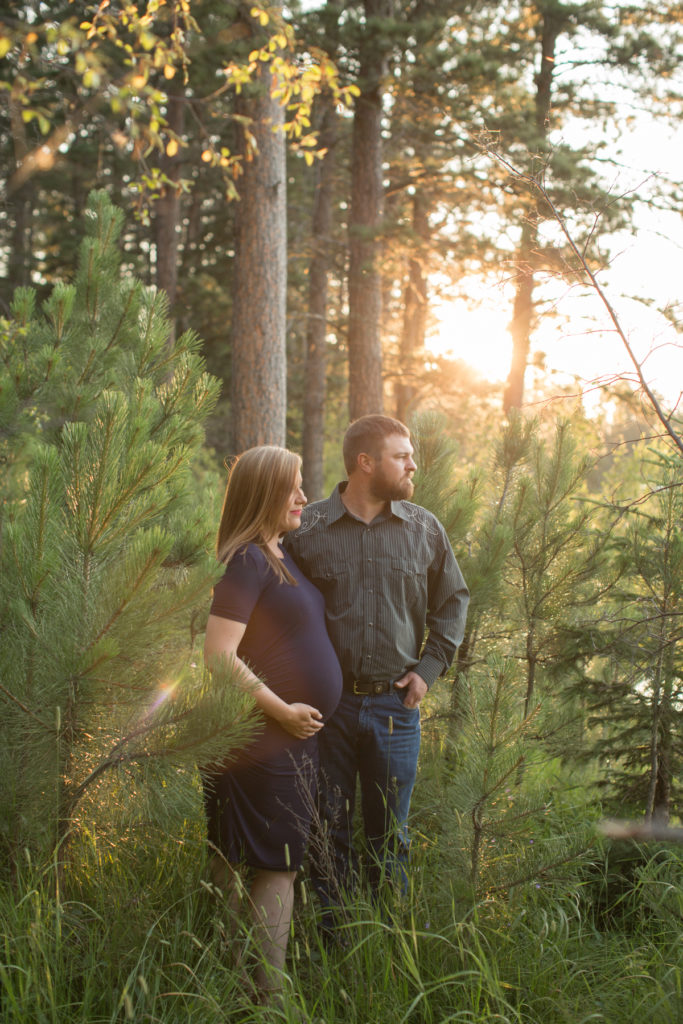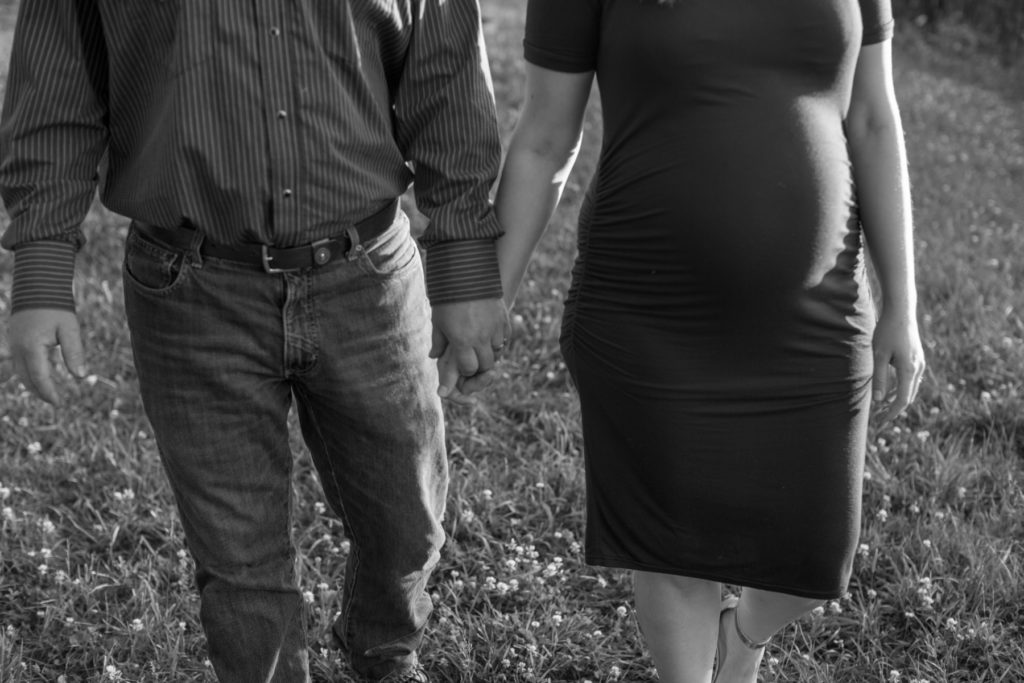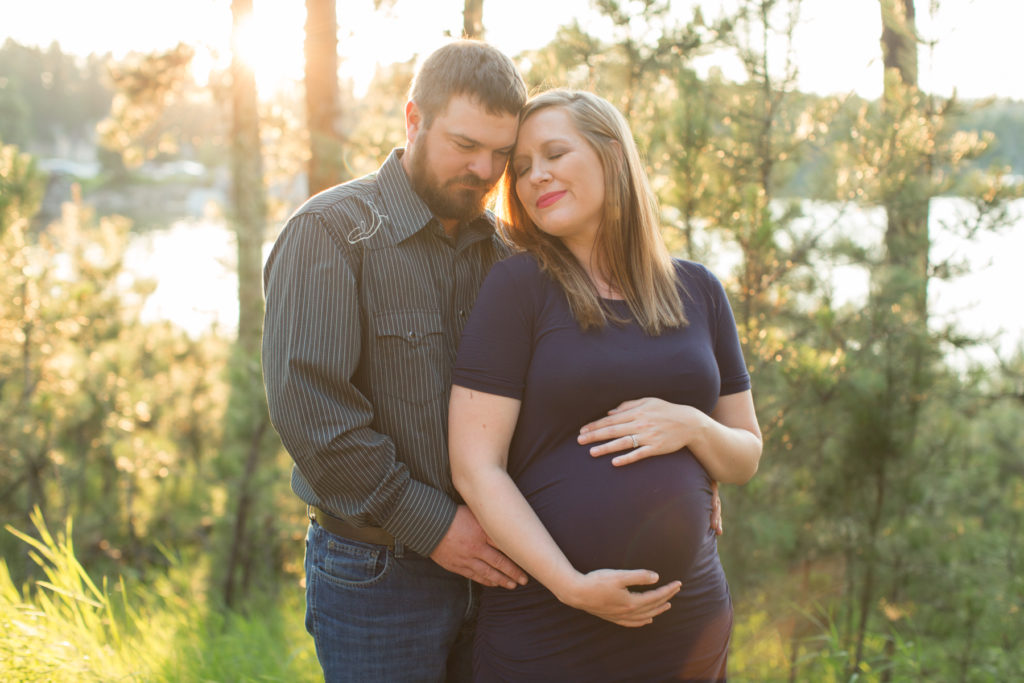 Danny + Chanda originally wanted their elopement to be at sunrise, but when I heard they had a little girl, I was glad they changed their ceremony time to when she would be happiest. Wedding days should be as relaxing as possible – there's no reason to add stress to the day just because of what the light might be doing!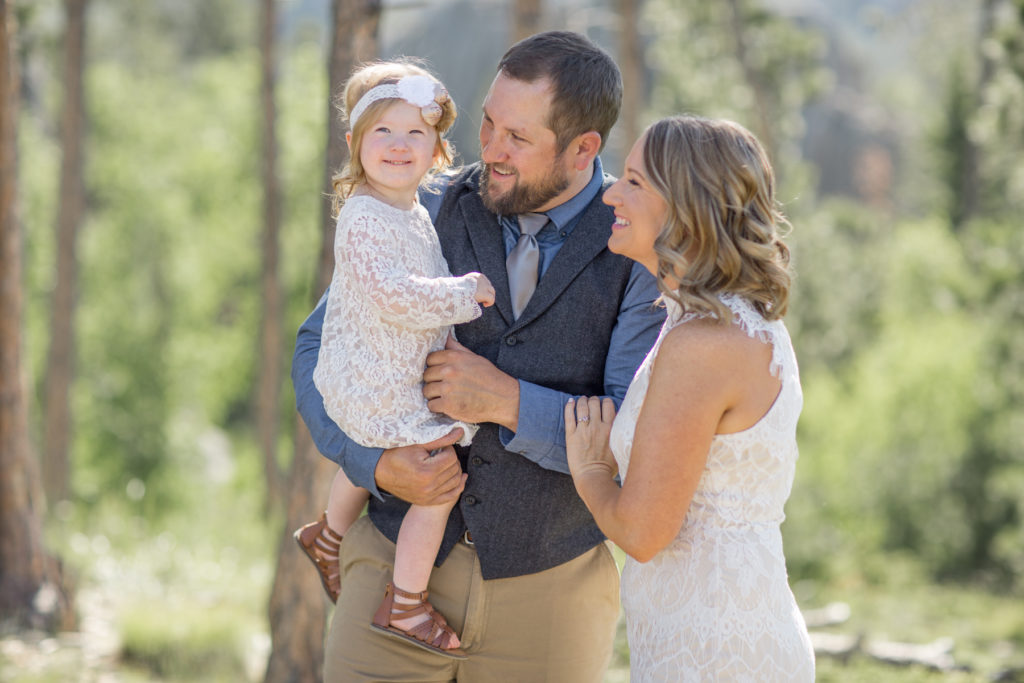 Because really, who cares about the light when your son thinks that dandelions are for tasting, not blowing? It's all about the memories. ;-)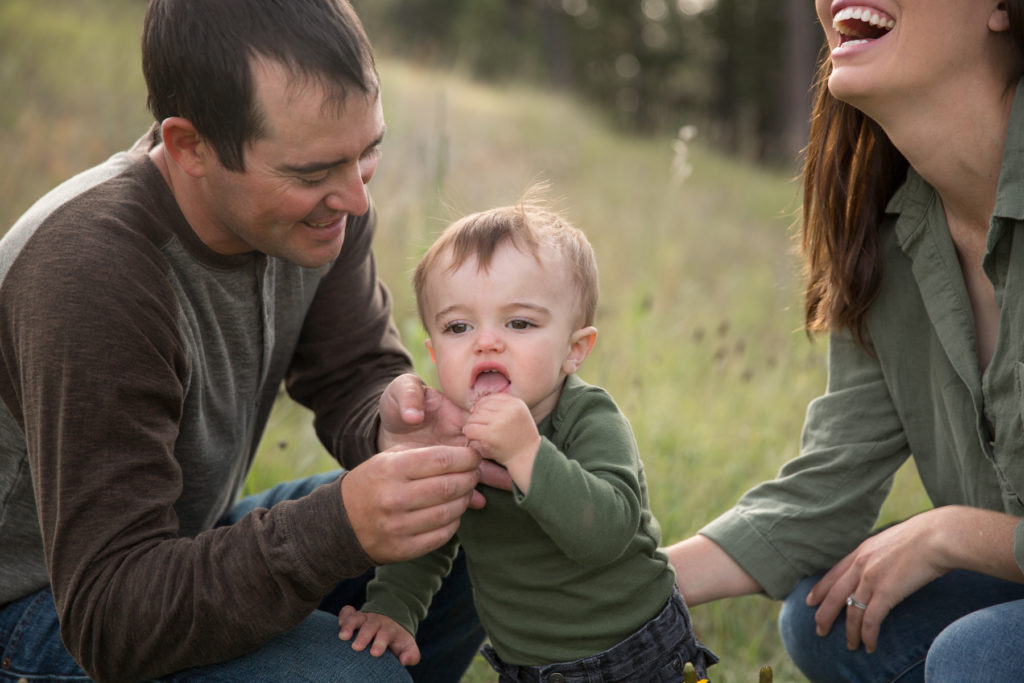 I was so, so, so excited to see Jesse + Elizabeth again seven years after their wedding, and to meet their daughter! But the circumstances were less than ideal – Jesse's dad had been diagnosed with cancer, and this would be their last time together as a family.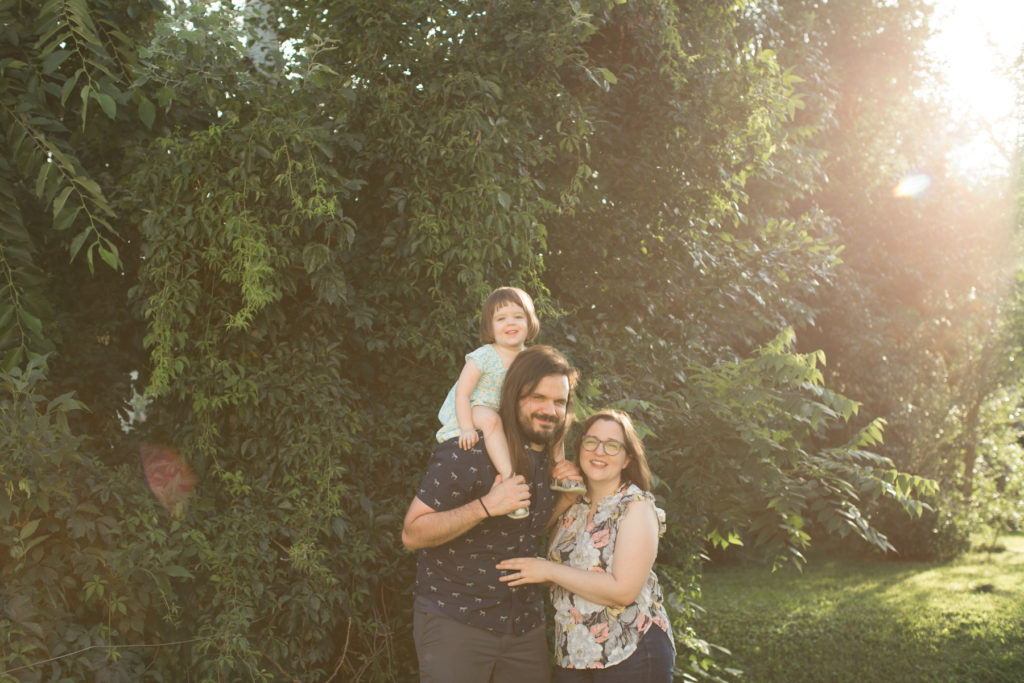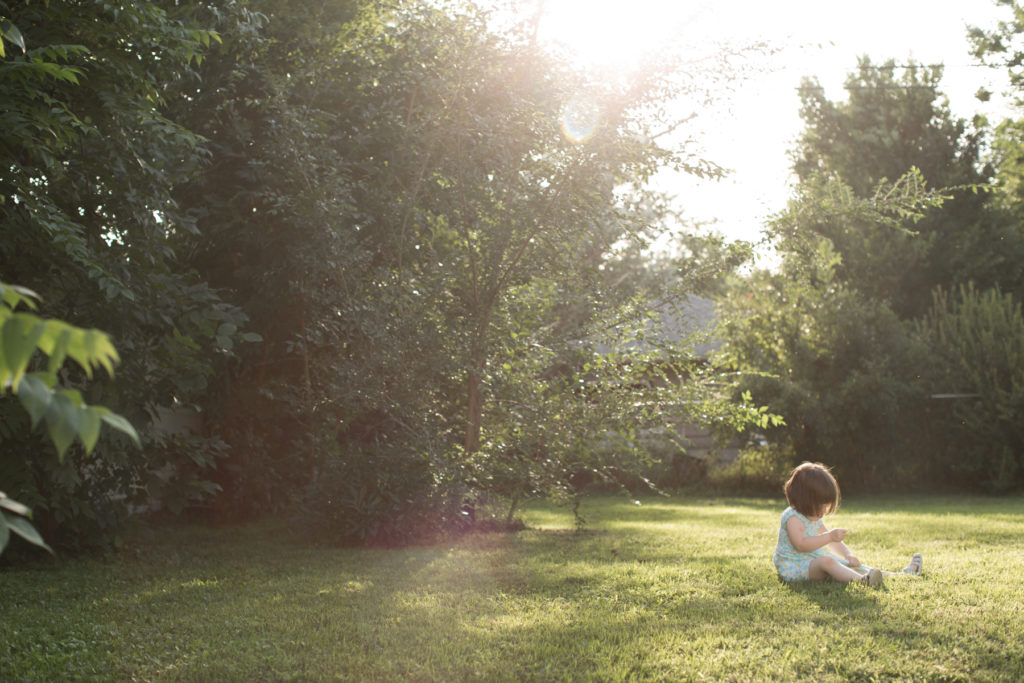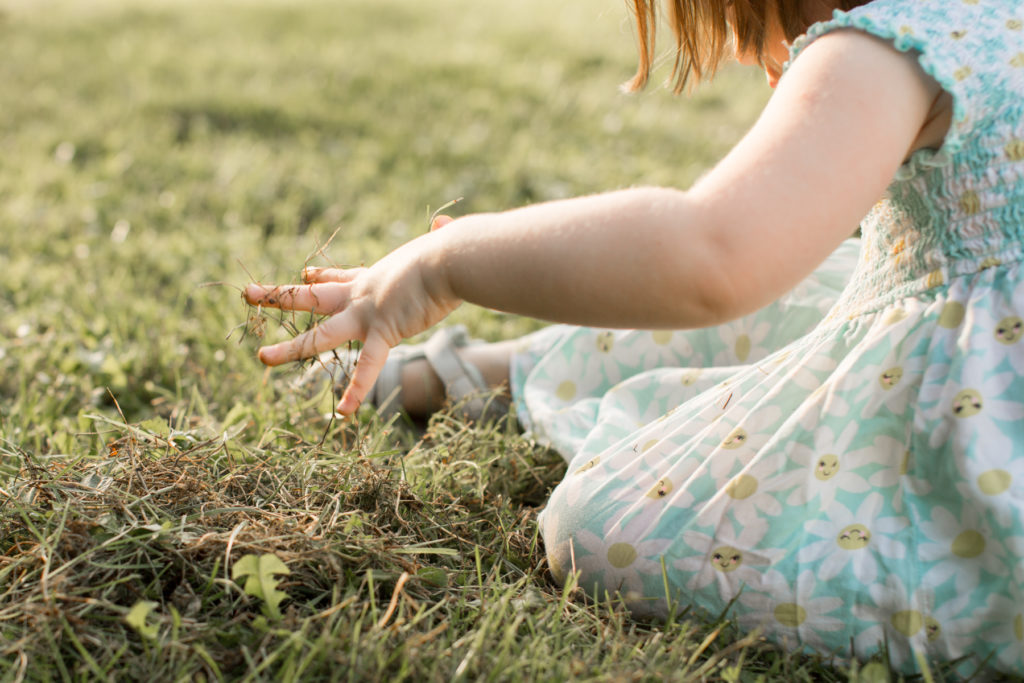 We only had a few minutes with Jesse's dad before he needed to go back inside to rest, and my favorite family photo is this one, where he's looking down, admiring his granddaughter.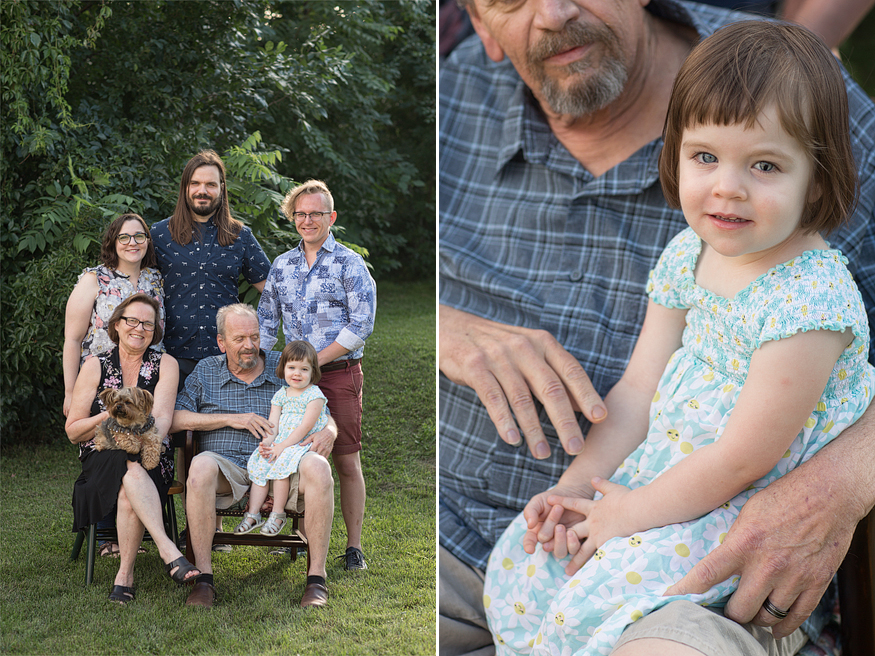 Okay, wiping away my tears now, Andrew and Tremaine were back in the hills to celebrate their son's first birthday (with a really yummy donut) and their sixth wedding anniversary!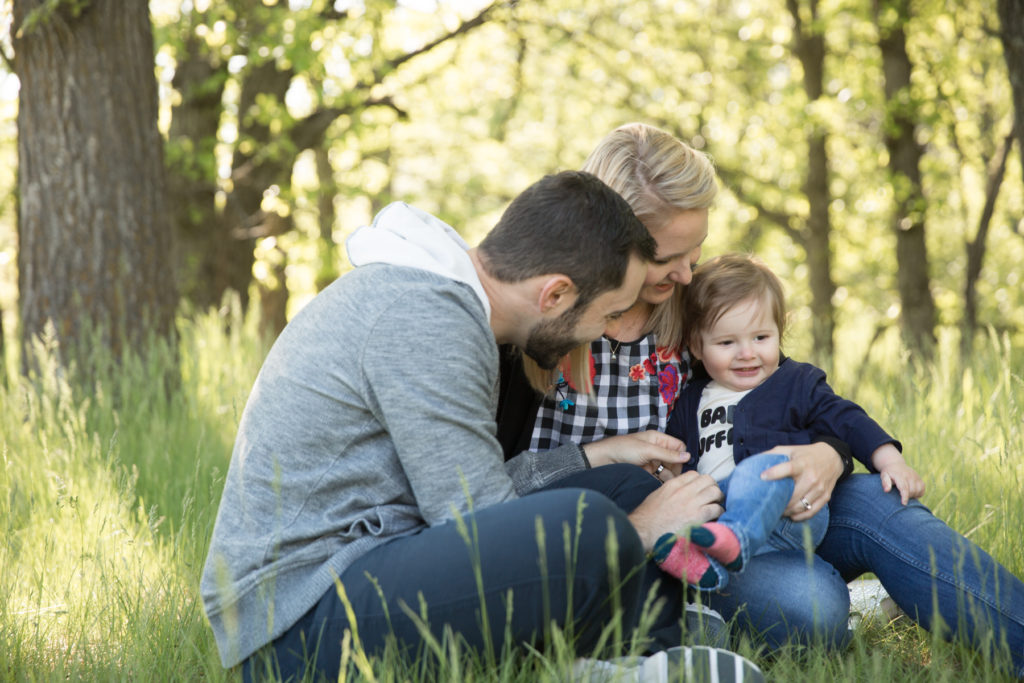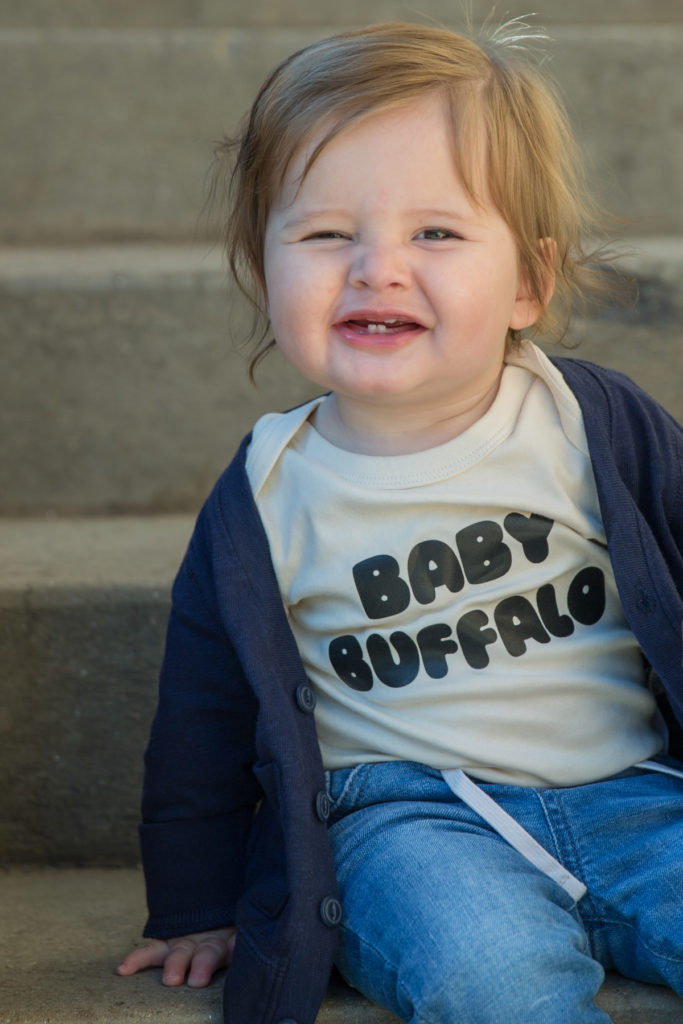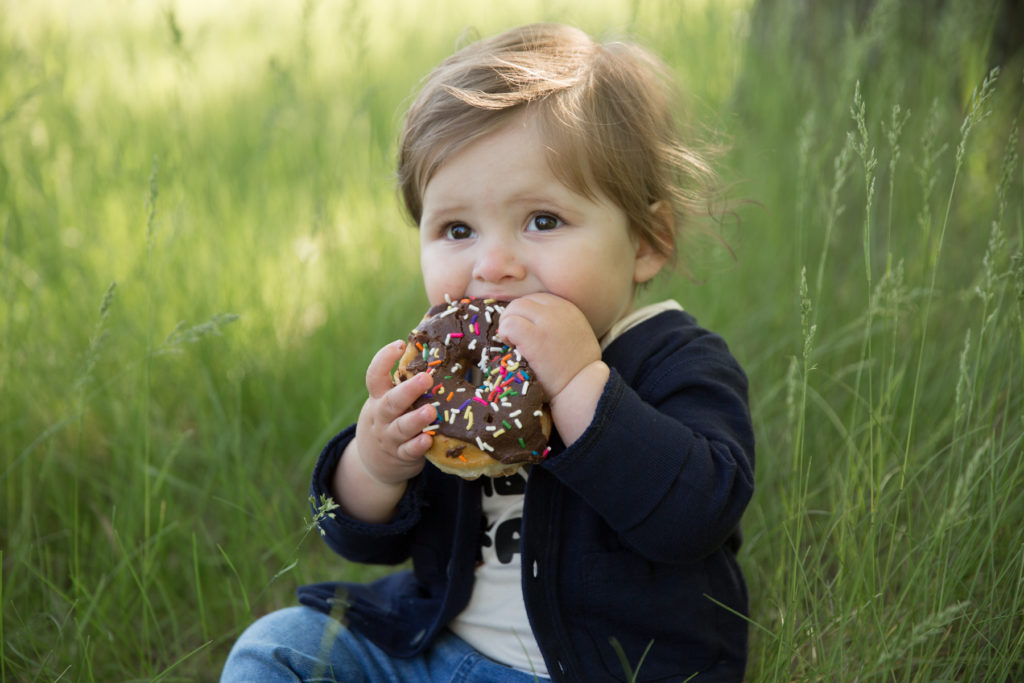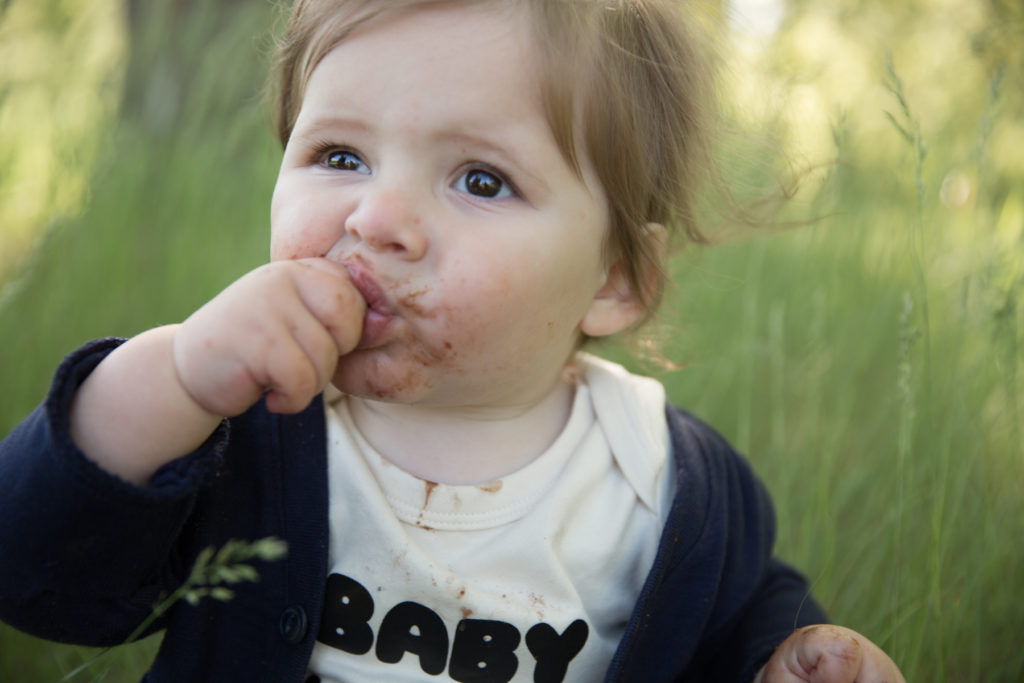 Then there was the Robbins family, who spent a week enjoying the finer things in life at Custer State Park – playing with rocks, and throwing them in the water. :-)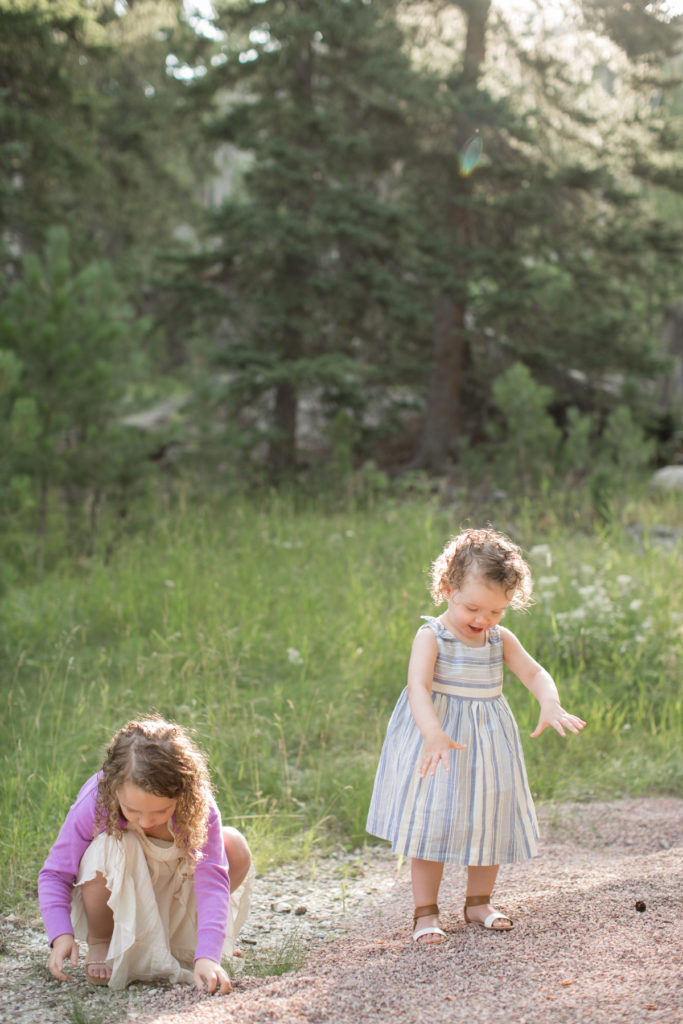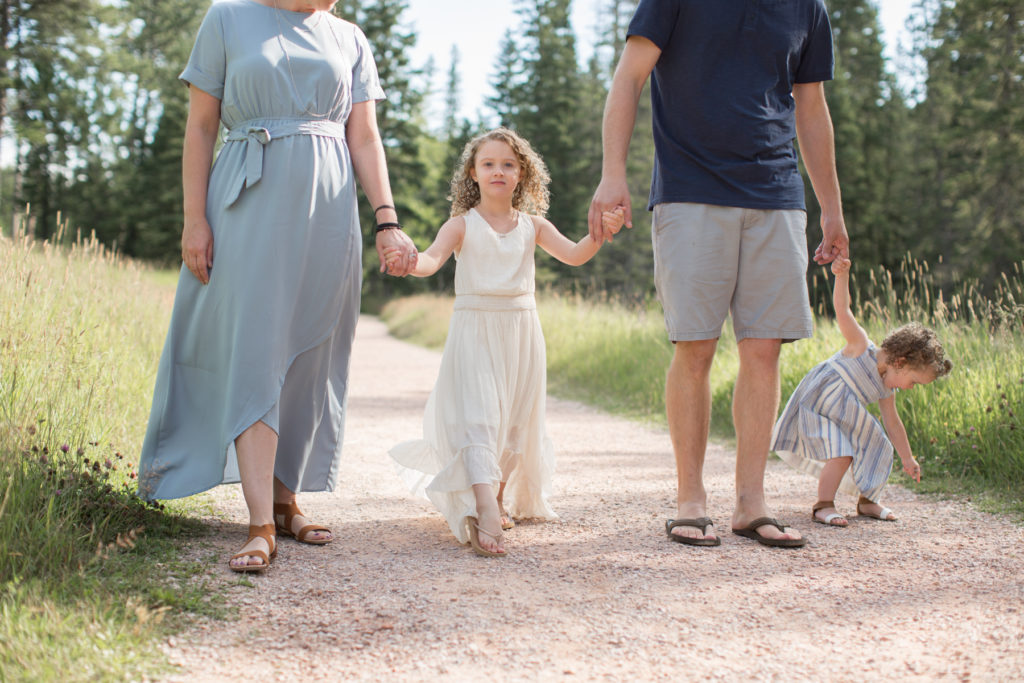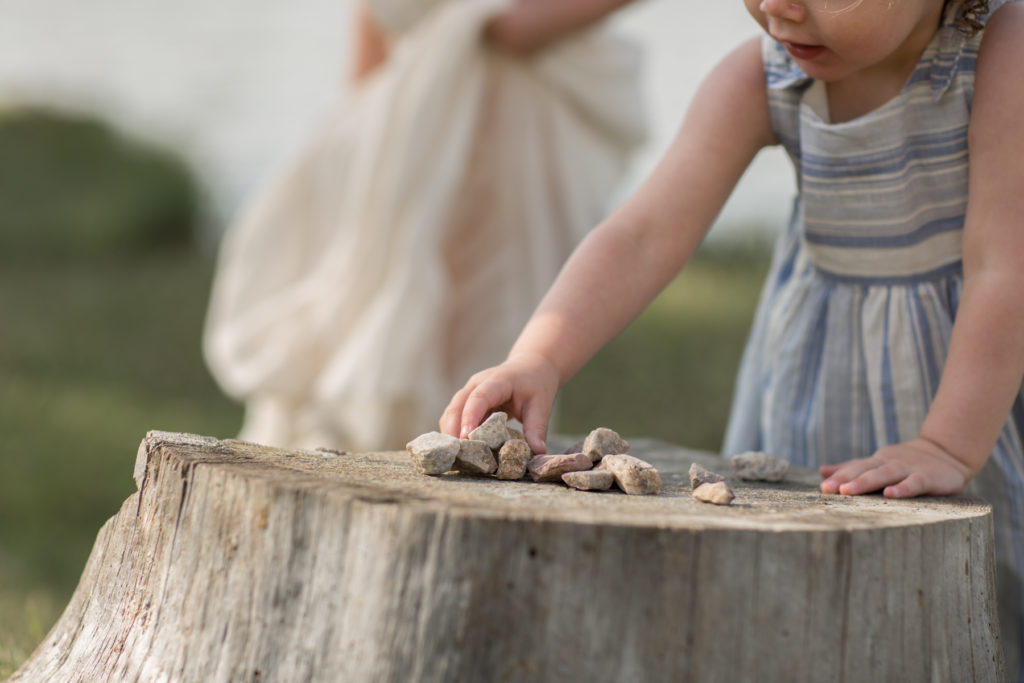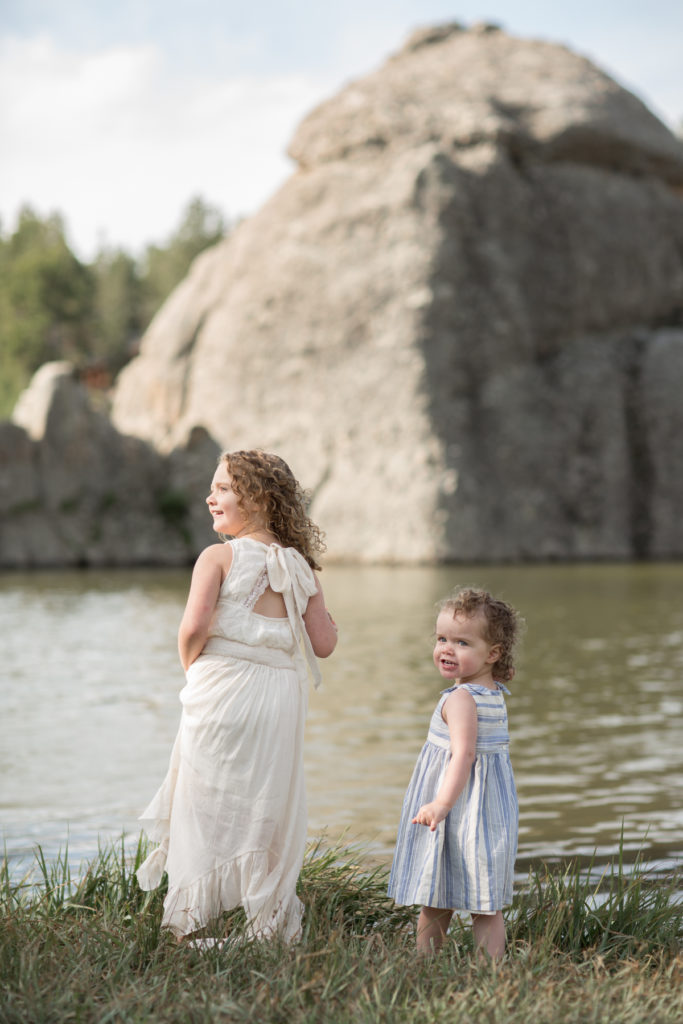 And finally, the most beautiful, honest, romantic reunion I've ever witnessed. Andrew was overseas for a year, and from the moment he was back in Meghan's arms, they were inseparable – even waiting for his luggage! (Also, notice the lady in the chair who also obviously felt the love in this moment.)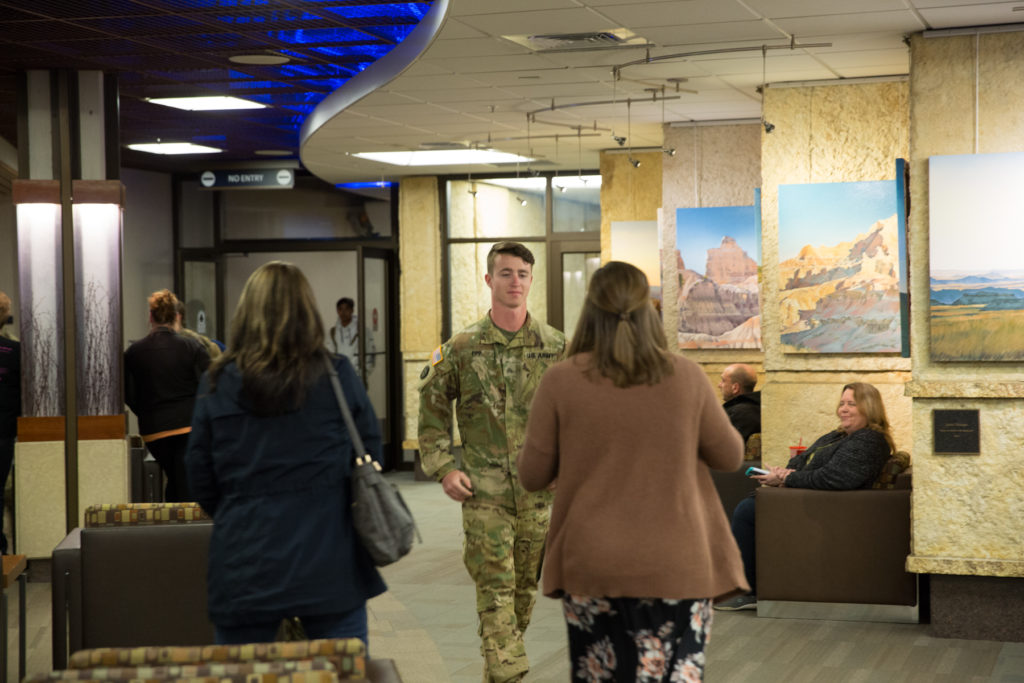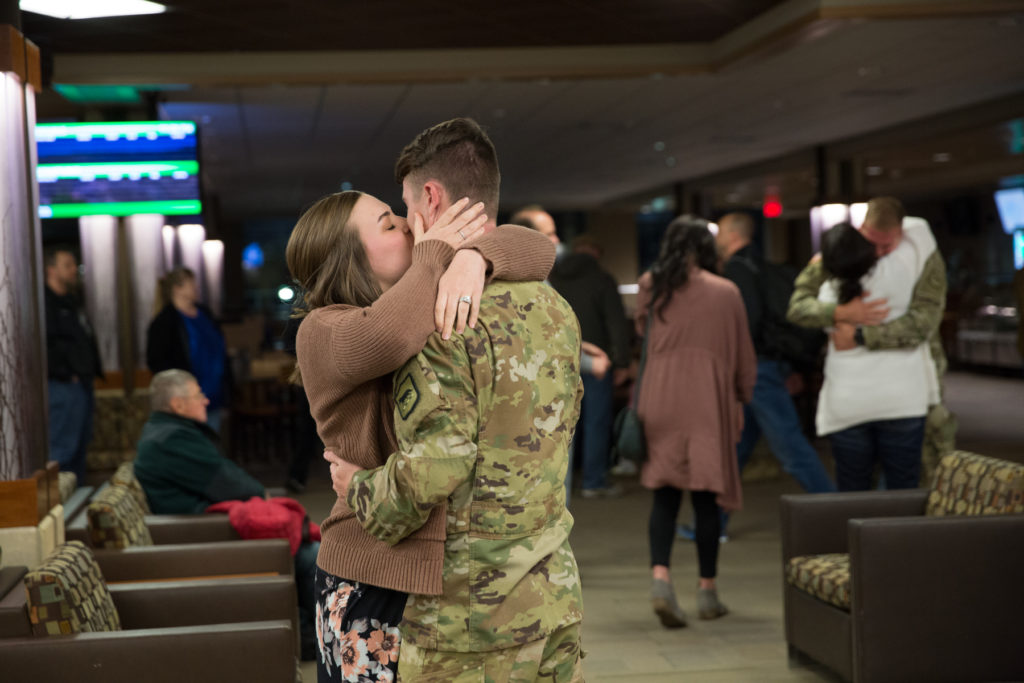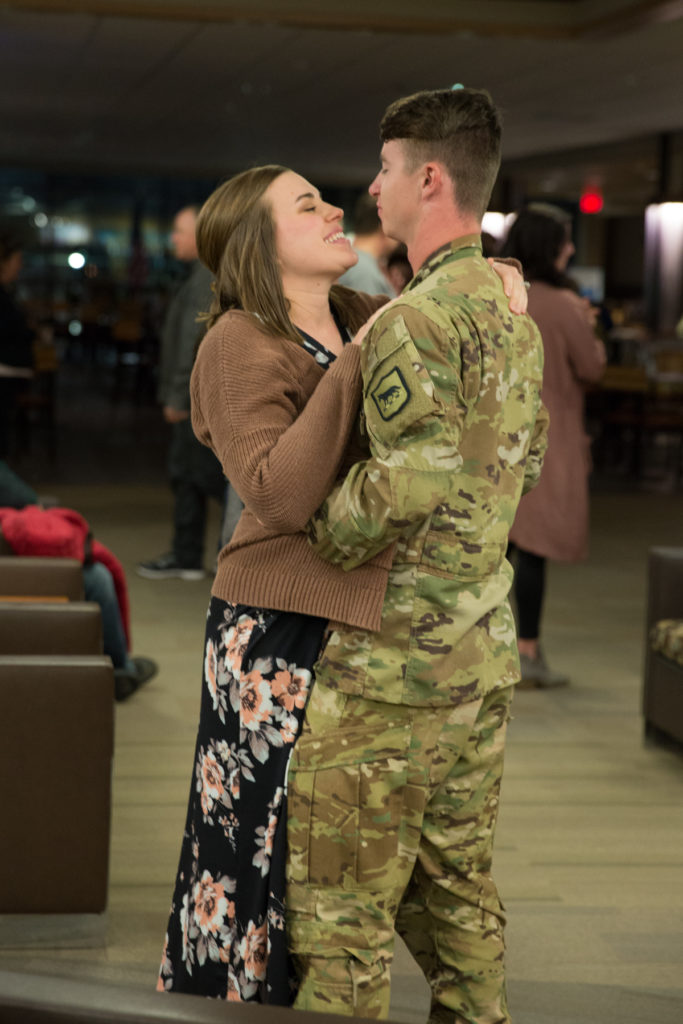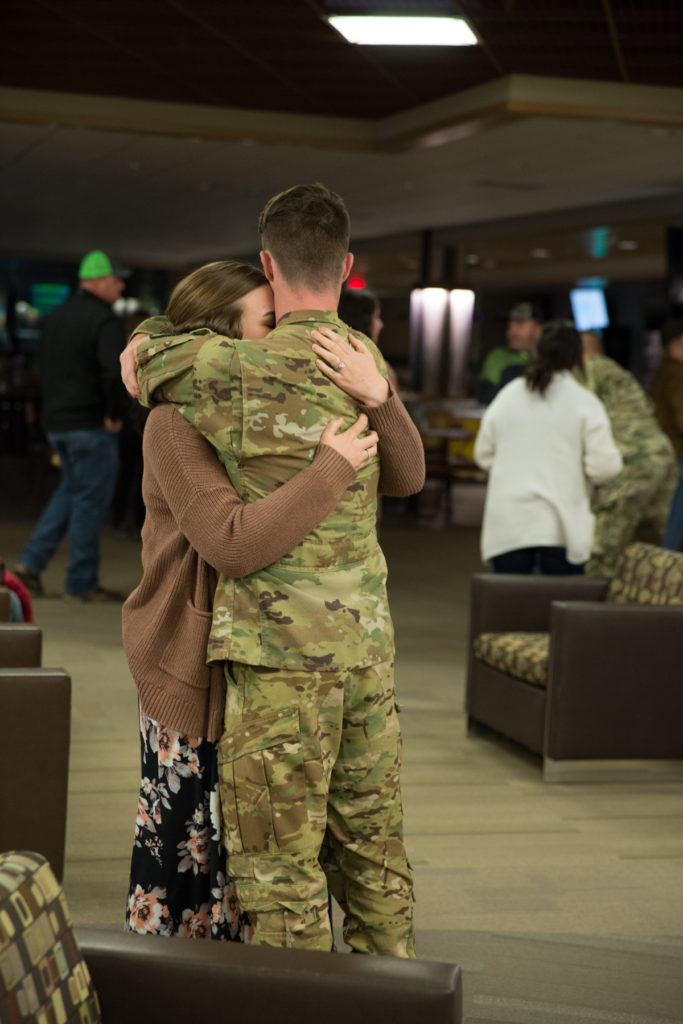 Seriously, is this not the most romantic baggage claim moment you've ever seen?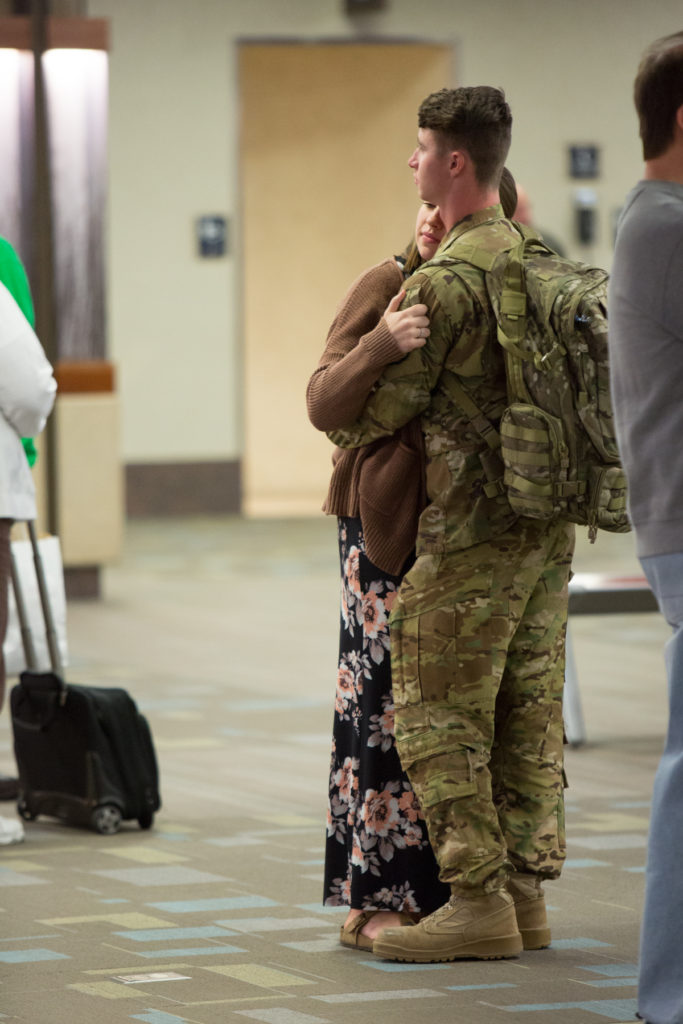 So, from my family to yours, thank you for making this year way more beautiful and memorable than I thought it could be. I heard recently that, "Grief is really just love. It's all the love you want to give, but cannot. All of that unspent love gathers in the corners of your eyes, the lump in your throat, and in the hollow part of your chest. Grief is just love with no place to go." (Jamie Anderson) So, thank you to all who have shown and shared love your love with me this past year, and allowed me to love you back in the way I knew how (with my camera, and spending quality time together).
Let's keep sharing the love, and savoring those 'everyday moments' in 2020! :-)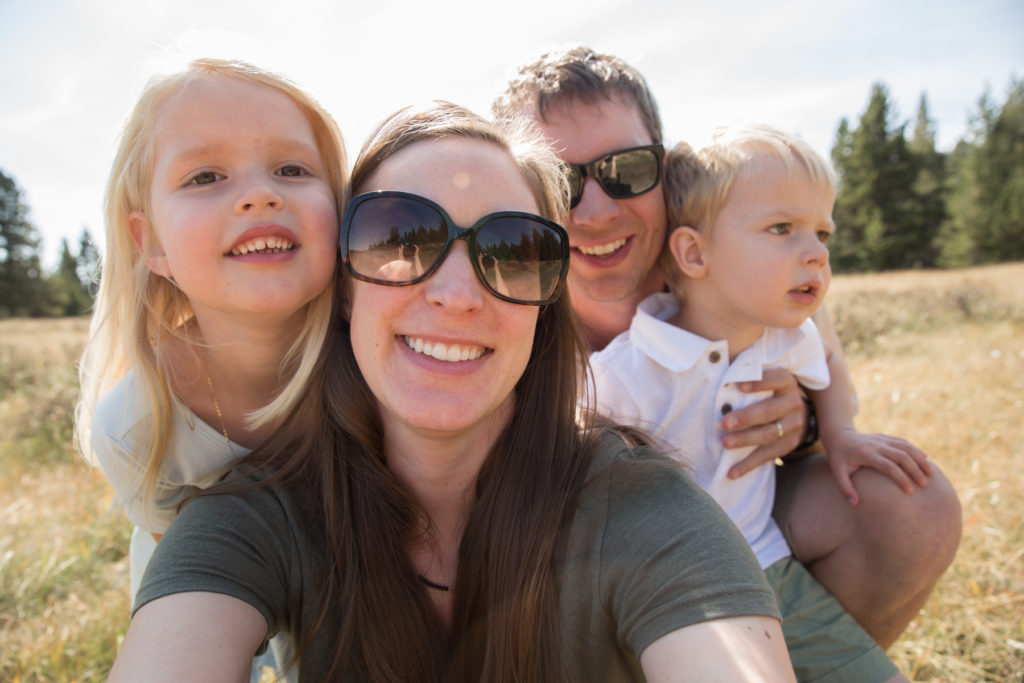 Comments
comments