Y'all ready for this?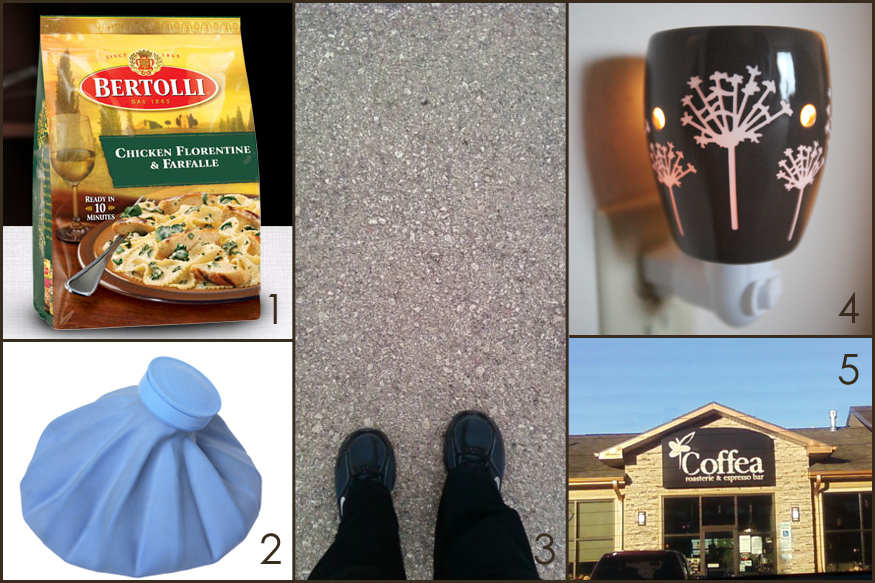 1. Bertolli Frozen Meals – I try to be domestic. Honestly. I do try. Sometimes. It was even one of my goals to 'try a new recipe once a week for a month.' But recently I picked up this bad boy and let me tell you – one pan and ten minutes is my kind of cooking!!
2. Ice packs – I smacked my forehead on the edge of my apartment door the other day. I look like a unicorn (no, not the cute, oh-so-FLUFFY one from Despicable Me) and now I'm just praying my entire forehead doesn't turn black and blue. Because that'd be soooo attractive. :-)
3. Walking trails – I'm training myself (kindof) in preparation to hike Harney Peak in a couple of weeks. There's not much elevation change on this particular trail, but at least I'm trying. Right?
4. Scentsy – I got this from the Easter Bunny this year. My favorite scent so far is 'Welcome Home.' It reminds me of candied almonds. Yum.
5. Coffea – Probably the best coffee house I've ever been to. All of their lattes are rosetta lattes. I stop every time I'm in Sioux Falls.
Comments
comments