Spring is here!!! Nice weather, weddings, and season finales. :-)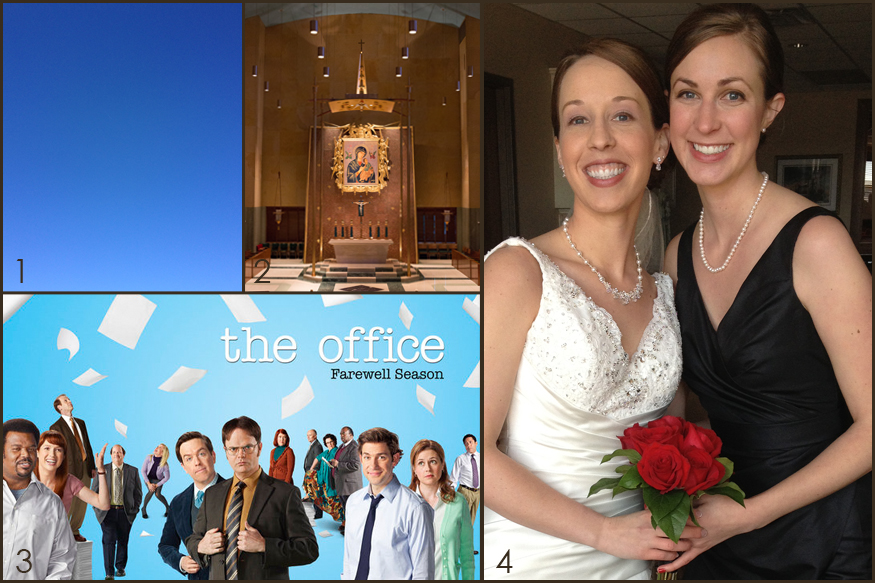 1. I'll be the first to admit that I enjoy going for a walk, but only when the weather is just right. Too hot? No way. Too windy? Uh-uh. Mid 60's with a light breeze and lots of sunshine? Perfecto!
2. The Cathedral of Our Lady of Perpetual Help in Rapid City just celebrated it's 50th anniversary. We attended the dinner and re-dedication ceremony, and I was recognized for "risking my life and limbs to take the photos" for the new booklet and prayer book. I really wasn't that concerned for my life nor my limbs… but I don't think I'll be climbing up five levels of scaffolding anytime soon.
3. I watch all my shows on Hulu during the day, because when my husband gets home from work in the evening, I like to spend time with him instead of watching tv. Last night was a different story. There was no way I was missing the series finale of The Office. It didn't disappoint. I don't want to post any spoilers, but I am so happy with how it all turned out – especially all of Jim's pranks. :-D
4. My best friend's wedding!!!!! I got to be her matron of honor, but it was so hard not to have my camera in hand!! My dearest Jill – I had a wonderful day being by your side and I hope you are having a wonderful honeymoon! I can't wait until you get back so we can have another coffee date to catch up, because last weekend went by too fast. :-)
Comments
comments