You know how when you get busy doing things for other people, the work you need to do for yourself gets pushed aside? Well, that's what happened to my monthly favorites list. March has been busy for me so far (I'm not complaining!) – I had sessions then a wedding then more sessions and design work to send out and all of it was so exciting that I didn't have a day last week to share my favorite things from the past month. Until now. Enjoy! :-)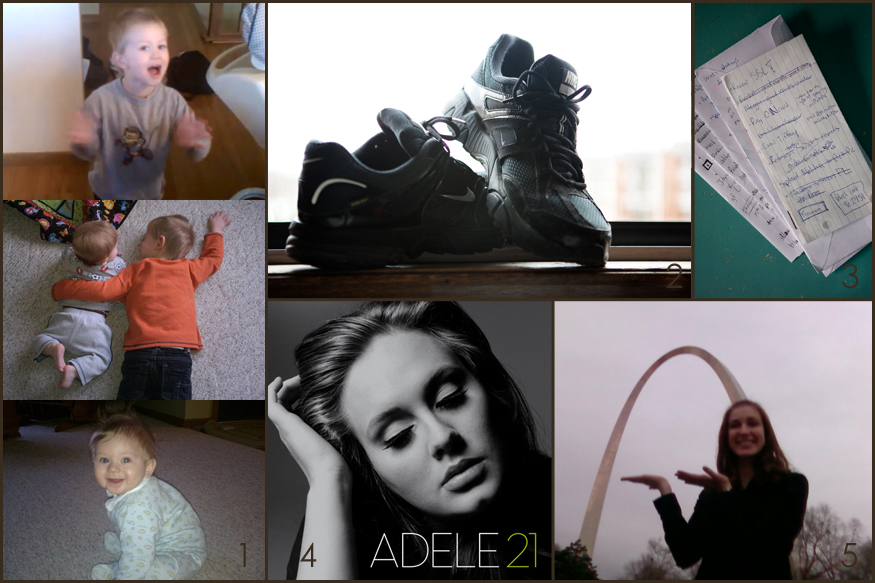 1. My nephews – okay, so maybe they will ALWAYS be on my 'favorites' list, but this month they have been so amazing. Jonas is learning his syllables (this video is the cutest thing EVER!!) and Isaac is working his baby abs by rolling over and sitting up!!
2. Walking – It's been so nice here the past couple weeks that I'd rather be outside walking than sitting at my computer uploading photos. But then again, I can't put off work for other people without feeling rotten. So instead I get my photography work done, put off exercise and let my muscles turn to flab. :-) And yes, this is my attempt to make walking shoes look beautiful. I don't think it worked.
3. Keeping busy – I might have been a hermit the past week, but I did edit an entire wedding, photograph and edit a newborn session, and unpack my suitcase from St. Louis. And yes, the unpacking of my suitcase was probably the most rewarding thing I did for myself all week. That and treat myself to Armadillo's. Twice. Key Lime with Candi on Wednesday and Strawberry Cheesecake with Lance on Friday.
4. Adele – 'Rolling in the Deep' is stuck on replay on my iPod. The song doesn't really apply to my life. At all. Her voice is just that good.
5. Being a tourist – This photo was taken with Lance's fabulous camera phone skills after church at the Old Cathedral last Saturday while we were in St. Louis (hence the arch…). Also, expect to see a blog post from our trip to the arch in the next couple days!!
Comments
comments