Sunny days, birthdays, craft days, tasty days. March for the win!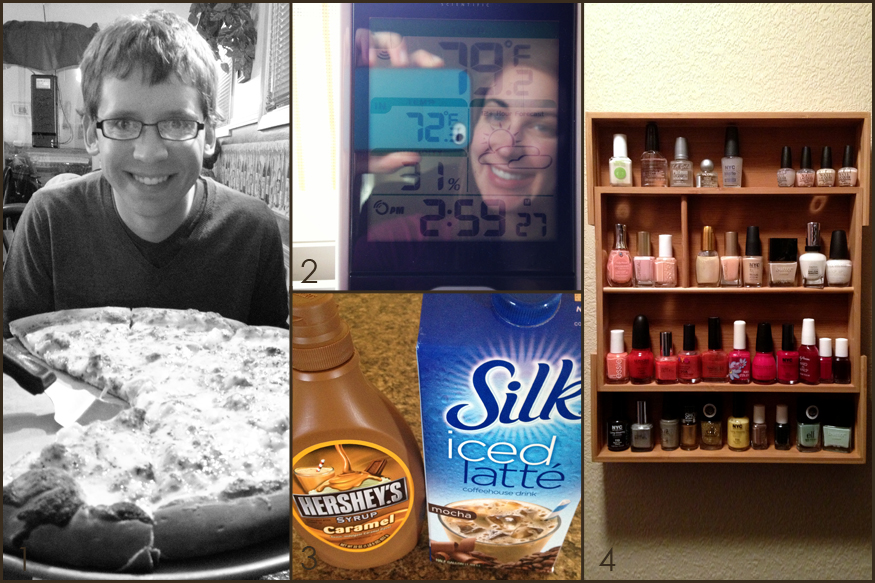 1. Lance's Birthday – we celebrated by going out to eat at our favorite pizza place in town – Piesano's Pacchia – and ordering our favorite pizza – Chicken Alfredo!
2. Hello, sunshine!! We've had plenty of 70+ degree days here in Rapid City this past month, which means engagement sessions and weddings are just around the corner!! Yippee!!
3. Silk Mocha Iced Latte – With these warmer days, I've been sipping on iced coffee in the mornings and this is SO tasty – especially with a splash of caramel mixed in. You know how I love me some chocolate and caramel. :-)
4. My custom nail polish display shelf!!! Somehow, my nail polish collection has continued to grow over the past few months, and I was in desperate need of a way to contain them *and* see them all at a glance so I wouldn't *accidentally* get duplicate colors. So I researched on Pinterest and searched through Google images. It seemed my only options were to a) build one from scratch, or b) get a spice rack. Now, I'm a pretty crafty girl, but creating a shelf from scratch is just not within my patience levels. So as I'm searching online for spice racks, other kitchen organizing gadgets caught my eye and I found this expandable bamboo utensil tray at Bed Bath & Beyond (similar one here) – I even brought my tallest nail polish to the store to make sure they would fit. I found the perfect utensil tray, took it home, super-glued the expandable drawers in the 'expanded' position, and Mr. Helpful Husband took care of the installation in our closet!
Comments
comments