With all the sunshiney days in March, the month seemed to fly by just as summers tend to do. Along with enjoying the beautiful weather, here are a few other things I've been enjoying this past month!!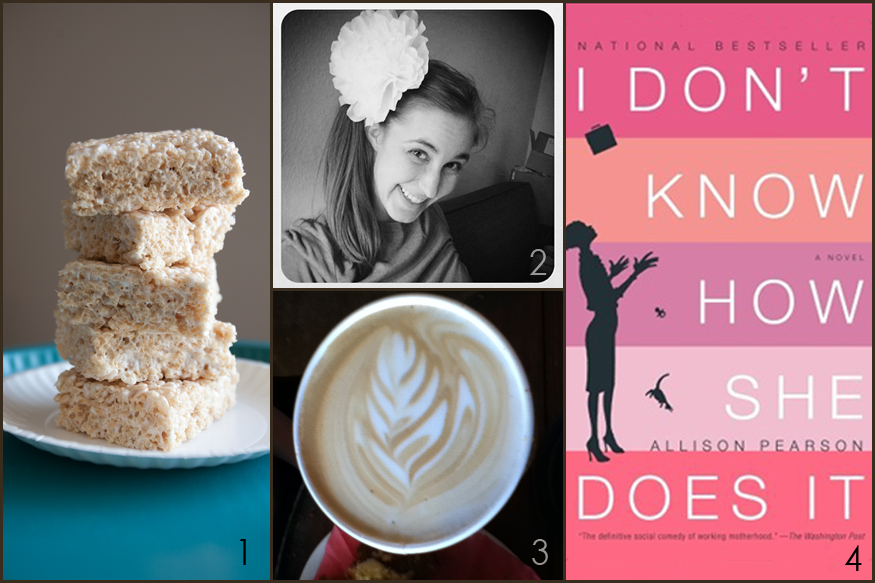 1. Rice Krispies Treats – In this month alone, I made three pans of these bars. For the first pan, I thought to myself "I forgot how easy these are to make and how tasty they are!!" So I made another pan. And then another. Because they were just SO yummy. (Honestly, I don't ask for much in life – just Rice Krispies, marshmallows, and butter.) But don't worry, I didn't eat three pans all by myself… I shared. :-)
2. Crafting parties – Projects are so much more fun when friends, grown-up drinks, and girlie movies are involved.
3. Coffee dates – Before Zack + Betsy's Tuesday wedding in Sioux Falls, I spent the entire weekend just chillin' with my bff (Hi, Jill!!). Typically when I come to town, I'm only around for an afternoon or evening, so it was nice to have the entire weekend to just hang out. No rush of needing to be anywhere. Just lots of fun!
4. I Don't Know How She Does It – It's true. I only read books that are going to be movies. Because then I'll know they'll be good.
Comments
comments