I've been making a conscious effort to soak in every day of summer as best I can. I don't want to be the one on the first day of autumn saying "where did my summer go?" Having my 'monthly favorites' list helps keep track of these days full of sunshine.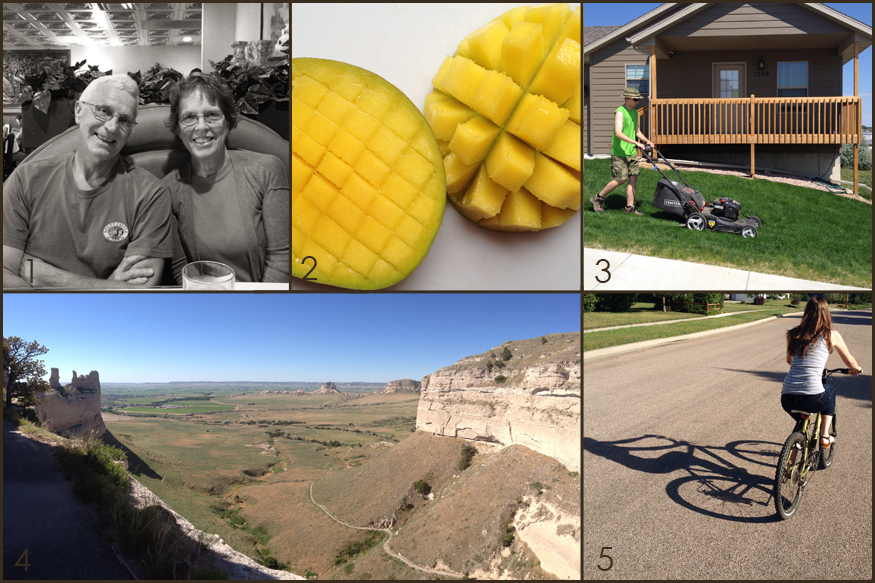 1: (number one for a reason) visitors!!! My parents came to visit! So did my husband's parents, but we were too busy working that I forgot to take a photo of them.
2: mangoes – Nothing says summer like fresh fruit! My mouth has also been watering over apricots, peaches, and nectarines.
3: our lawn – We love our front lawn. It's so pretty and green! This photo is from the very first time Lance mowed the lawn. I warned him this photo might be on the blog, and gave him the opportunity to change clothes, but he is happiest in his neon and camouflage.
4: Scotts Bluff National Monument – With our new house and yard, a lot of our days off are spent working in and around the house. I was thrilled when Josh + Whitney asked me to photograph their wedding in Nebraska, because not only were they so much fun to work with, the change in scenery gave us the freedom to take some time and try a new hike.
5: bike rides – Speaking of trying new things, last week I learned to ride a fancy bike… with gears!! The last bike I ever rode was when I was a little kid and I only ever rode it around our yard at the farm. Now I cruise the whole neighborhood every other morning.
Comments
comments