It's a good thing I set reminders on my calendar… I can't believe it's already been a month since I've posted a few of my favorite things!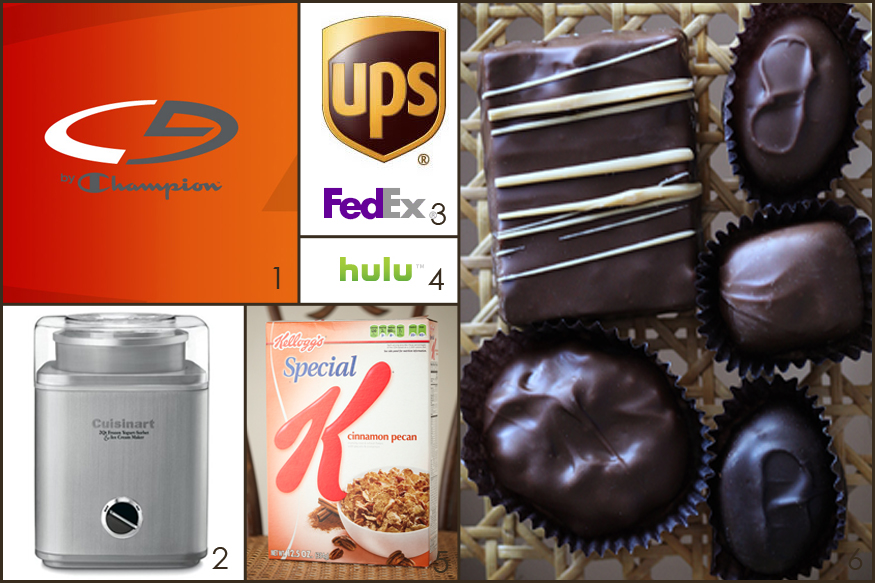 By quickly glancing at my little collage, you'll see that over half of it consists of food. It's a good thing I've started exercising a bit!!
1. C9 by Champion – I decided that having cute workout clothes will motivate me to start exercising more. It's worked so far (almost two weeks!!) but really, by looking at my workout history, I wasn't going to invest much in clothing because who knows how long this "I like working out" phase will last!! Plus, I like their logo because it looks kinda fly like a G6.
2. My new ice cream maker – I'm on my third batch of ice cream (it's okay, I shared!) and first of fro-yo since Christmas. :-)
3. Tracking numbers – I'm an online-shopping junkie and I like to know which days to expect the UPS or FedEx guy so I can change out of my pajamas by noon.
4. Hulu – I don't really have tv at my apartment. Hulu to the rescue! I signed up for an account and so every time there's a new episode of The Office, Parenthood, Castle, or The Bachelor online, it automatically adds them to my queue!!
5. Cinnamon Pecan Special K – My closest friends know that I love cold cereal. Until recently, I would keep my cupboard stocked with Lucky Charms, Fruity Pebbles, Kix, Cocoa Puffs, and anything that made Kindergarteners jealous. Since I found Cinnamon Pecan Special K, I am hooked. It's like my taste buds went from grade school to grown-up with just one bowl of cereal.
6. Mostly Choclates – Lance came to visit last night and there was only half of one peanut butter crunch caramel left. So much for buying two of everything.
Comments
comments