Hello!!! Welcome to my first 2014 edition of 'Laura loves" – where I share with you what I've been enjoying for the past month. It's been a cold and quiet month, but enjoyable none the less. :-)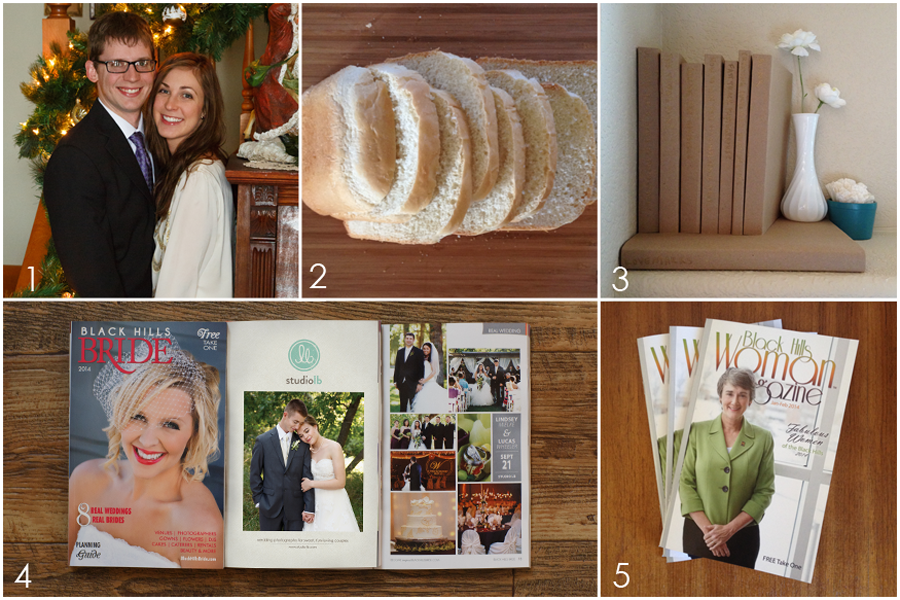 1. Merry Christmas!! My husband and I spent Christmas with his family and the tradition there is to take family photos before Christmas Eve mass. Here we are all dressed up – don't we clean up nicely? :-)
2. BREAD!! We received a bread machine for our wedding, and I've been intimidated by it ever since (a whole 16 months). With the help of my dad (who *always* has a homemade loaf on hand) and a recipe from Pinterest that didn't require powdered milk – I made my first loaf and I have been hooked ever since! I have learned, however, that I must make bread in the evening. If I make it too early in the day, it tends to be all I eat. I heart carbs!!
3. Office vignettes – During wedding season, I'm too busy staring at my computer to make my office look nice (ahem.. keep it clean…). Since one of my new years' resolutions is to keep a tidy(er) house, I decided to cover all of my business books in kraft paper. I haven't read them in years, but I don't want to get rid of them in case someday I feel like re-reading them (I might be a mild hoarder), and now they look *so* much prettier!
4. Black Hills Bride Magazine – Lucas + Lindsey's wedding was featured and Andrew + Meghan's lovely faces appear on my ad! For those of you planning your Black Hills wedding, make sure to pick this up as it has *lots* of tips and vendor lists for you to help plan your wedding. :-)
5. Black Hills Woman Magazine – I had the pleasure of photographing and getting to know President Heather Wilson and Leona Zastrow – both featured as 'Fabulous Women' in the Jan/Feb issue. This magazine can be found all around the Black Hills, or you can click here to receive a digital copy and read about all the women featured in this issue!
Comments
comments