Welcome to the first editon of "laura loves…" where I share a few of my favorite things that I currently can't get enough of!!
Feel free to share some of your favorite things in the comments below! :-)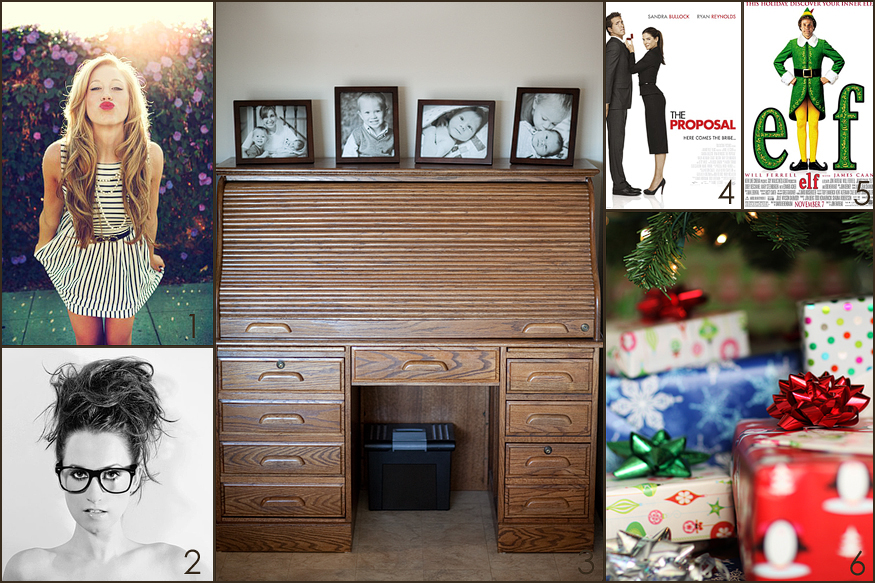 1. Jayme Dee – She's so adorable and she has SUCH an awesome voice!! I am hooked on her covers of Cooler Than Me and Baby It's Cold Outside. Both of which you can download (for free!!) on the link under each video.
2. Ingrid Michaelson – I have downloaded lots of her songs from iTunes, but my current favorite is Parachute. You can download the acoustic version of the song by liking her facebook page, going to the '12 days of Ingrid' tab, and clicking 'download!!'
3. My new roll-top desk!! It's so pretty and has so many cute little drawers. And I purchased it for only $150!!! Deal of the year. (Thanks, Shannon!!) :-)
4. The Proposal – Sandra Bullock is my FAVORITE actress. And Ryan Reynolds is always a pleasure to look at. And Oscar Nuñez (Ramone) is toooo funny. I finally purchased this movie a few days ago and so now I alternate watching this and…
5. Elf – "Buddy the Elf, what's your favorite color?" "SANTA!!!!! I know him!!!!" "And to finish, we'll snuggle." "Francisco! That's fun to say! Franciscooo." "Is there sugar in syrup? Then YES!" "I just like to smile. Smiling's my favorite." "He must be a South Pole elf…" Yes, I could quote this movie all day long if you let me… :-)
6. Christmas bows make presents look so much prettier!!
Comments
comments