It happened. I finally started playing the Christmas station on my Pandora radio. It MUST be December!!
Here are the things I've been enjoying this month so far!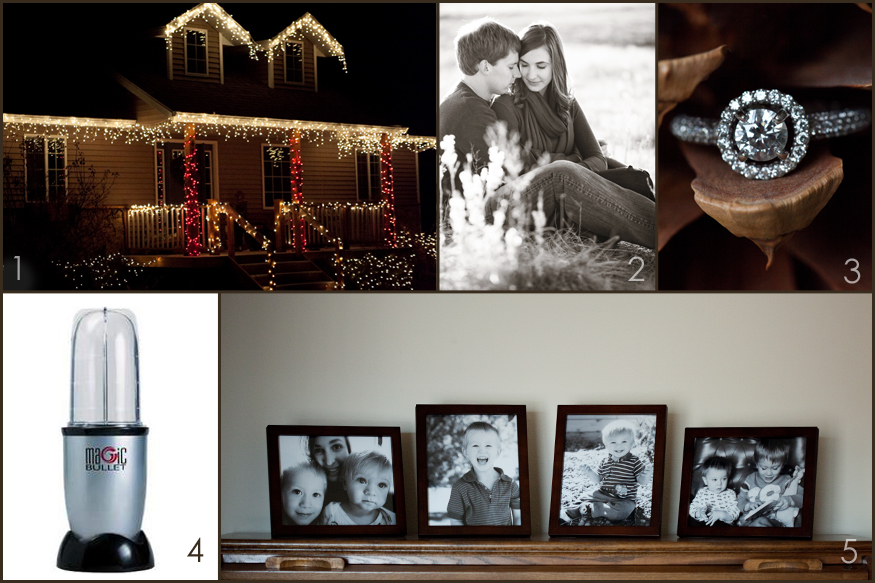 1. Christmas lights!! We spent Saturday night driving around looking at decorations, picking favorites and least favorites, and sipping hot cocoa in the comfort of our warm car. This was my favorite house!
2. We were photographed!!! Our friend and photographer Jessica took our engagement photos as soon as I was back from weddings in eastern South Dakota and Minnesota last month. We had SO much fun and I am glad to now be able to share this experience with my couples. It is so different being on the other side of the camera!!
3. The ring. I still.can't.stop LOOKING at it!!!
4. Lance and I have three Christmases. One with my family, one with just us, and one with his family. The one with just us is the one we decided to exchange gifts at this year and I got a Magic Bullet Blender! I've already made a homemade caramel frappucino, a frozen peach bellini, and a triple berry smoothie. Next: chocolate mousse.
5. Updated 8×10 prints on my desk. I just love every photo of my nephews, it's hard to cover up old cute pictures with new cute pictures. PLUS switching out their photos means they're growing up. Which they are SO not allowed to do.
Comments
comments